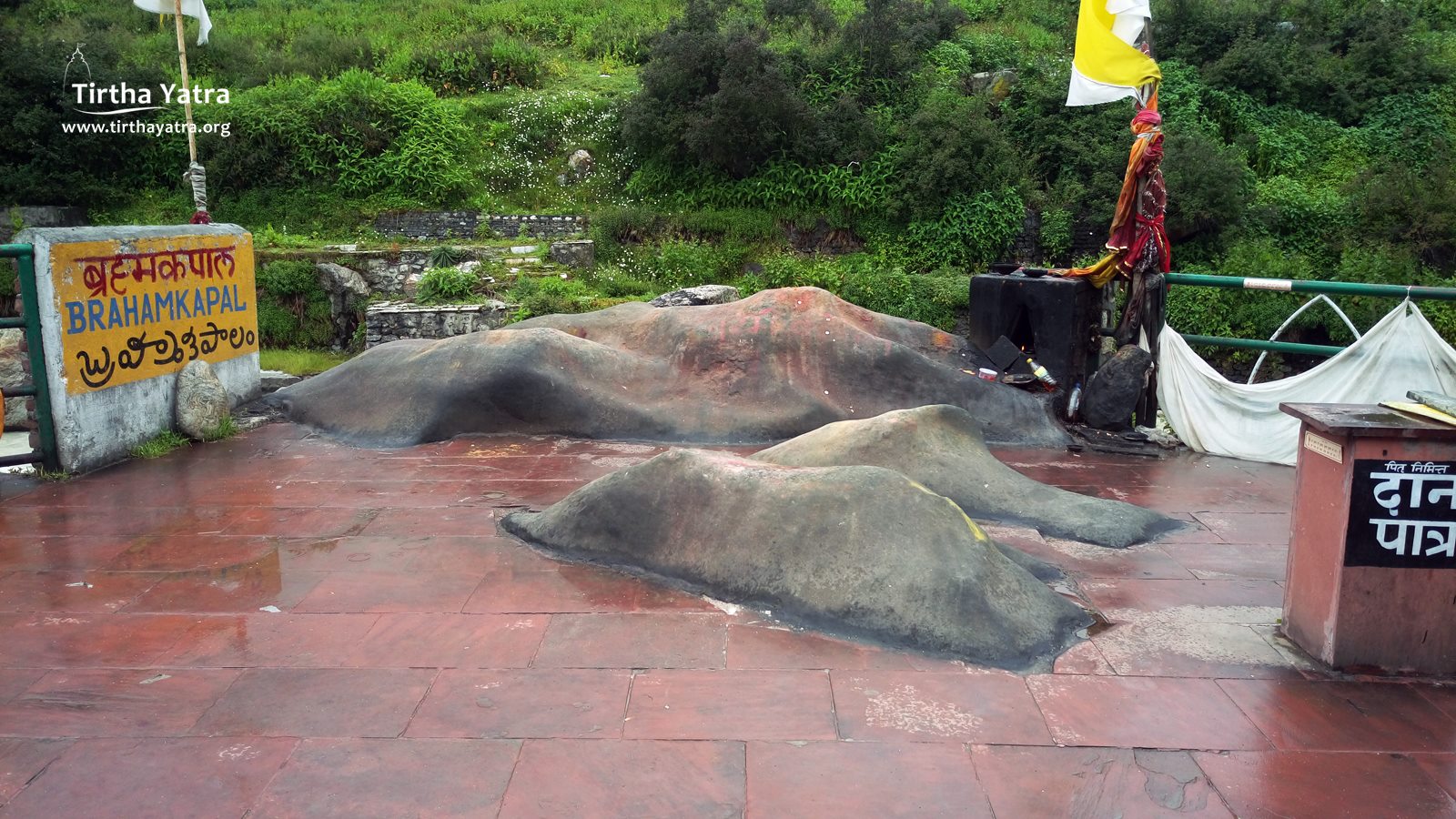 Over and over splashed by the cool waters of Alakananda river, Brahma Kapal ghat is located in Badrinath dham in the Himalayan state of Uttarakhand in India. It is popularly visited by the pilgrims especially for performing the Shraddha ceremony of their ancestors.
The Skanda Purana states that performing Shraddha ceremony in Badrinath kshetra is eight times better than performing the Shraddha ceremony in the Gaya kshetra. Devotees perform Shraddha for their ancestors at Brahma Kapal ghat in Badrinath. This Brahma Kapal ghat is situated on banks of the sacred river Alakananda 200 to 300 metres approximately on the left-hand side of Lord Badrinath i.e. located towards the north of Badrinath temple. This place is easily accessible by walk and devotees can always perform Shraddha for their ancestors at this place.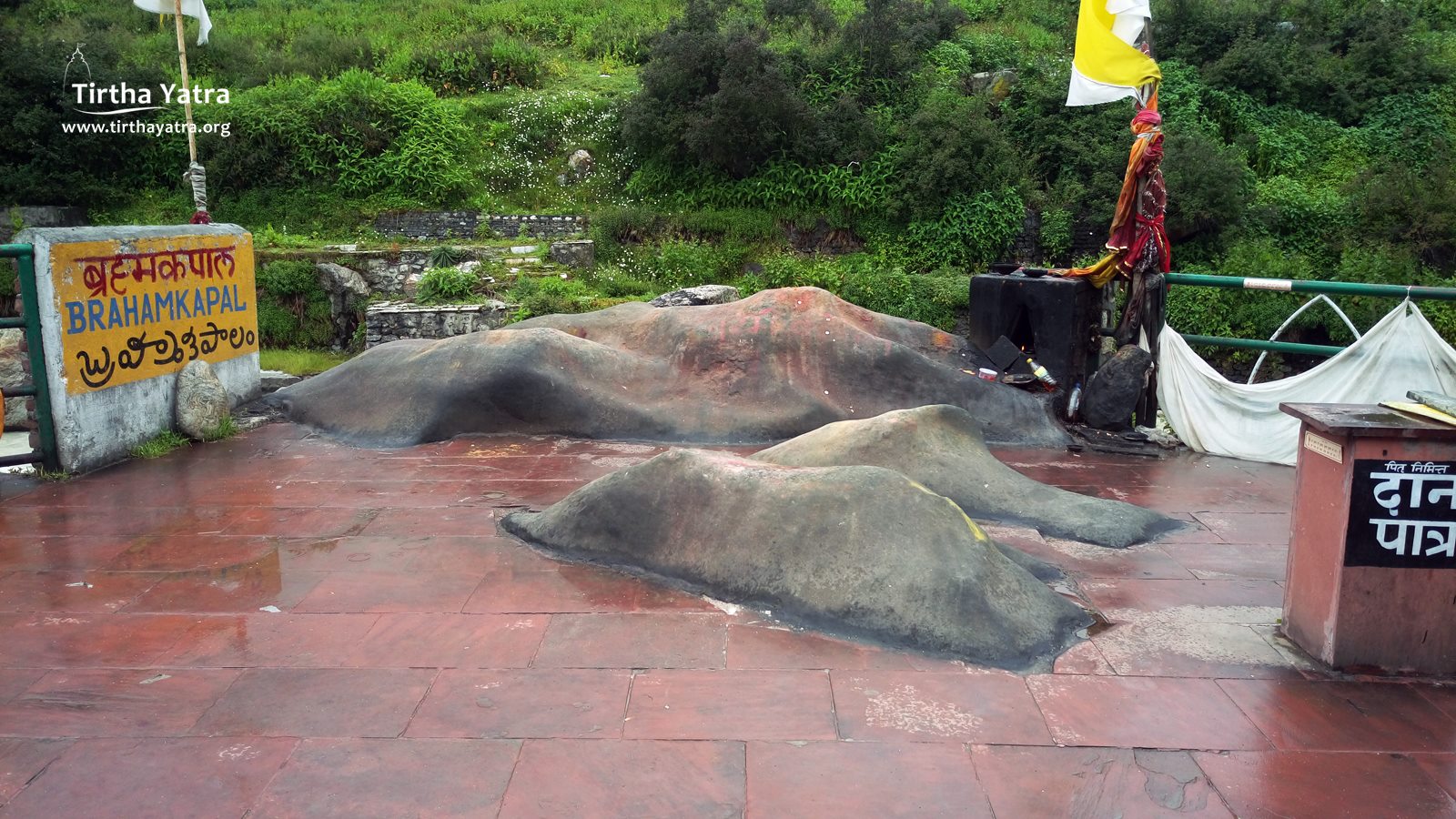 The origin of Brahma Kapal Ghat
This place which is marked by a few stones is glorified all over the universe. The black stone seen here is the remnant of the head of Lord Brahma. How the Brahma Kapal ghat became famous is described as follows –
Lord Shiva says to Skanda, "This Badrinath kshetra has been a place of perfection since the beginning of the universe. Just like the Vedas and Lord Hari are eternal, this holy kshetra is eternal and has been the residence of great sages like Narada and other great sages.
At the beginning of the Satya yuga, once Lord Brahma got enchanted by the beautiful form of his daughter Sarasvati. Seeing this, Lord Shiva got angry and he smashed the fifth head of Lord Brahma. When he did so, he was affected by the sin of brahma-hatya. At the same time, the head of Lord Brahma got stuck to the hands of Lord Shiva. In order to get rid of Lord Brahma's head and the sin of brahma-hatya that accompanied it, he went to most of the holy places in the universe. He went to Bhuloka, Swargaloka, & Patalaloka also to perform penances for the same. But the head of Lord Brahma was still stuck to his hand. Being tired and not being able to find any solution, Lord Shiva approached Lord Narayana to get rid of this sin. He offered obeisance's to Lord Narayana and narrated the entire sequence of events that led to his current condition. After hearing Lord Shiva patiently, Lord Narayana instructed him to approach Badarikashrama. Lord Shiva did the same as told by Lord Narayana and hence, the moment he entered Badarikashrama, brahma-hatya personified started shivering and the head of Lord Brahma immediately got detached from Lord Shiva's hand and fell on the ground disappearing from sight. From then on, Lord Shiva started staying in Badarikashrama along with his consort Parvati Devi. In Badarikashrama, Lord Shiva has been performing tapasya i.e. penances along with the best of the sages. Just like Kashi is very dear to Lord Shiva, Badarikashrama whose qualities are infinite is equally loved by Lord Shiva.
After performing one's occupational duties as per the religious injunctions, one can get moksha in many other holy places but in Badrinath, just by having one darshan of Lord Badrinath, the path to liberation becomes easy. Lord Shiva resides in the form of Adi-Kedar Shivalinga on the banks of the Tapta Kunda in Badri kshetra. Here, devotees of Lord Shiva worship him in the form of Adi-Kedar Shivalinga. For those devotees who die in Kashi, the Brahma Shivalinga which gives them liberation is worshiped in Badrinath kshetra. Those devotees who worship the Adi-Kedar Shivalinga which is located beneath the lotus feet of Lord Badri Narayana remain eternal. Such is the glory of Brahma Kapal Ghat and the Badrinath Dham.
How to Reach Brahma Kapal Ghat
Brahma Kapal Ghat is located around 200 – 300 meters north of Badrinath shrine. It can be reached in the following ways –
By Road – Badrinath is well connected by road to other cities in Uttarakhand and other major cities in neighbouring states. Regular buses ply in between Dehradun and Badrinath bus stand. Cabs can be hired too.
By Rail – The nearest railway station is Haridwar at a distance of 154 kilometres. Cabs/ buses are available from Haridwar to Badrinath.
By Flight – Flights are available to Dehradun from major cities in India. Further on, cabs/ buses are available directly to Badrinath.
0