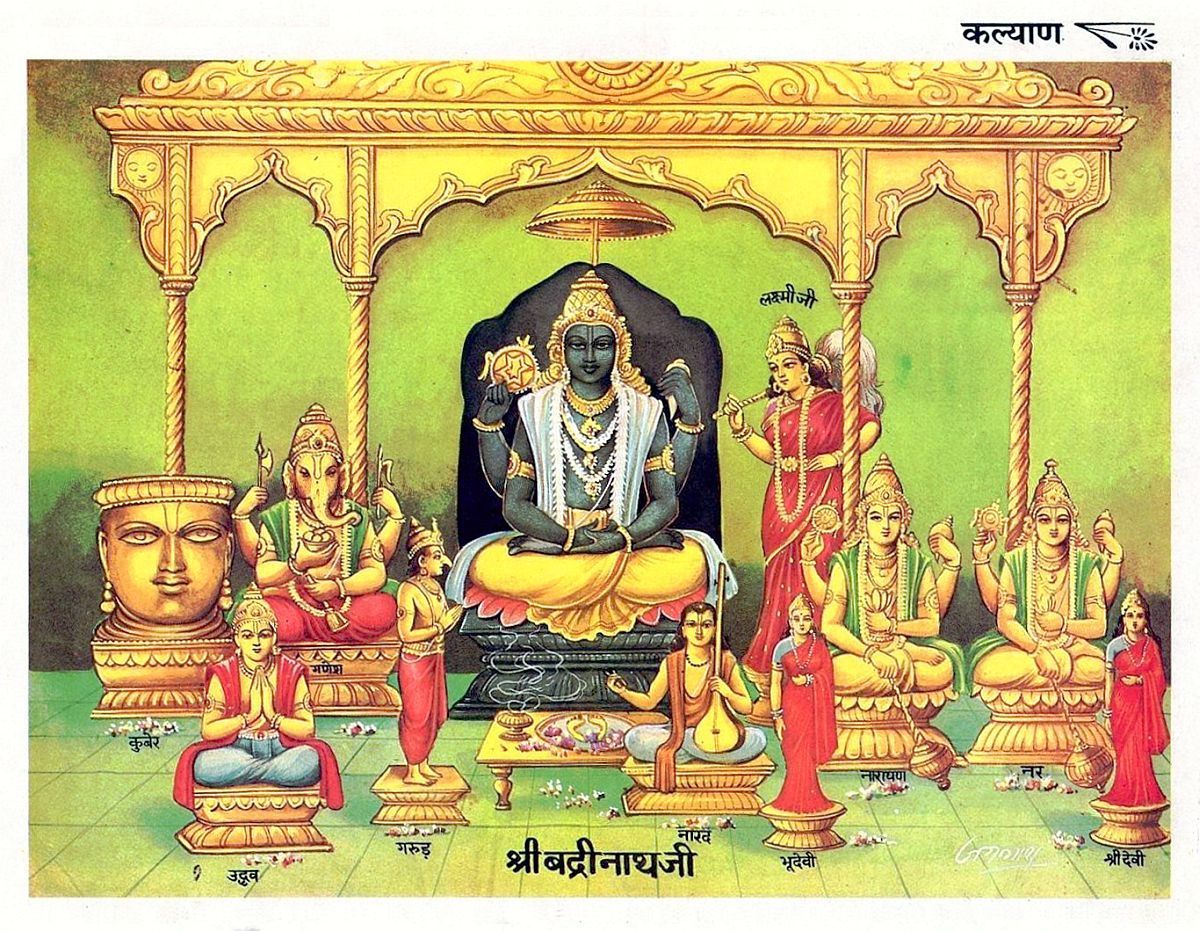 Badrinath is the most prominent and ancient pilgrimage place where Lord Narayana dwells eternally. It is one of the four holy Dhams of Bharat along with Dwarka, Rameshwaram and Jagannath Puri. It is also one of the 108 Sri Vaishnava Divya Desham Kshetras. This sacred and well-known town houses the renowned temple of Lord Badri Vishal, which is revered most by the devotees or the followers of the sanatana-dharma.
Badrinath is a holy town in Chamoli district in the state of Uttarakhand, India. Devotees throng this Himalayan shrine from all over the world from May to October. This holy kshetra has been known by different names in the different yugas. In the Satya-yuga it was known as Muktiprada, in the Treta-yuga it was known as the gyana-peetha, In the Dwapara-yuga it was glorified as Vishalapuri and in the Kali-yuga it is renowned as Badrikashrama.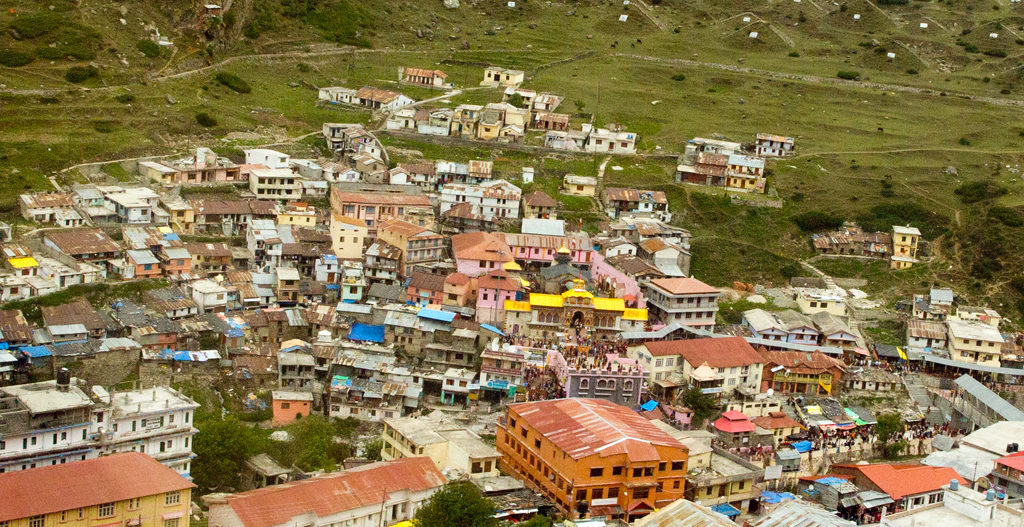 Sage Veda Vyasa composed the Vedas, eighteen Puranas and the Mahabharata at this place. Even Lord Shiva and the King of demigods, Indra got rid of brahma-hatya here.
Badrinath was re-established as a major pilgrimage centre by the Jagadguru Sri Adi Shankaracharya in the 7th century. The temple is mentioned in the ancient religious texts like Vishnu Purana and the Skanda Purana. It is glorified in the Divya Prabandha, an early medieval Tamil canon of the Azhwar saints from the 6th–9th centuries AD.
Benefits of visiting Badrinath
kshetra darshana matrena praninam nastipatakam
After having darshan in this holy kshetra, one who takes a dip in the Pancha Tirthas and Tapta Kunda, one who has darshan of Sri Adi Kedareshwar and circumambulates Lord Badri Narayana, one gets freed from all sins and becomes a part of virtues and attains the abode of Vishnu, Vishnuloka.
The Skanda Purana says:
badyayakhyam hare kshetram trishu lokeshu durlabham
kshetrasya smarnadeva mahapata-akino naraha
vimuktakilbasha sadhyo marnamuktibhaginaha
Skanda says: Out of the three lokas, Badri Kshetra is the prominent kshetra. Just by thinking of the Badri Kshetra great sinners get rid of their sins and attain moksha.
ashvamedhasahastrani vayubhojye cha yatphalam
kshtrantare vishalayam tatphalam kshanamatra
The result derived from performing thousands of Ashvamedha Yagnas and meditation, can be obtained by a moment's presence in the Badri Kshetra.
sarvatirtha avagaahan tapo yoga samadhi
tatphalam praptye samyaga, badridarshanaadha guha ॥61॥
Great punya is obtained by performing penances, yoga and samadhi at other holy places. All these results are methodically obtained just by having Lord Badri Narayan's darshan.
Further the Skanda Purana narrates the glories of the holy dham.
Even if a grain of 'prasadam' of Badari Narayana is consumed by a devotee who visits the holy kshetra, would get rid of all kinds of the patakas (sins) including the maha pancha patakas. The visitors to this holy region would attain Vishnu Swarupa, whose heart is replete with the vision of Lord Narayana, whose tongue and ears are full of His glories, whose stomach is with even a morsel of His prasad and whose head touches the feet of Lord Badri Narayana's Deity. The worst sins like killing the virtuous, intoxication, robberies and adultery would all evaporate once these requirements are fulfilled in the Badrinath.
The result derived from residing and meditating for sixty years in Varanasi, is equivalent to the result obtained by spending a day in Badri Dham.
PLACES TO VISIT IN BADRINATH
Badrinath Temple
This temple is the most important shrine to be visited in Badrinath. Lord Badri Vishal graces the main garbha-griha of this temple, along with Nara-Narayana, Garuda, Kubera, Uddhava and Narada Muni. The Deity of Badri Vishal is swayambhu and was re-established by Adi Guru Shankaracharya in the 7th Century.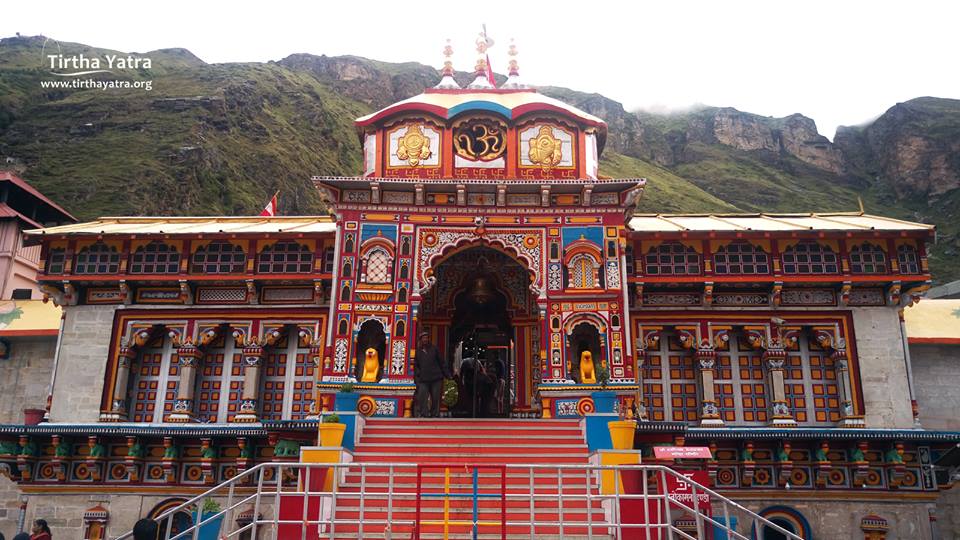 This place is considered as one of the Gaya Kshetras. Lord Brahma's fifth head which was stuck to the hand of Lord Shiva fell at this place. Pilgrims visiting Badrinath kshetra visit this place first to offer oblations to their forefathers and then visit the temple of Badrinath.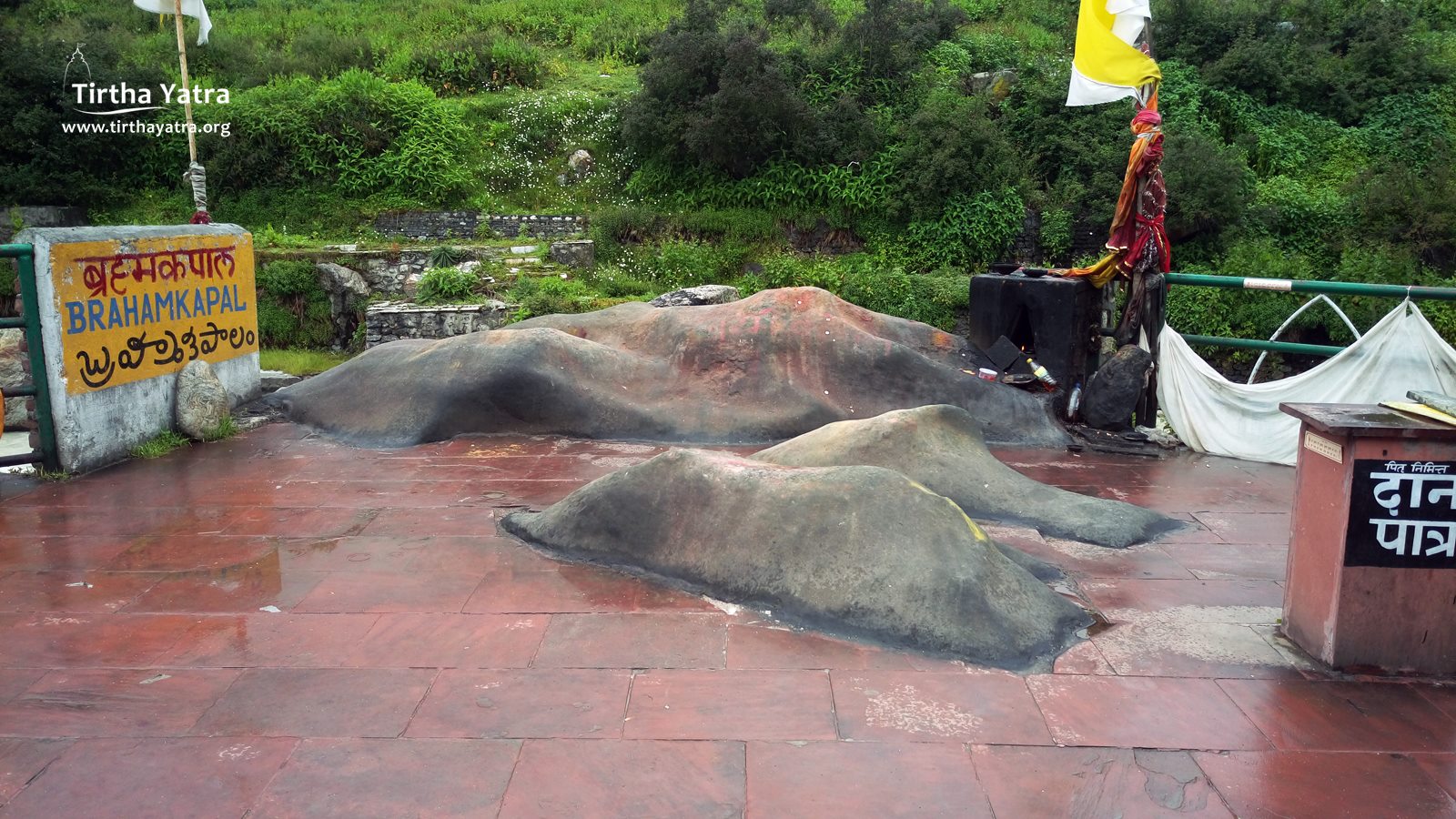 Narada Shila
Badrikashrama is identified due to the presence of the pancha-shilas. One of which is Narada-shila. It is situated on the banks of the Tapta Kunda. Sage Narada determined once and did severe penance by sitting on a rock for having darshan of Lord Vishnu. Being pleased with Narada Muni's penance, Lord Narayana along with Lakshmi Devi gave darshan to Narada Muni. Sage Narada postulated for the boons of everlasting devotion to Lord Vishnu and never leave the rock on which he performed penance and creating a Tirtha nearby which should assoil the sins of those who bathe in it and worship Narayana there. It is also believed that Narada Pancharatra was written at this place.
Markandeya Shila
Markandeya Shila is situated at the bottom of the Tapta Kunda. Markandeya, the great devotee met Sage Narada at Mathura and was advised that he should visit Badari Kshetra and pray to Narayana. Markandeya did accordingly and was fortunate to secure the darshan of Sri Hari after continuously reciting the Ashtakshara Mantra viz. Om Namo Narayanaya. He was dumbfounded when Bhagavan Vishnu stood before him in full glory with four hands ornamented with Shankh, Chakra, Gada and Saranga. After extolling Narayana to his heart's content, Markandeya desired for 'Janma rahitya' or freedom from births, that his devotion to Narayana should become stronger and unflinching, that He should be always present at the rock where he was having the darshan of Bhagavan and that He should bless devotees when they visited the Markandeya Shila.
Garuda Shila
Garuda Shila is situated right next to the temple of Adi Kedar. Garuda was the son of Sage Kashyap and Devi Vinata whose ambition was to emulate the example of his brother Aruna who was Surya Deva's charioteer and had the intense desire of becoming the Carrier of Lord Vishnu. He chose Badari Kshetra on the top of the adjacent 'Gandhamadan Parvat' (Mountain) and was in penance for years together with undaunted grit and devotion. As Lord Narayana finally gave darshan, Garuda extolled Him as Trividha Murti integrating the forms of Brahma, Vishnu and Maheswara as also of 'Ashta Shaktis' (Eight Powers) and the Supreme Might of the Universe. Vishnu was pleased and materialised 'Panchamukha Ganga' or the five faced Ganges with the waters of which gave the unique opportunity to Garuda to wash His feet. He also granted the boons of making him His personal 'Vahana' (Carrier), of becoming invincible by any force in the three worlds, of making him a never-failing personal devotee of the Lord and of fulfilling the desires of those who visit the Garuda Shila and worship Bhagavan Narayana.
Narasimha Shila
Narasimha Shila is located on the riverbed of Alakananda River. Shila is visible sometimes only when the water of the river recedes. Narasimha Deva in one of Lord Vishnu's incarnations annihilated the Demon Hiranyakasipu and saved the illustrious devotee Prahlada; He looked like Fire while massacring the Demon with His sharp nails and was in a highly infuriated mood when all the Devas prayed to Him to calm down. After becoming somewhat composed, He declared that He would settle at Vishalapuri (Badarikashram); all the Sages were extremely delighted that Narasimha would be present at Narasimha Shila for facilitating their constant worship and to bless Bhaktas visiting the Shila.
Varaha Shila
Varaha Shila is situated next to Narada Shila, in the Alakananda River. Bhagavan Varaha who pulled up Bhu Devi from the underworld of Rasatala destroyed Demon Hiranyaksha and saved the Vedas and Holy scriptures. The Varaha incarnation of Lord Vishnu appeared at Vishalapuri as Varaha Shila and continued to bless the devotees at the Shila.
Tapta Kund
It is located just below the temple; this thermal spring of hot sulphurous water has inviting freshwater pool. The bathing area has separate arrangements for men and women. Although the normal temperature is 55°c, the water temperature keeps rising gradually during the day. It is considered to have high medicinal value. A dip here is a good cure for skin diseases. Tapta Kunda is the manifestation of Agnidev – the fire god, who was blessed to be present in Badrinath for eternity.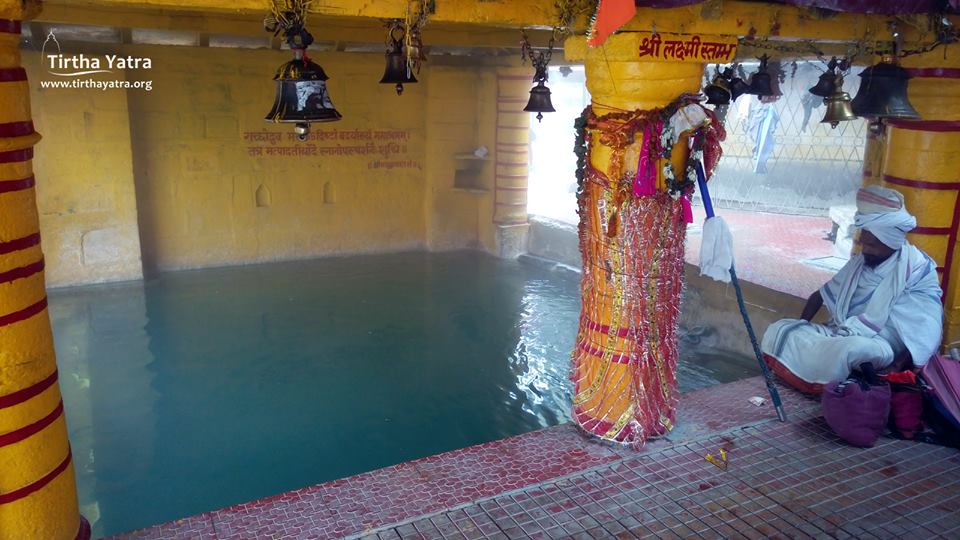 Charan Paduka
Situated around 2 kms above the Badrinath Temple on the Narayana Parvata, is a beautiful rock, holding the Lotus foot prints of Nara and Narayana. It is believed that the darshan of these footprints will relieve visitors from all ailments.
Leela Dhungi
This was the place originally chosen by Lord Shiva to meditate. However, Lord Vishnu resolved to get this place and assumed the form of a little child and wept unconsolably. Mother Parvati and Lord Shiva tried consoling the child, but in vain. Atlast, Lord Shiva had to abandon that place and moved to Kedarnath to continue his meditation. The place was later claimed by Lord Badri Vishal who made Badrikashrama as His eternal abode. This is also considered as the birthplace of Lord Badri Vishal.
Urvashi Temple
Urvashi was the most beautiful celestial damsel as she was created from Lord Narayana's left thigh. When Indra sent beautiful apsaras to distract the meditation of Nara and Narayana, Lord Narayana created Urvashi and gifted her to Indra. This temple is situated at a distance of around 1.5 km from Badrinath Temple.
Nanda Devi Temple
In the Bamani village of Badrinath, is the temple of Nanda Devi who is the protector of this holy dham of Badrikashrama. All the brahmakamal blooming in the Badrikashrama are her property. Legally no one is allowed to pluck the flowers except for her service.
Muchukunda Cave
Muchukunda an ancestor of Sri Ramachandra belonged to Treta-yuga. After Lord Krishna killed a demon Kalyavana in Dwapara-yuga by taking Muchukunda's assistance, he was advised by Lord Krishna to perform penance to cleanse the accumulated sins, to attain Moksha (liberation). After meeting the Lord, Muchukunda set out of the cave to Badrinath to carry out the Lord's instruction. The cave is situated at a trekking distance of less than a kilometre from Vyasa-gufa.
Hemavati/Ekadashi-gufa
A beautiful lady, Ekadashi personification appeared from Lord Vishnu's body in this cave to slay a demon named Mura. This demon arrived at this cave to attack Lord Vishnu while He was resting. When the demon's head was separated from his body by the maiden appeared from Lord Vishnu's body, Lord Vishnu woke up and was astonished to see the demon being killed by Ekadashi. Lord Vishnu asked the beautiful Goddess to ask for a boon. The maiden said, "Should you be pleased with my service, then give me the power to deliver people from the greatest sins that person who fasts from grains and beans on this day. Also, one who controls his senses on this day, may go to your abode". The Lord granted this boon and named the Goddess' name as Ekadashi. The cave lies just at the entrance of Badrinath.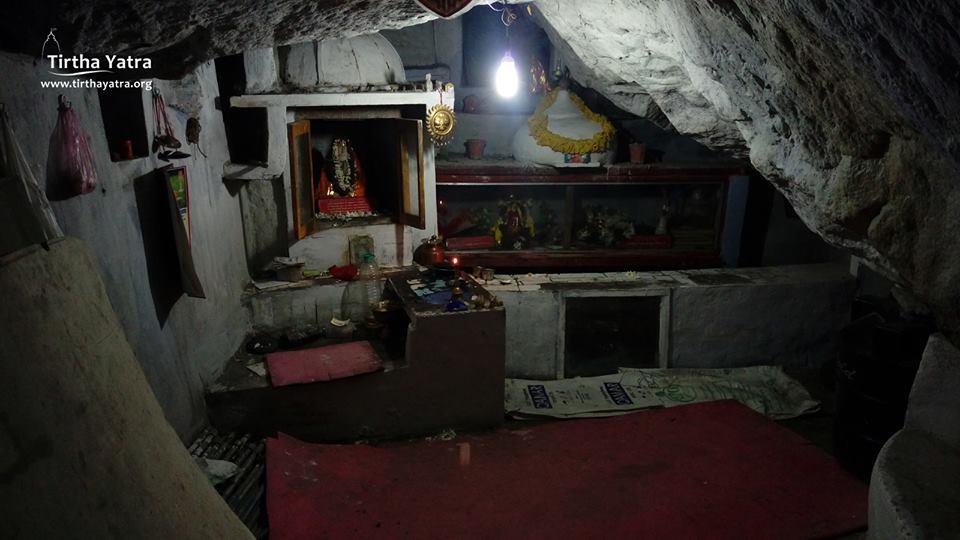 Adi Kedareshwar Temple
This temple is dedicated to Lord Shiva. As per Skanda Purana, this temple carries equal significance of visiting as the same of Kedarnath temple. As per the pastime of Leela Dhongi, it was the place originally chosen by Lord Shiva to meditate. However, Lord Vishnu resolved to get this place and assumed the form of a little child and wept bitterly. Mother Parvathi and Lord Shiva tried consoling the child, but in vain. Lord Shiva told Mother Parvathi, that this child seems to be an illusory child and advised not to intervene. Due to Mother Parvati's maternal affection, mother Parvati placed the child in the Bhavan. Upon their arrival after bath, they found the child being transformed into 'Charurbhuj Narayana' who claimed the place. At last, Lord Shiva had to abandon that place and moved to Kedarnath to continue his meditation.  This temple is on the banks of Tapta Kunda slightly higher towards Badrinath temple.
Mana Village
Pandavas had passed through this village during their journey to heaven. There's a famous stone bridge created by Bhim, known as Bhim Pul. It's a huge rock formed as a bridge across river Saraswati. In the Vedic times it was known as Manibhadrapuri.
Mata Murti temple
This temple is dedicated to Mata Murti, the mother of two sons Narayan and Nara. According to the Vedic history, Mata Murti prayed to Lord Vishnu to take his next incarnation by coming out from her womb. Lord Vishnu agreed and came out from her womb into this world as twins, Nara and Narayan to kill a demon.
There is a popular belief that the goddess has power of granting Vairagya (renunciation) to those who meditate here sincerely. It is visited frequently by visitors for worshipping Mata Murti on Shukla Tritiya, Ashtami and Chaturdashi. During the time of Mata Murti Mela, the mother of Sri Badrinath is worshiped with great devotion.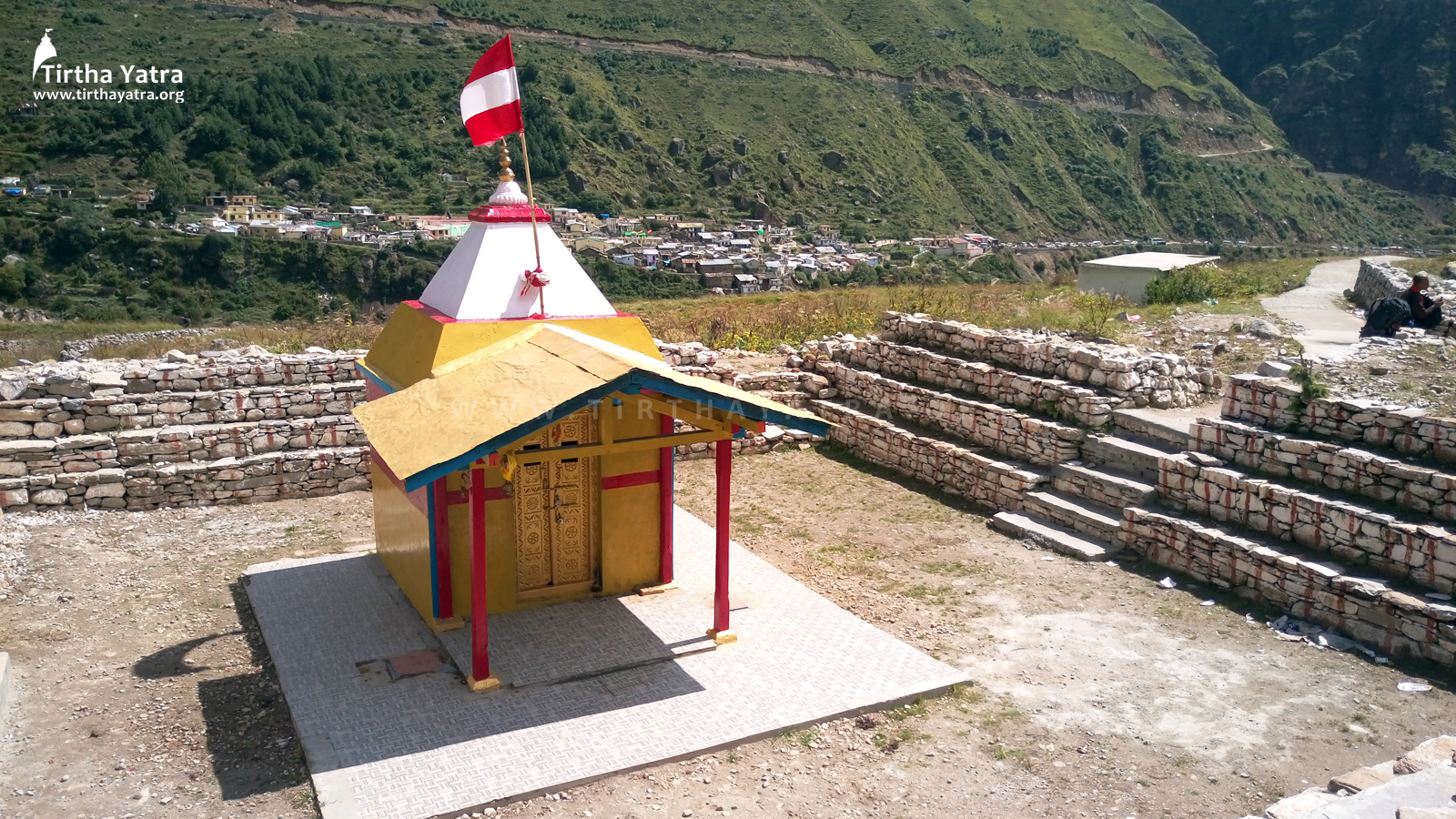 Shesha Netra
on the opposite bank of the river Alaknanda, in the lap of Nara Parvata, there are two small seasonal lakes. Between these lakes is a boulder having an impression of the legendary snake, Ananta Shesha. The formation of eye on the boulder is natural. He is having darshan of Lord Badri Vishal eternally.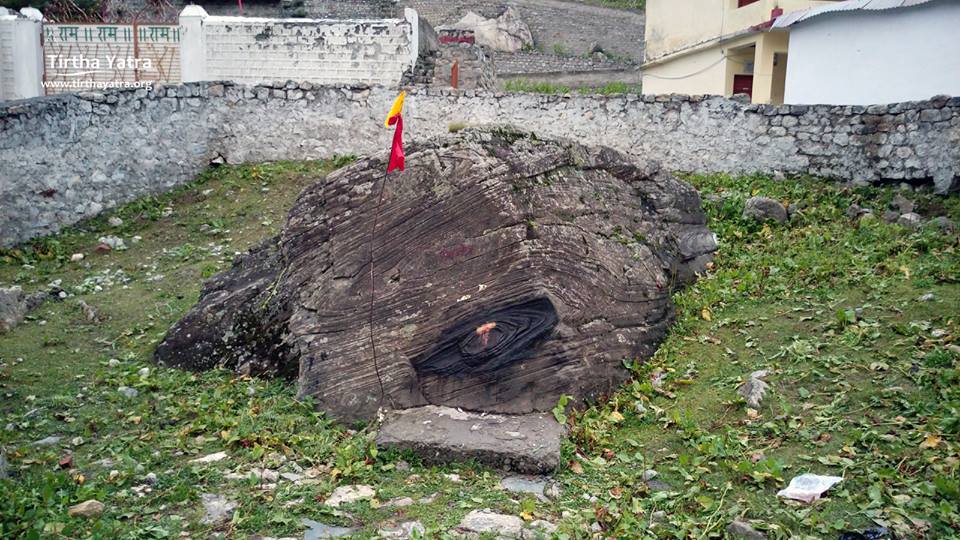 Keshav Prayag
Confluence of Alaknanda and Saraswati Rivers at Mana Village: Saraswati river and Alaknanda river flowing from Alkapuri meet at a point named as Keshav Prayag.
Bhim Pul
Bhima, one of the Pandava brothers made this natural bridge for his beloved wife Draupadi. This is the place from where the Pandavas, started their journey to heaven called Swargarohini. During this journey, Draupadi was unable to cross the river then Bhima lifted a huge rock and placed it between the gorge. This bridge is located opposite Vyasa Gufa in Mana village and offers an enthralling view of the unpolluted valley.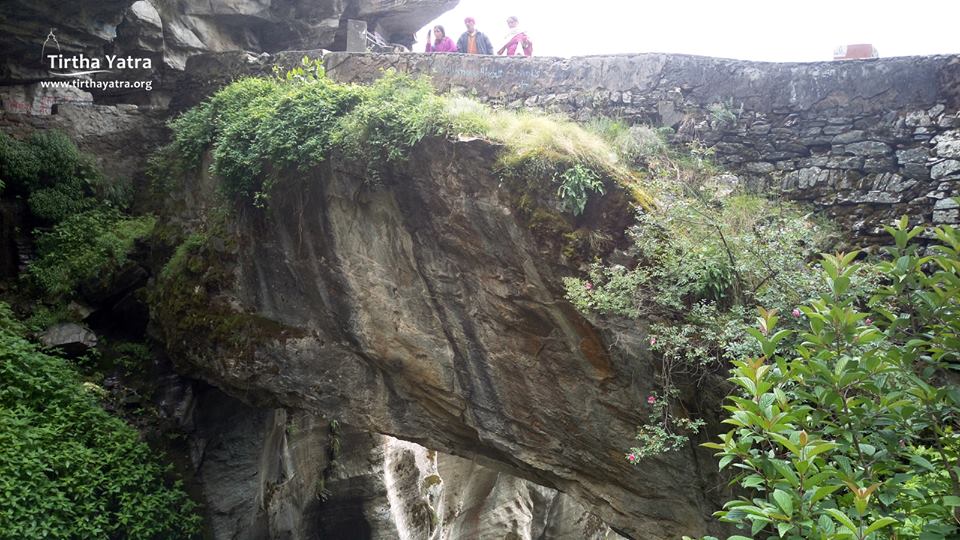 Vyasa Gufa
Believed to be the place where sage Vyasa composed the Mahabharata epic with the help of Lord Ganesha. He also composed 18 Puranas, Brahma Sutras and four Vedas. Maharishi Vyasa's Deity is installed in the cave and worshiped by the pilgrims. A distinct feature of the temple is the roof which resembles the pages from the collection of his holy scripts.
Ganesh Gufa
It is the site where Lord Ganesha penned down the Mahabharata epic dictated by Veda Vyasa.
Vasudhara Falls
The water of this fall cascades from the height of 400 feet can only be savoured by those who are clean, pure and unstained from guilt. The water of this waterfall of Vasudhara Falls turns away from the visitors who are sinful.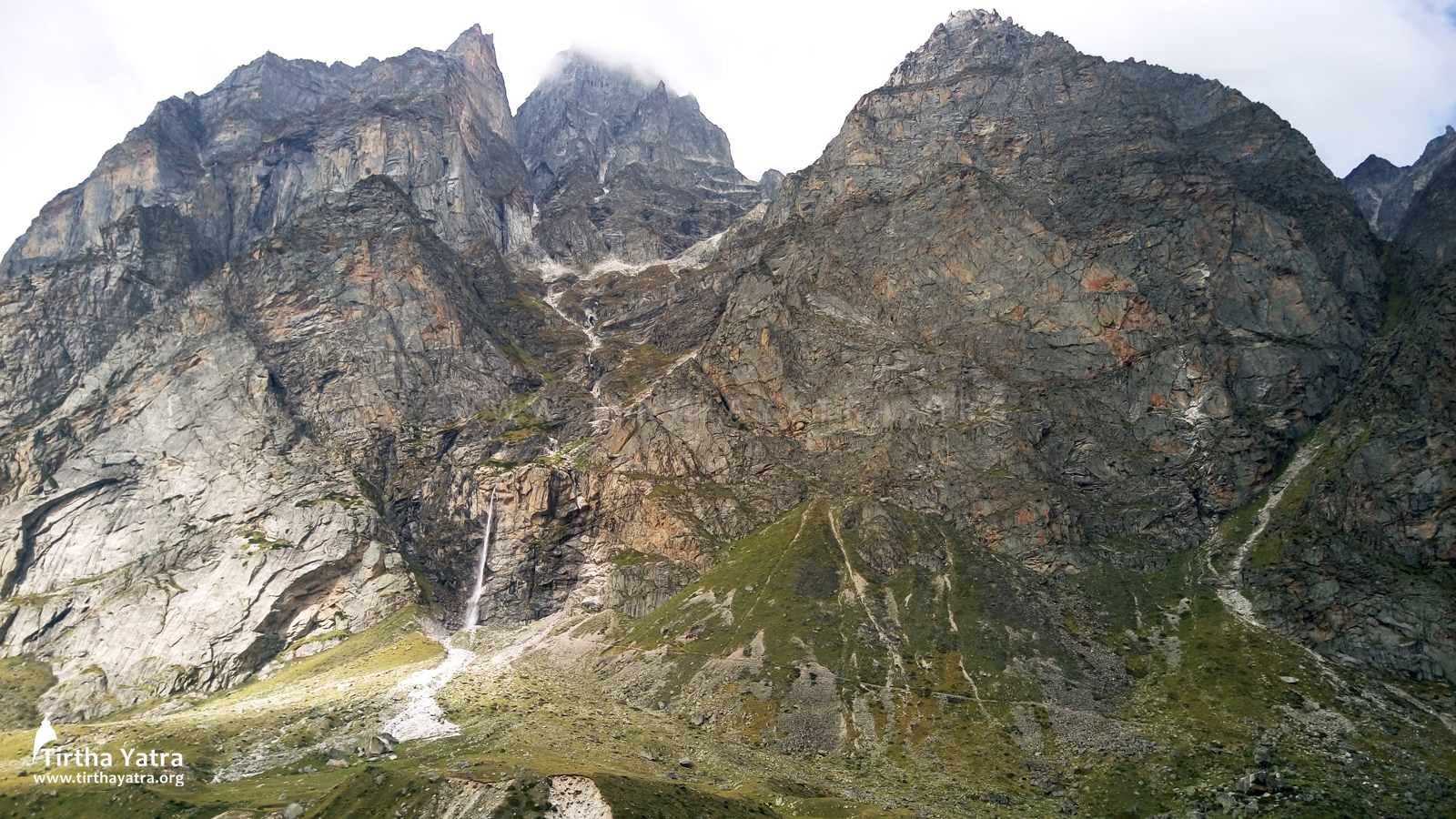 Ghanta Karna Temple
The temple is in Mana. Ghanta Karna is the kshetra palaka of Lord Badri Vishal. Ghanta means bell and Kar means ear. There was a demon by this name. He was known by this name because he had hung bells to his ears to avoid hearing the name of Lord Narayana. This demon caused destruction and death, wherever he went. Although he was an ardent devotee of Lord Shiva but hated Lord Narayana. He spent thousands of years meditating on Lord Shiva, being pleased with his meditation, Shiva appeared in front of him and asked him to ask for a boon. Ghanta Karna asked for a simple yet difficult boon to attain, which was liberation. Lord Shiva tried offering him alternatives like opulence or anything else except liberation and said, "If you want liberation, you must take shelter of Lord Narayana. Ghanta Karna got dejected. Shiva informed him that he could find Narayana as Lord Krishna currently in Dwarka. However, when Ghanta Karna reached Dwarka, he was informed that Lord Krishna was in Kailash, praying Shiva for a son. Ghanta Karna was quite puzzled, as Shiva asked him to visit Krishna and Krishna Himself had gone to pray Shiva. Rather than contemplating, he started back to Kailash. En-route Kailash, he reached Badrikashrama and found many yogis meditating on Lord Narayana. Upon seeing them, Ghanta Karna joined them and started chanting the Holy names of Lord Narayana.  Co-incidentally Lord Krishna was also at Badrikashram that time. Ghanta Karna started to meditate deeply and lost sense of his body and transcended to samadhi. Lord Krishna was delighted with his meditation and appeared in front to Ghanta Karna and asked him to abandon all his cruel activities and enjoy the comforts of heaven. Ghanta Karna was satisfied with the Lord's darshan and from that day onwards he stayed in Badrikashram as Badri Narayan's door keeper and after his death, he went to heaven.

Best time to visit Badrinath Dham
Badrinath has a chilly and cold climate almost throughout the year. The peak season to visit this place is between May to June and September to October. September-October is the best time to visit this holy place.
How to reach Badrinath
Badrinath is well connected from the state capital Dehradun. It is located 335 kms north of Dehradun.
By Roadways – to reach Badrinath one can get direct state transport buses from Rishikesh, Haridwar and Dehradun. One can also hire a taxi from any of these cities to reach Badrinath.
By Bus – there are buses from Dehradun and Rishikesh by the state transport corporation.
By Train – The nearest railway stations are Haridwar and Dehradun which are connected with major cities including Delhi, Mumbai, Kolkata, Lucknow, Trivandrum, Vadodara and Varanasi.
By Flight – the nearest airport is the Jolly Grant airport in Dehradun. There are regular flights to Dehradun from major Indian cities.
0