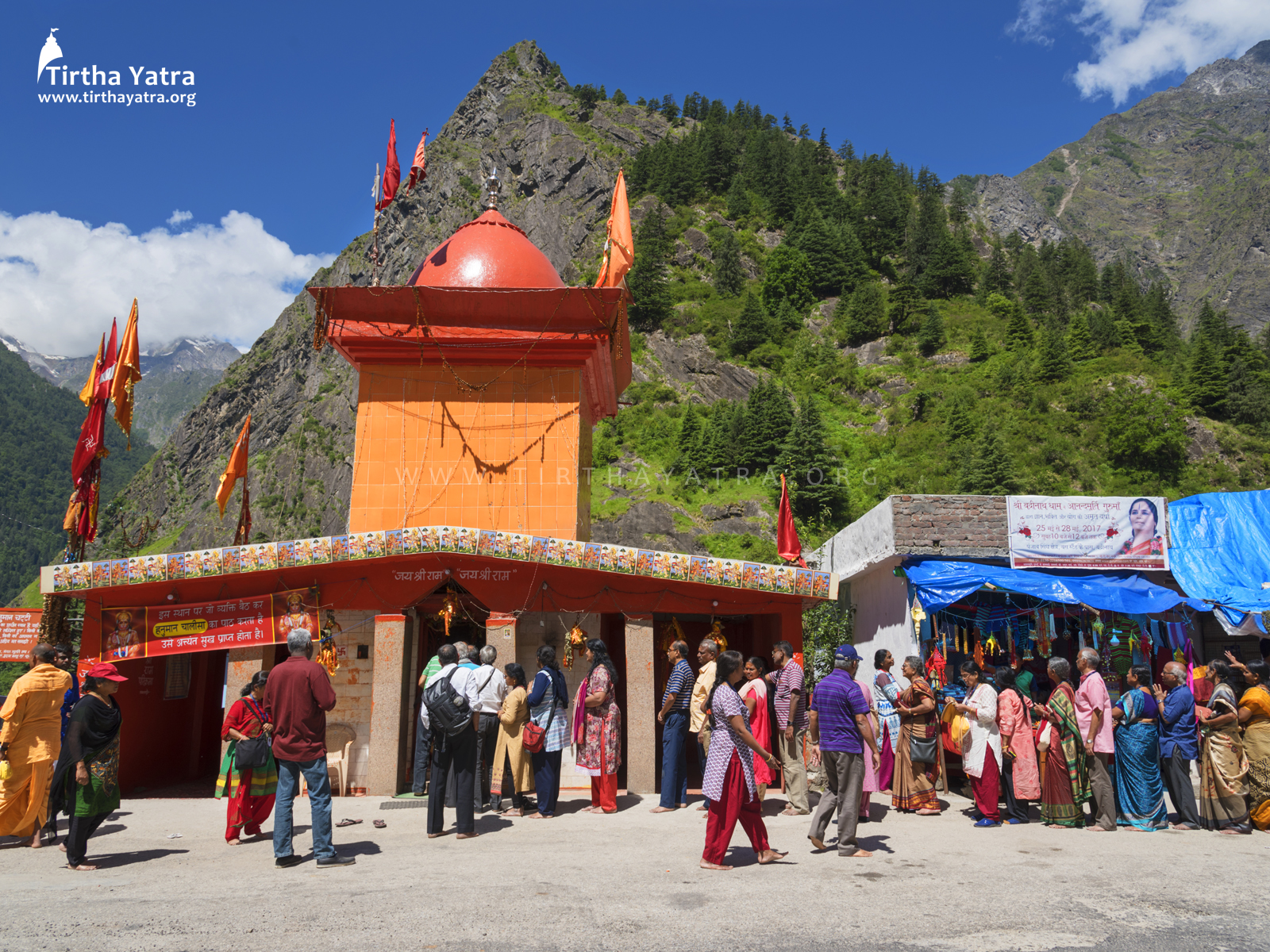 Just half an hour prior to reaching the sacred and serene town of Badrinath, when the excitement to have darshan of Lord Badri Vishal is on its peak, our bus stops by a small saffron colored shrine dedicated to the supreme devotee of the Lord – Bhakta Hanuman. The shimmering sound of the waters of river Alakananda and an unforgettable view of the Thaing mountain makes Hanuman Chatti the most memorable temple to visit on our Char Dham Yatra.
Although the shrine is small, yet it is always amidst the most buzzing activity in this part of the town. Every vehicle plying to Badrinath stops by this temple and the Char Dham Yatris offer prayers to Lord Hanuman and then move further. Some of them spend time by chanting the Hanuman Chalisa and going around the altar (pradakshina).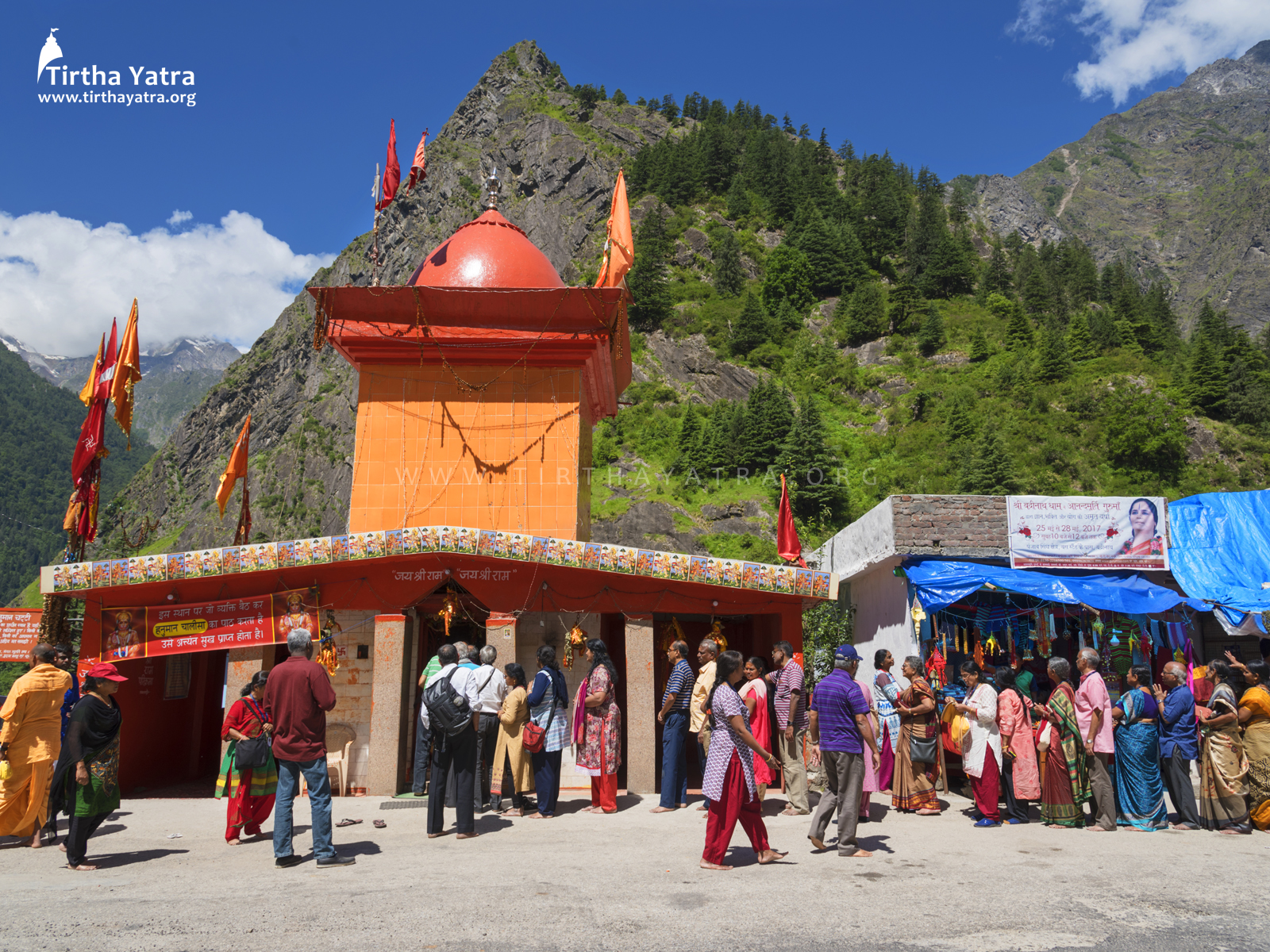 The temple at Hanuman Chatti marks the place where Hanuman shattered the pride of Bhima and blessed him, before the Kurukshetra war. This pastime of Bhakta Hanuman and Bhima is very well known amongst the devotees.
Pandavas visit to Badrikashrama
Just before the Kurukshetra war, Pandavas had been to Badarikashrama. They were welcomed with a nice reception by the rishis living at Badarikashrama. The Pandavas, along with the thousands of brahmanas who accompanied them began to reside at the abode of Nara and Narayana Rishis, expecting to see Arjuna return at any time from the Indraloka.
During the day, the Pandavas spent their time roaming in the beautiful forests, along with Draupadi. There were many heavenly lakes nearby which were filled with lotus flowers and lilies. The branches of the trees bent down to the ground due to the weight of their fruit. The celestial Ganga, with it's cool and crystal-clear water, flowed nearby, and thus the scenery of the surrounding area was incredibly delightful to the mind and senses of all who beheld it.
Draupadi desires Saugandhika Flower
On the sixth day of the Pandavas' stay at the abode of Nara and Narayana, it so happened that a wind blowing from the northeast carried an effulgent, thousand-petal lotus flower of heavenly fragrance and dropped it near the place where Draupadi was seated. With great delight, Draupadi picked-up the lotus flower. Bringing it to Bhima, she said, "I will give this lotus flower to Yudhisthira. Oh, how I wish that you would bring me many more of these lotus flowers so that I can take them back to decorate our cottage at Kamyakavana."
As Draupadi went to give the lotus flower to Yudhisthira, Bhima eagerly set out, hoping to please his dear wife. Facing the wind and holding his bow and arrows, Bhima fearlessly ascended the Gandhamadana Mountain. Indeed, he appeared to be just like a maddened elephant going through the forest. As Bhima kept his sights on the flowering peaks, his fatigue became mitigated by the heavenly fragrance that was carried by the gentle breeze. Bhima rushed impetuously through the forest, pushing aside the creepers and bushes. The deer simply gazed at him with grass hanging from their mouths, for they were unacquainted with fear.
Bhima begins his quest for Saugandhika Flower
Being very eager to fulfil Draupadi's desire, and to return to his elder brother as soon as possible, Bhima knocked down many trees and crushed the wild animals that stood in his path. Thus, herds of wild elephants fled in fear, and when Bhima roared loudly, the lions came out of their dens. Along with some of the elephants, these lions angrily rushed at Bhima, having been urged on by their mates. At heart, however these animals were so frightened of Bhima that they passed stool and urine simultaneously. With a few slaps, Bhima killed some of the animals and then used one elephant to kill another. While the smaller animals fled in fear, and the birds flew into the sky, their cries mixed with Bhima's roars, causing the animals that resided even in far-distant places to become disturbed.
After killing numerous elephants and lions, Bhima continued, knocking down all the trees that stood in his way. Then, when he saw some aquatic birds flying upward with wet wings, Bhima headed in that direction. He soon came to a large heavenly lake, filled with lotus flowers and encircled by golden banana trees.
Bhima dove into the water and played for some time like a maddened elephant. After coming out of the water, he blew his conch shell as loud as he could. When that sound mixed with his loud shouts and the slapping of his arms, it resounded throughout the heavens. Lions roared in response and when the elephants heard these roars, they cried out in fear.
Hanuman meets Bhima at Hanuman Chatti
Thereafter, Bhima continued to ascend the mountain, in search of the lotus flower that Draupadi wanted. Hanuman then came and lay down on the narrow path leading to heaven, at Hanuman Chatti. Hanuman knew that Bhima was his brother, and so he desired his welfare. Hanuman was afraid that Bhima might be defeated or cursed for storming into heavenly regions and so he blocked the path.
Hanuman lay as if overcome by drowsiness and while yawning, he slashed his tail so that the thundering sound echoed throughout the mountain caves. In fact, due to the slashing of Hanuman's tail, the mountain peaks began to crumble and when Bhima saw this and heard the awesome sounds, his hair stood up on end. Bhima looked here and there, trying to find the cause of this disturbance and while doing so, he came upon Hanuman, whose body glowed with great effulgence. Letting out a loud shout, Bhima fearlessly approached Hanuman, but the monkey hero simply half-opened his eyes and glanced at him indifferently.
In a soft voice, Hanuman said, "I am ill and was sleeping here quite peacefully. Why did you wake me? You are a rational human being and so you can understand virtue. Why are you needlessly killing so many living beings when you should be showing kindness to them instead? I warn you not to proceed further on this path because the regions ahead are accessible only to those who have performed austerities. These areas are meant for the demigods and not mere mortals. Spend some time here and rest awhile. Then, after having refreshed yourself, you may return."
Bhima introduced himself and asked about Hanuman's identity. "I am simply a monkey," Hanuman replied, "and I will not allow you to pass, for to do so will mean your destruction."
Bhima did not like these words, and in response, he threatened, "Monkey, either you let me pass or face the consequences!" The monkey replied, "I am too sick to move. If you like, you can jump over me."
Bhima said, "I will not do that. The supreme Lord as Paramatma dwells within everybody's body, and I do not want to disrespect Him. Otherwise I could have jumped over the entire mountain, just as Hanuman had leapt to Lanka."
The monkey inquired, "Who is this Hanuman?"
Bhima replied, "He is my brother, and the hero of Ramayana that describes the pastimes of the Supreme Personality of Godhead, Lord Ramachandra, that took place on this earth long ago. Being endowed with all mystic perfection, Hanuman easily jumped one hundred yojanas across the sea to Lanka. Monkey, I am equal to my brother in all respects, and so you had better move aside or else witness my prowess as I send you to the abode of Yamaraja!"
Hanuman knew that Bhima was intoxicated with pride because of his great strength. Thus, he didn't become angry, but simply said, "You should have compassion for me in consideration of my old age. I do not even have the strength to get up and so please move my tail aside. Then, you will be able to pass."
After hearing this, Bhima thought, "I will grab this stupid monkey by the tail and hurl him to the abode of Yamaraja!"
While smiling slightly, Bhima casually grabbed Hanuman's tail with his left hand. However, to much of his amazement, he could not even move the monkey's tail an inch. Bhima then grabbed the monkey's tail firmly with both hands. And yet, even though he exerted his full strength, so that his eye brows contracted, Bhima could not move the monkey's tail the least bit.
Bhima's pride shattered
At this, Bhima felt highly humiliated. With great bashfulness, he approached Hanuman at Hanuman Chatti. After bowing down before him, he begged for forgiveness with folded hands. Bhima submitted himself to the monkey as a surrendered disciple, and then once again asked him to identify himself. This time, the monkey replied, "I am Hanuman, the son of Vayu."
Thereafter, hanuman recounted many of his wonderful pastimes in the association of Lord Ramachandra. He concluded by telling Bhima, "I have been benedicted to live for as long as Lord Rama's glories are sung on this earth. Ever since Rama's disappearance, I have been residing at this place, and by the mercy of Mother Sita, all enjoyable objects have been supplied to me. The Apsaras and Gandharvas daily sing the glories of Lord Ramachandra for my pleasure. I take great delight in passing my time in this way. My dear Bhima, I have obstructed your path for your own good, for the lake that you are searching for is inaccessible to mortals."
Hanuman reveals his original form
Bhima affectionately bowed down before his elder brother and said, "Hanuman, I am so fortunate just to be able to see you! Now that I have gained this opportunity, kindly show me the gigantic form that you had assumed to jump over the ocean to Lanka."
Hanuman replied, "Everything has diminished greatly with the passage of time, and so I can no longer exhibit such a colossal form. In each of the four yugas, the conditions are radically different. The land, rivers, trees, demigods and sages all conform to the characteristics of the particular age."
Hanuman describes the characteristics of yugas
Bhima said, "I would like very much to hear about the characteristics of each of the yugas."
Hanuman replied, "During the Satya-yuga, everyone was one hundred percent religious. At that time, there were no Demigods, Demons, Gandharvas, Yakshas, Rakshasas or Nagas. There was no buying or selling, and no one had to engage in manual labour because all necessities of life were produced simply by thinking about it. There was no greed, malice, pride, envy, fear or hypocrisy in the Satya-yuga, and thus there were no disputes. Everyone engaged in the worship of Lord Narayana as He appeared in His white incarnation."
"Next, in the Treta-yuga, the lord in his reddish incarnation introduced the process of sacrifice because virtue had diminished by one fourth. In this age, people began to devise the means for attaining their objectives, since the necessities of life were not automatically produced, as before."
"Now, in this Dwapara-yuga, the Lord has incarnated as your relative, Krishna. This appearance of the supreme Lord is very special, for He has come in His original form, which is the source of all other expansions of Godhead. In this age, piety has decreased by one-half, and thus lust, diseases and natural calamities have increased."
"Bhima, in the upcoming age, Kali-yuga, human beings will gradually exhibit all bad qualities, and because of this, there will be a great fear of scarcity. Lord Krishna will once again appear near the beginning of this age, although He will cover His original feature by assuming the form of a devotee. Taking a golden form of indescribable beauty, the Lord will personally demonstrate the path of pure devotional service by inaugurating the Sankirtana movement, the congregational chanting of the holy names of the Lord. Now, you should return to your brothers for they are certainly awaiting you with great anxiety."
However, Bhima insisted, "Hanuman, unless I am able to see your gigantic form, I will not be able to leave here satisfied."
Upon hearing this, Hanuman smiled and then began to expand his body until it reached the gigantic proportions that he had assumed while taking his monumental leap to Lanka. Thus, to satisfy his brother, Hanuman became as big as a mountain and exhibited copper-colored eyes and sharp teeth. When he saw this towering form, Bhima became struck with wonder and his hair stood on end. Due to the great effulgence of this wonderful form, Bhima had to close his eyes. Indeed, he felt as if he were no more than an insignificant fly in comparison to his illustrious brother.
Hanuman smilingly informed Bhima, "Factually, I am able to go on expanding my body as I like. In fact, when I face my enemies, my size increases automatically, according to the necessity."
Bhima's mind began to reel as he gazed upon Hanuman's terrible form. As he felt himself becoming more and more bewildered, Bhima at last requested, "My dear Hanuman, please resume your smaller form, for I cannot bear to see this wondrous feature any longer! My mind is becoming stunned and thus I feel that I am losing my equilibrium!"
Hanuman contracted his size until he once again appeared as before. When he regained his composure, Bhima asked with great curiosity, "Hanuman, why is it that Lord Rama had to personally fight with Ravana? It appears that you could have single-handedly killed all the rakshasas and destroyed the entire city of Lanka!"
In a solemn voice, Hanuman replied, "What you say is true. Ravana was no match for me but I did not want to kill him, for that would have obscured the fame of my eternally worshipable Lord, Sri Rama."
After saying this, Hanuman pointed out to Bhima the path leading to the Saugandhika forest and the gardens of Kubera. But, at the same time he warned, "These regions are guarded by fierce Yakshas and Rakshasas. Therefore, you must not try to take any of the lotus flowers by force. First, win the favor of the demigods by offering them suitable prayers. Then, your desire will easily be fulfilled."
Hanuman assures victory to Bhima
After saying this, Hanuman fulfilled his duty as an elder brother by briefly discoursing on Morality. Hanuman embraced Bhima with great affection and at once, Kunti's son found that his fatigue became mitigated, and his bodily strength increased. Hanuman said, "Bhima, it has been a great pleasure for me to meet you. Because you are a human being, you have reminded me of Lord Rama, for He had appeared in a human-like form. Please remember me from time to time and take a benediction from me, so that your meeting with me may not be fruitless. If you so desire, I can immediately go and kill all the sons of Dhritarashtra. Or else, I can arrest Duryodhana and bring him to Maharaja Yudhisthira."
Bhima replied "Hanuman, I think that our victory has already become assured just by receiving your well wishes. The only benediction I request is that I and my brothers may always remain under your protection."
Hanuman said, "I will help you by positioning myself on Arjuna's flagpole. By my ferocious roars, I will diminish the strength of your enemies so that Arjuna will easily be able to kill them."
After saying this, Hanuman suddenly disappeared from Hanuman Chatti. Bhima continued to ascend the Gandhamadana mountain from Hanuman Chatti, and while going along the path, his mind remained absorbed in thoughts of Lord Ramachandra and Hanuman. The sun had reached the meridian when Bhima finally arrived at a very beautiful lake wherein grew innumerable golden Saugandika lotus flowers, effulgent like the sun. Feeling that his goal had at last been achieved, Bhima drank some of the cool, clear water and then prepared to gather the celestial lotus flowers.
Bhima gets Saugandhika Flowers
The lake was situated within a pleasure garden belonging to Kubera, however, and so it was being guarded by thousands of Rakshasas known as Krodhashvas. When these Rakshasas saw Bhima enter the lake to pick lotus flowers, they came before him and demanded, "Who are you? Why have you come here?"
Bhima introduced himself and said, "I have come here to pick some of these lotus flowers at the behest of my wife, Draupadi."
However, the Rakshasas informed him, "You must first take permission from Kubera before you touch even a single lotus flower! What to speak of you, even the demigods and great rishis must obtain such consent! We warn you that if you try to ignore out good advice, you will meet with destruction!"
At this Bhima replied, "I do not see any Kubera present here, and so what is the question of taking his permission? In fact, even if Kubera were here, I would not do so, for it is not the business of kshatriyas to beg permission from anyone! Besides, this lake belongs to nature and not to any person, and thus it is open for use by all living creatures."
Having said this, Bhima dove into the lake, and the Rakshasas, who had become enraged because of his impudence, rushed to seize him. Seeing this, Bhima quickly came out of the water and picked up his mace so that he could face his assailants. As the Krodhashvas angrily surrounded him, Bhima began smashing their heads and limbs while roaring ferociously again and again. Bhima, who could not be killed in battle by mere prowess, soon killed one hundred Rakshasas, and so the rest ran away in fear.
Bhima once again plunged into the lake. After drinking the nectarean water, his strength became revived. Thereafter, as Bhima plucked the golden lotus flowers, the surviving Rakshas came before Kubera amd informed him of the intruder. Kubera simply smiled, however, and said, "Let Bhima take as many lotus flowers as he likes. Do not worry, I already knew about his arrival before you came here."
How to reach Hanuman Chatti
By Roadways
To reach Hanuman Chatti by road, one has to travel to Dehradun and then to Haridwar. Every day in the morning, direct buses ply from Haridwar bus stand to Badrinath. Get down at Hanuman Chatti before Badrinath. From Hanuman Chatti you may get into any bus towards Badrinath to reach Badrinath. If you are lucky, the bus might even give a brief stop at Hanuman Chatti enroute Badrinath.
By Airways
Jolly Airport in Dehradun is the nearest airport. From the airport one has to follow the roadways direction.
Best time to visit Hanuman Chatti
Although Hanuman Chatti can be reached all through out the Char Dham Yatra season, the best time to visit Hanuman Chatti is April to June and September to November.
References of Hanuman Chatti Blog
The pastime of Bhima and Hanuman at Hanuman Chatti has been taken from the book 'Mahabharata by Purnaprajna Dasa'
9