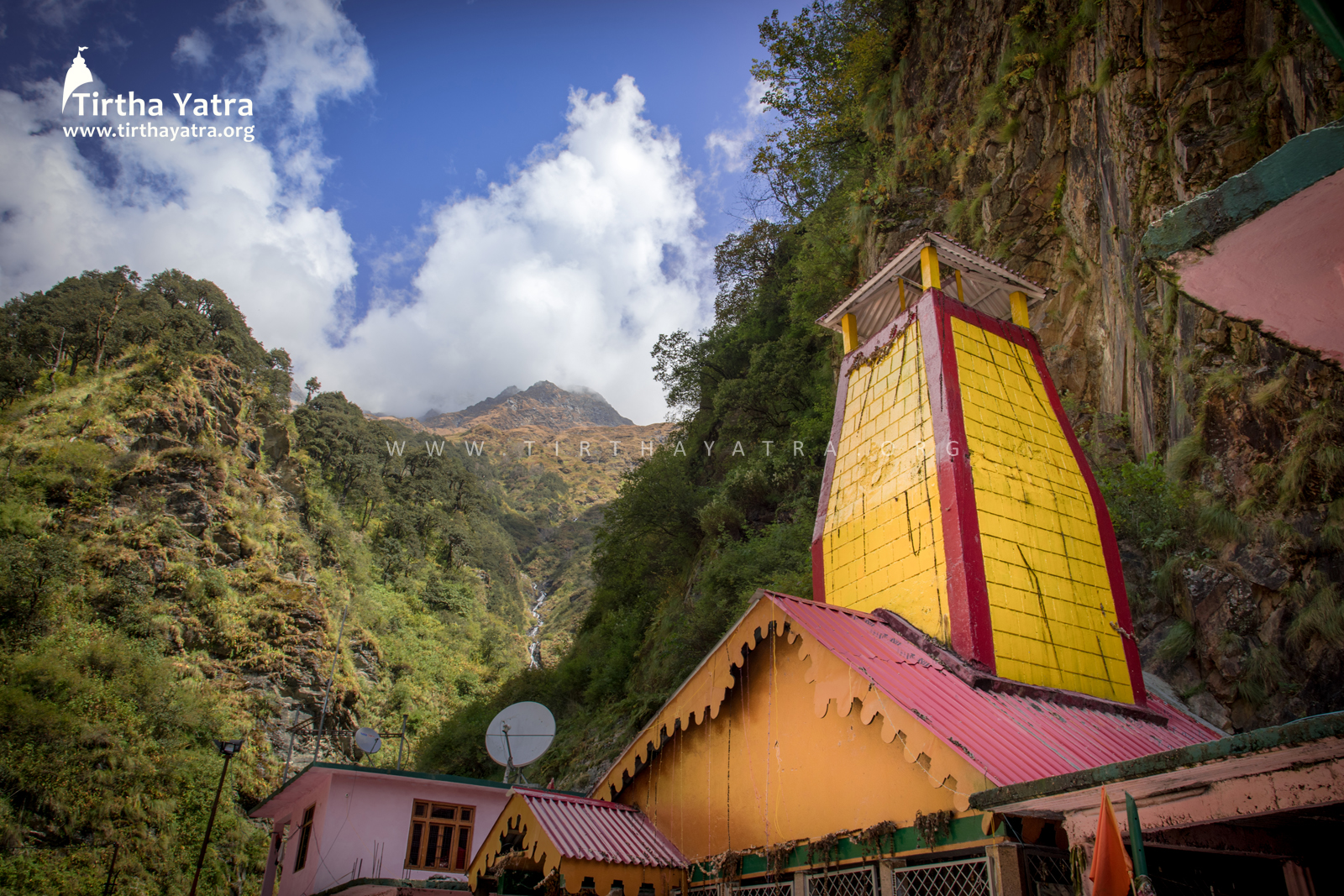 Yamunotri is one of the four sacred places of sanatana-dharma located in Uttarakhand; the other three being Gangotri, Kedarnath and Badrinath. These four places are also called as the Chota Char Dham. Yamunotri is situated at a height of 3323 meters above the sea level in the western Garhwal Himalayas, in the Uttar Kashi District. Every year lakhs of pilgrims visit Yamunotri from April to November for the darshan of Mother Yamuna, the presiding Deity of the River Yamuna.

Birth of Yamuna to Suryadev and Sangya
The following pastime is told by Lord Skanda in the Skanda Purana:
Just like Ganga is born from the lotus feet of Lord Narayana, Yamuna is also born from His tears. Once after the battle between the demigods and the demons, Lord Vishnu was taking rest. When He closed His eyes, few drops of tears fell into the lap of Sangya who was performing the austerity. Thinking it to be the blessing of her austerity Sangya drank those drops of tears.
At that time there was a prophecy from the sky – 'When you marry Suryadev – the Sun-god, you will give birth to three children out of whom, one daughter will be worshiped by the living entities of the material world and shall be the queen of Lord Krishna in Dwapara-yuga. Your two sons shall be the maintainer and the destroyer of the material world respectively.'
Suryadev, the son of Kashyapa and Aditi married Sangya the daughter of Vishwakarma. She was also known as Surenu in the three worlds. After marriage, Sangya gave birth to daughter-son twins and one son. The twins were named as Yamuna and Yama and the other son was named as Shraddha Dev who was later known as Vaisvata Manu.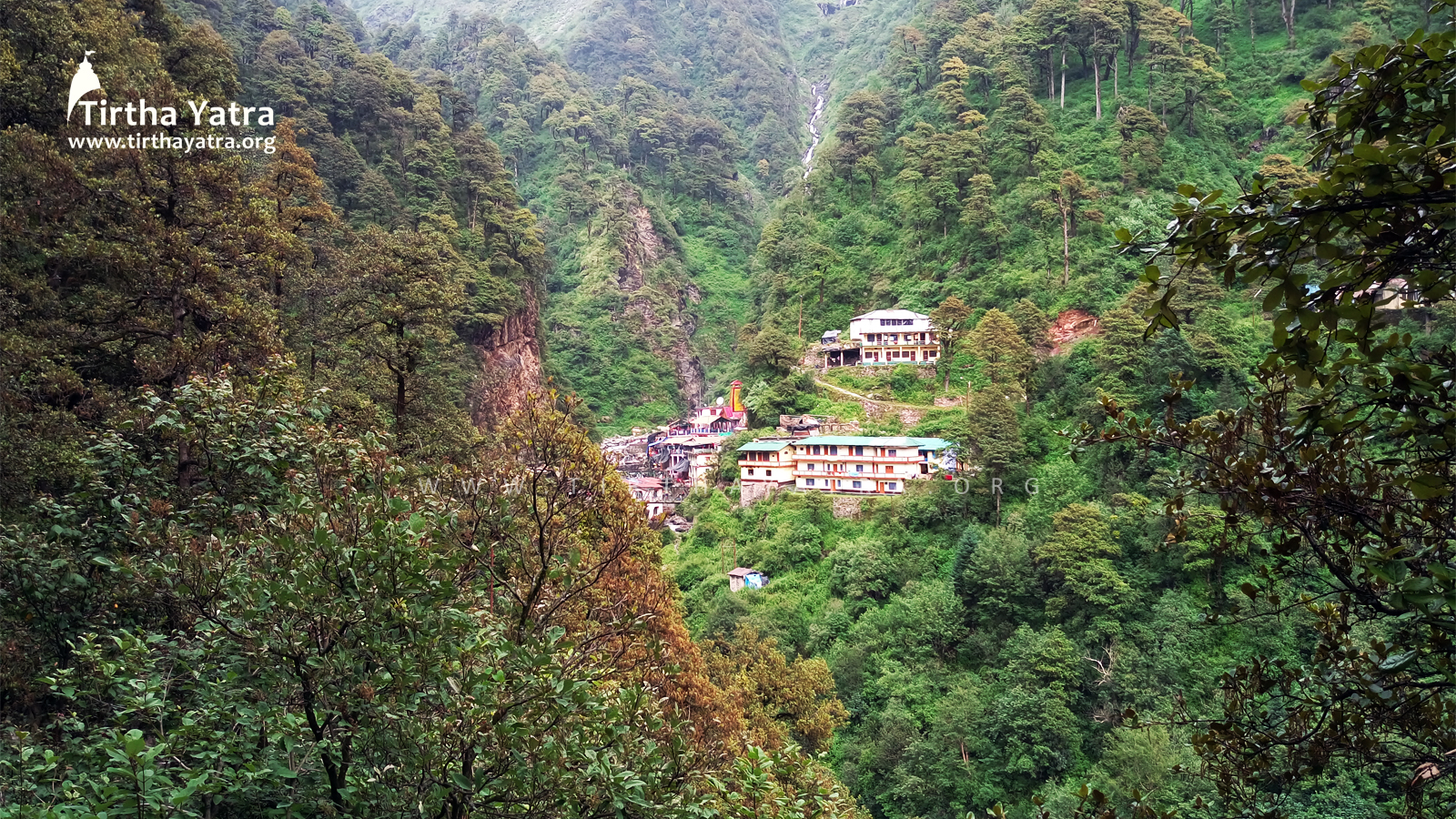 After some time Sangya was not able to tolerate the heat of Suryadev. Hence she created another Sangya called Chaya and instructed her to take care of her children until she returns from her father's house. Sangya also instructed her not to reveal this to anyone. Chaya agreed however on the condition that she would not reveal the incident to anyone until someone touched her hair.
When Vishwakarma saw Sangya returning home, he became worried and told her to return to her husband's house. Even after the repeated requests of her father, she did not agree and left that place. She then took the form of a horse and started wandering in the Kuru Region.
Thinking Chaya as Sangya, Suryadev begot an effulgent son from her, who was named as Shani – the worshipable amongst the planets. Since Shani was her own son, Chaya loved him over other three children. Vaisvata Manu tolerated this behavior but Yama could not. Once in anger, with the intention of kicking Chaya, Yama raised his leg towards her. Looking at this rude behaviour of Yama, Chaya cursed him to lose his leg. Cursed by mother, Yama approached Suryadev.
He said, "Father, Mother should equally love her children but compared to us, she loves the youngest son, Shani. Because of this I lifted my leg with the intention of kicking her but did not do so. Due to this my mother who is a virtuous and effulgent lady has cursed me. Please forgive me as I am just a child. If you bless me, my leg will not fall off."
Hearing this, Suryadev spoke, "My dear Son, there must be some reason due to which a saintly and a righteous person like you has become angry. Whatever the reason may be I cannot nullify this curse. However insects will take some part of your body's meat and enter the Earth. In this way, you will be safe and your mother's curse will also be respected."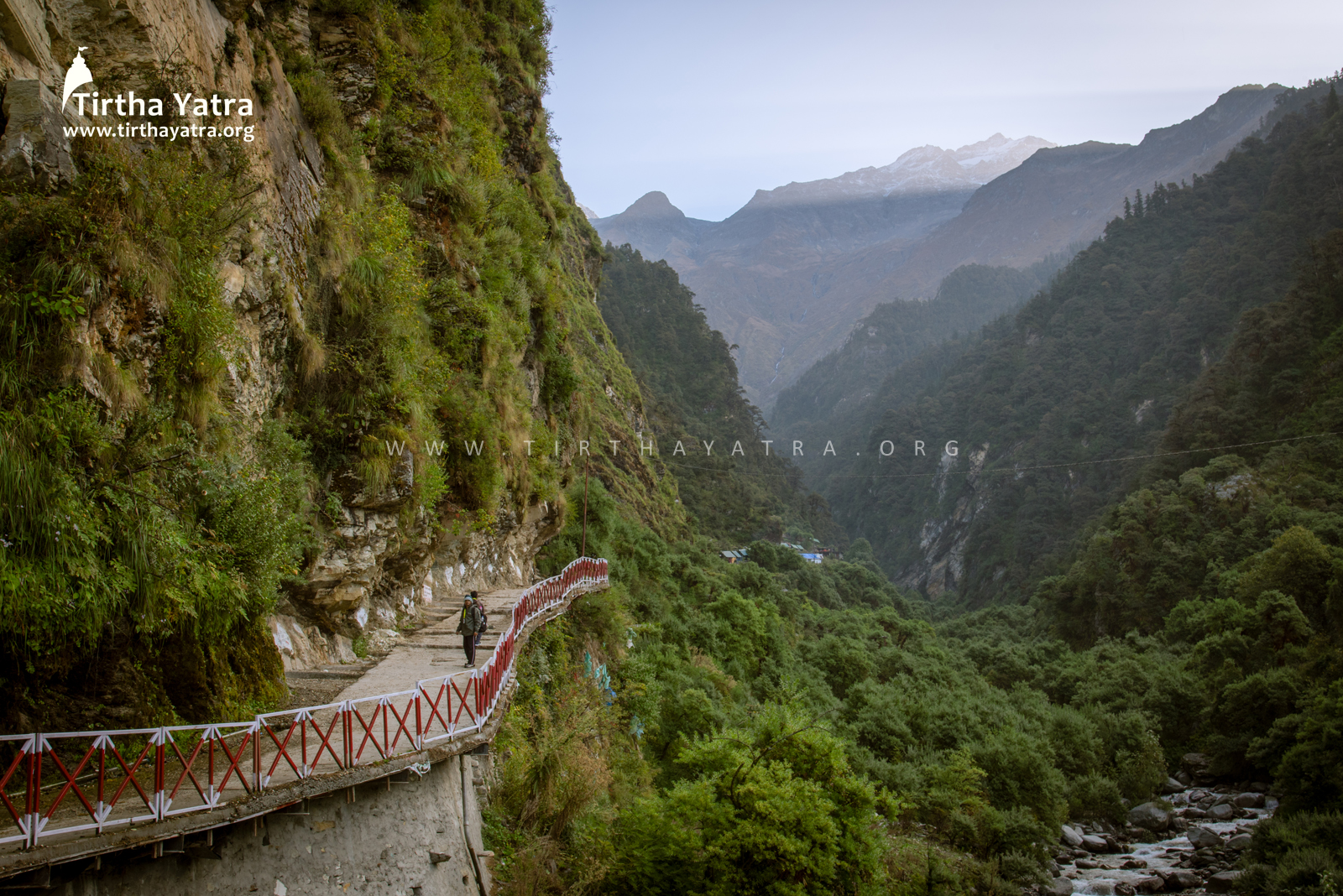 After this Suryadev approached his wife and asked, "Devi, mother has to love her children equally. Why then do you love the youngest child more?"
Chaya neglected this question and did not reply to Suryadev. But Suryadev got to know of everything due to his potency and got ready to curse Chaya. In anger, he caught her hair. As soon as he caught the hair, Chaya narrated the entire incident to Suryadev. Hearing it, Suryadev became furious and went to Vishwakarma.
Seeing Suryadev angry, Vishwakarma immediately fell at the feet of Suryadev and begging forgiveness, he said, "O Lord, your effulgence was intolerable to Sangya and hence she left you. She has assumed the form of a horse and is eating husk in the forest of Kuru Region. As a solution for your intolerable heat and if you are okay, I will reduce your effulgence and make you look more beautiful." To which Suryadev agreed.
Vishwakarma beautified the form of Suryadev and made him look very handsome. In this process, whatever sparks came, they took the form of twelve Adityas namely Dhaya, Aryama, Mitra, Varuna, Arshamanga, Indra, Vivaswan, Pusha, Parjanya, Ajdhanya, Jaghanya and Harsha. Seeing these Adityas fully decorated with sandalwood paste, flower garland and crown, Suryadev was very pleased. Then he took the form of a horse and went to Kuru Region to meet his wife Sangya who was performing tapasya in the form of a horse and got united with Sangya. Later from Sangya, Ashwini Kumaras were born.
Sapta Rishi Kunda – the actual source of Yamuna
Before descending to Earth, Mother Ganga requested King Bhagirath to take her to the difficult paths of Himalayas and the places where water was needed. In this way Bhagirath lead the way of Mother Ganga. After covering some distance in the Himalayas, Ganga was kidnapped by the Nagas. When Bhagirath could not find Ganga, he got worried and started wandering in the Himalayas to search her calling Mother Ganga, Mother Ganga. He then reached the Kalinda Mountain. Listening to his cry, Lord Narayana was moved so much that His eyes got filled with water and the drops of His tears fell on top of the Kalinda Mountain and formed a lake. As soon as King Bhagirath saw that crystal clear blue lake, he approached the lake. After some time from that lake, a dark complexioned girl appeared who was decorated with jewels and precious stones. Bhagirath thought her to be Mother Ganga and paid respects to her.
He asked her, "Mother, where had you been? Seeing you disappeared, I was worried and searching for you here and there."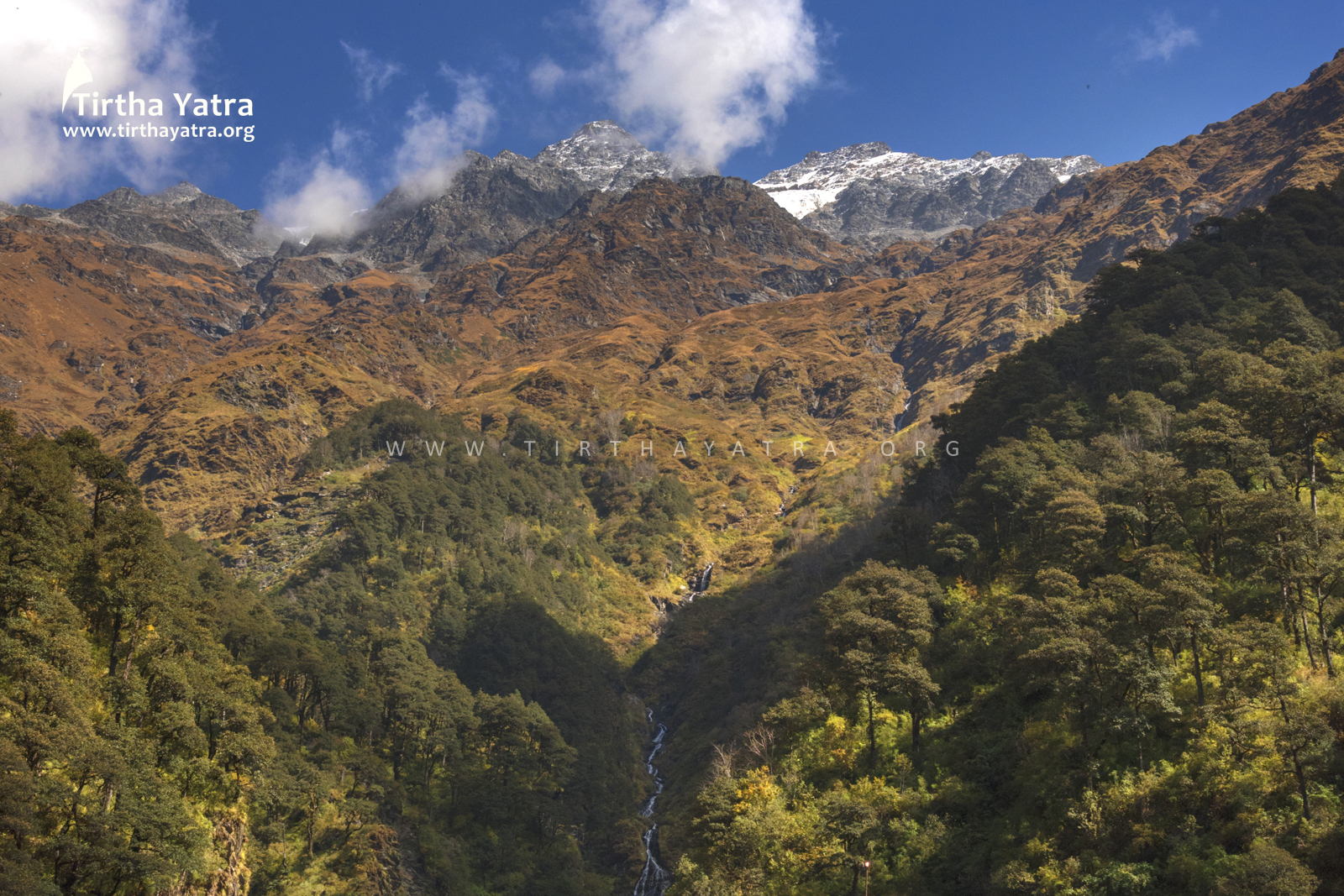 She then spoke as follows, "My dear son, I am not Ganga, but her younger sister Yamuna. Seeing you worried and wondering in the mountains, Lord Vishnu has sent me to guide you. When you were taking Ganga through the valleys of Himalaya, at that time Seshavatar, the king of Nagas desired to have darshan of Mother Ganga. Therefore Nagas took her to their abode which is situated between the Gangotri and the Kalinda Mountain. You have to go to that place and keep chanting the following mantra:
vishnu vishnu, varshshatkaaro, ditijo, daitya soodana / phana sahastra, vilasad, bhumandalahaskar / sarparaajo, vishi vaidho bhaanu-bhaanu sahastradhrk / raajataadri samaakaro, ananto nat shira prabhu
Chanting this mantra Bhagirath went to Nagaloka. There he saw Mother Ganga also chanting the same mantra and worshiping Lord Anantadev.
She requested the Lord, "O Lord, currently I am duty bound to King Bhagirath. He has invited me to liberate his ancestors. Once I finish my duty, I promise to return to Nagaloka. Towards the end of Kali-yuga when the people will be bereft of religion and devotion to the Lord; at that time due to the rising influence of the kali-yuga, I shall return to Patala."
After hearing her request and promise, the King of Nagas released her. And then again King Bhagirath started to lead her way, moving towards his ancestors. After giving the mantra to Bhagirath, Yamuna went back to the same lake from which she appeared. Today this lake is known as Sapta Rishi Kunda. It is believed that the seven great sages performed austerities here and left to Vaikuntha.

How Yamuna descended to Yamunotri
In the beginning of the Dwapara-yuga, there was a sage named Jayamuni who performed severe austerities to please Mother Yamuna. Being pleased by his austerities, mother Yamuna started flowing from Sapta Rishi Kunda in the form of a small stream and came to the place where Jayamuni was performing the austerities. She gave him darshan in the form of a small girl.
She said, "O sage, I am pleased by your austerity. Please ask me for a boon."
Sage Jayamuni requested, "Mother, Ganga is the purifier of the three worlds but you are the liberator of the threes worlds. In future, lot of devotees will come and take shelter at your feet. But it will be very difficult for them to make a pilgrimage to this holy place. Hence I request you to manifest as a hot water stream, so that the living beings get liberated just by taking bath in your holy stream in this place."
Listening to this prayer, Mother Yamuna meditated on her father, the Sun God and requested him to provide his one ray of heat.
After receiving a ray from Lord Surya Narayana, Mother Yamuna spoke to Jayamuni as follows, "Dear Sage, this holy place will also be known after your name. It will also be called as Jamunotri."
After blessing Jayamani, Mother Yamuna returned to her abode. After Mother Yamuna disappeared, a stream of hot water started flowing from that place. The place from where the stream of hot water flows is called as Mukharavinda and the place where Jayamuni performed tapasya is known as Divya Shila. Devotees perform worship at Divya Shila to please Mother Yamuna. When Mother Yamuna was manifesting a hot stream of the river, at that time two drops from that stream fell in South and North directions, creating Surya Kunda and Vishnu Kunda respectively. Even today River Yamuna is also known by the name Jamuna.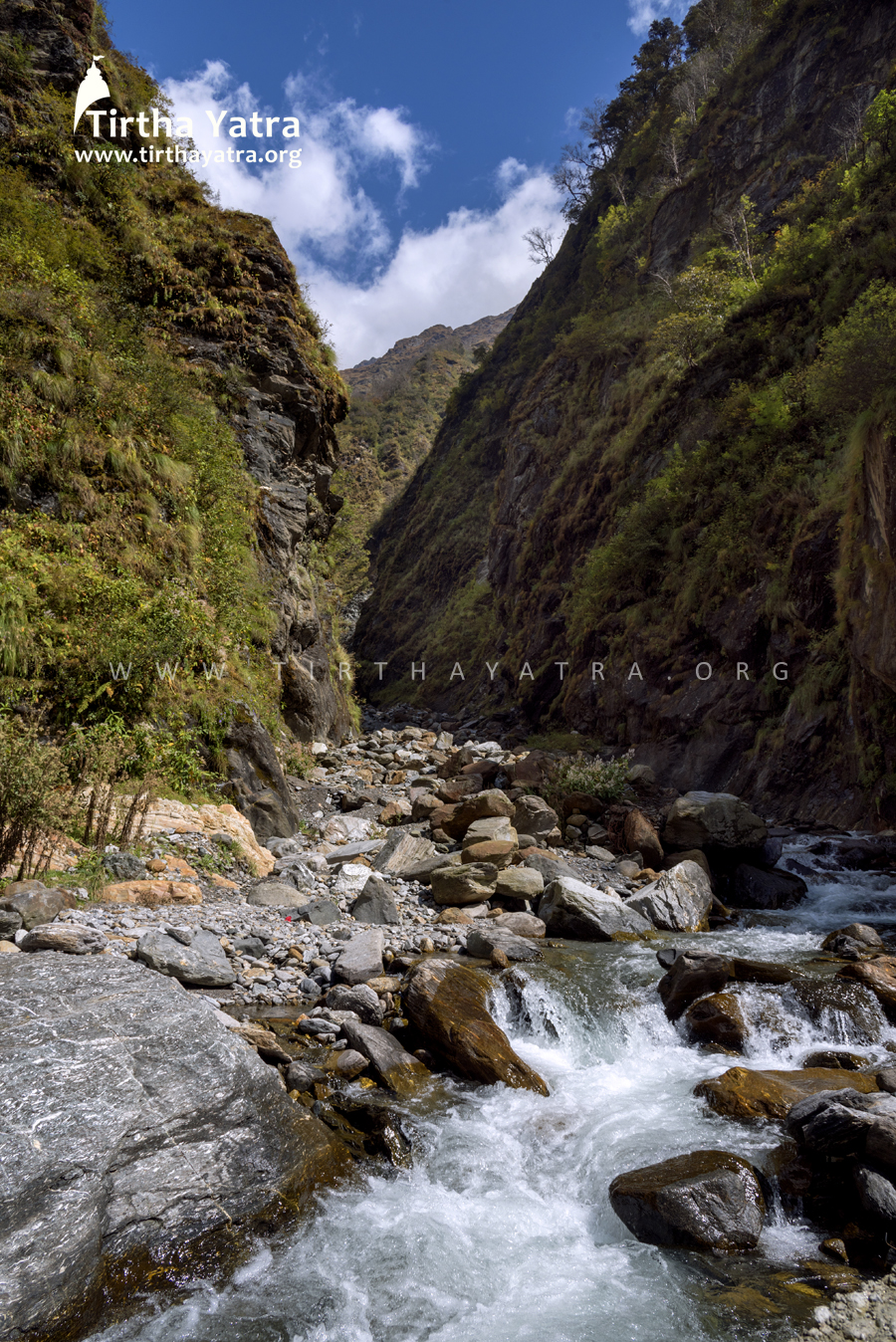 Yamunotri Mahatmya – Glories of Mother Yamuna
Devotees who worship Mother Yamuna and Yamunotri are very fortunate. Any person who is bereft of religion in Kali-yuga, who touches or has darshan or worship the Divya-shila at Yamunotri, all his sins will be washed away and he will attain the sayujya-mukti.
When the demigods made Yama to be the Dharmaraja – the Father of Religion, at that time Yamuna requested for a boon from Yama, her brother.
She said, "My dear brother, please keep owning your right over the sinful persons only till they take bath in my sacred waters. After they take bath in my waters, please forgive all their sinful reactions." And Yamaraja agreed.
Glories of bathing in Yamuna
Lord Skanda describes the glories of Mother Yamuna in Skanda Purana as follows:
Just by taking bath in Yamuna, the living entity is liberated from the clutches of this material world. Even once bath in Yamuna, will take that person to the spiritual world. Anyone who after taking bath in Yamuna, offer oblations to the ancestors, after death they go to Suryaloka and then enjoy the opulence in the Brahmaloka.
Both Ganga and Yamuna are equal in purifying the three worlds. Just by taking darshan of these two rivers, one gets devotion to Lord Shiva. Anyone who leaves his body on the banks of River Yamuna, he achieves sayujya-mukti. He never takes birth again into this material world.
Until one takes bath in Yamuna, one's sinful reactions will bother the living entity. Until then Yamaraja can punish a living entity for the sins. Anyone who takes a dip in Yamuna on the Solar eclipse day, even unknowingly, he acquires multifold result of taking bath in Kurukshetra or Kashi.
The glories of taking bath in Yamuna are unlimited. Even we cannot describe the complete glories of taking bath in the river Yamuna. Anyone who even remembers the glories of taking bath in Yamuna, gets the result of taking bath in Yamuna. After death he resides in the Brahmaloka.
Places to have darshan in Yamunotri
The Yamunotri Temple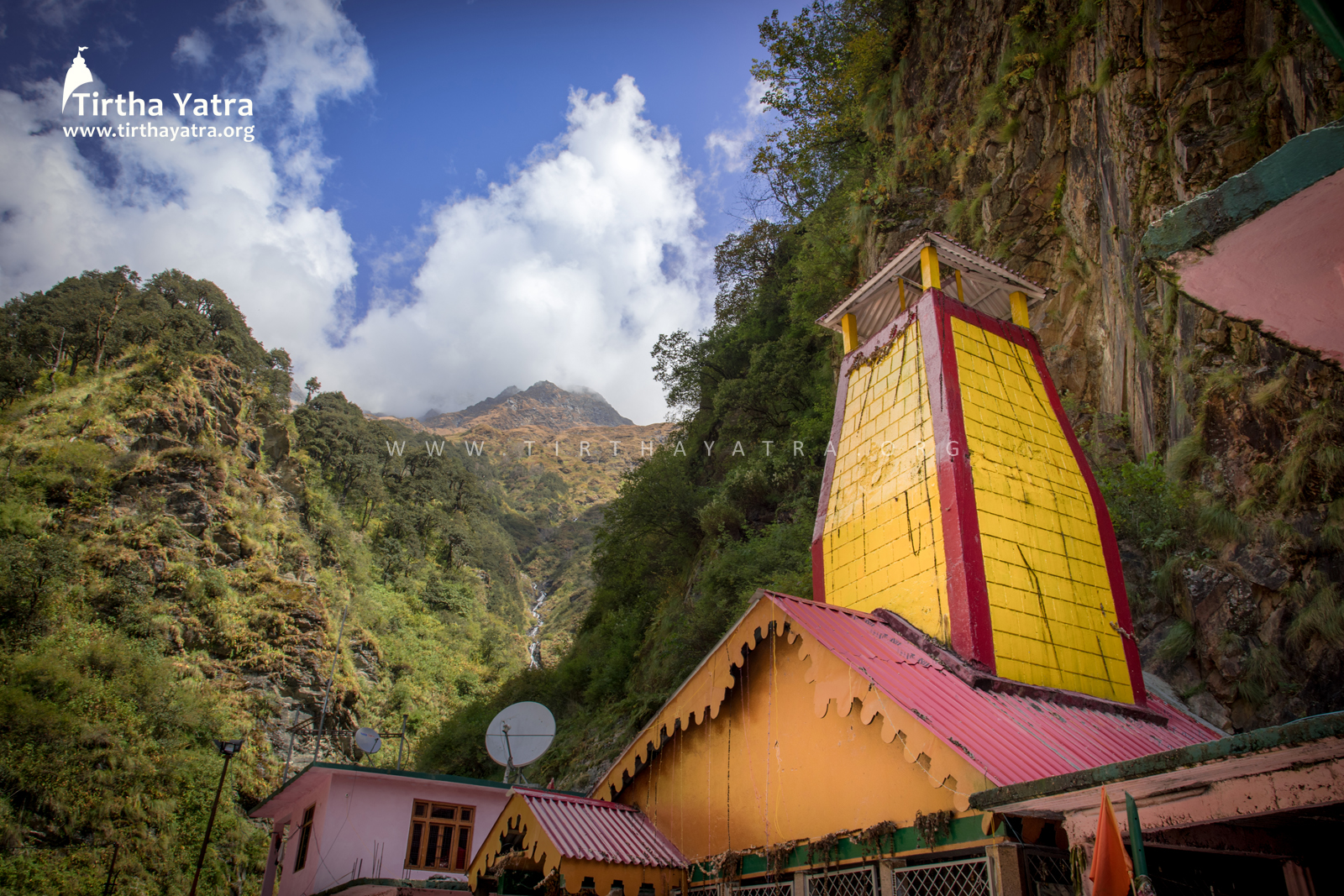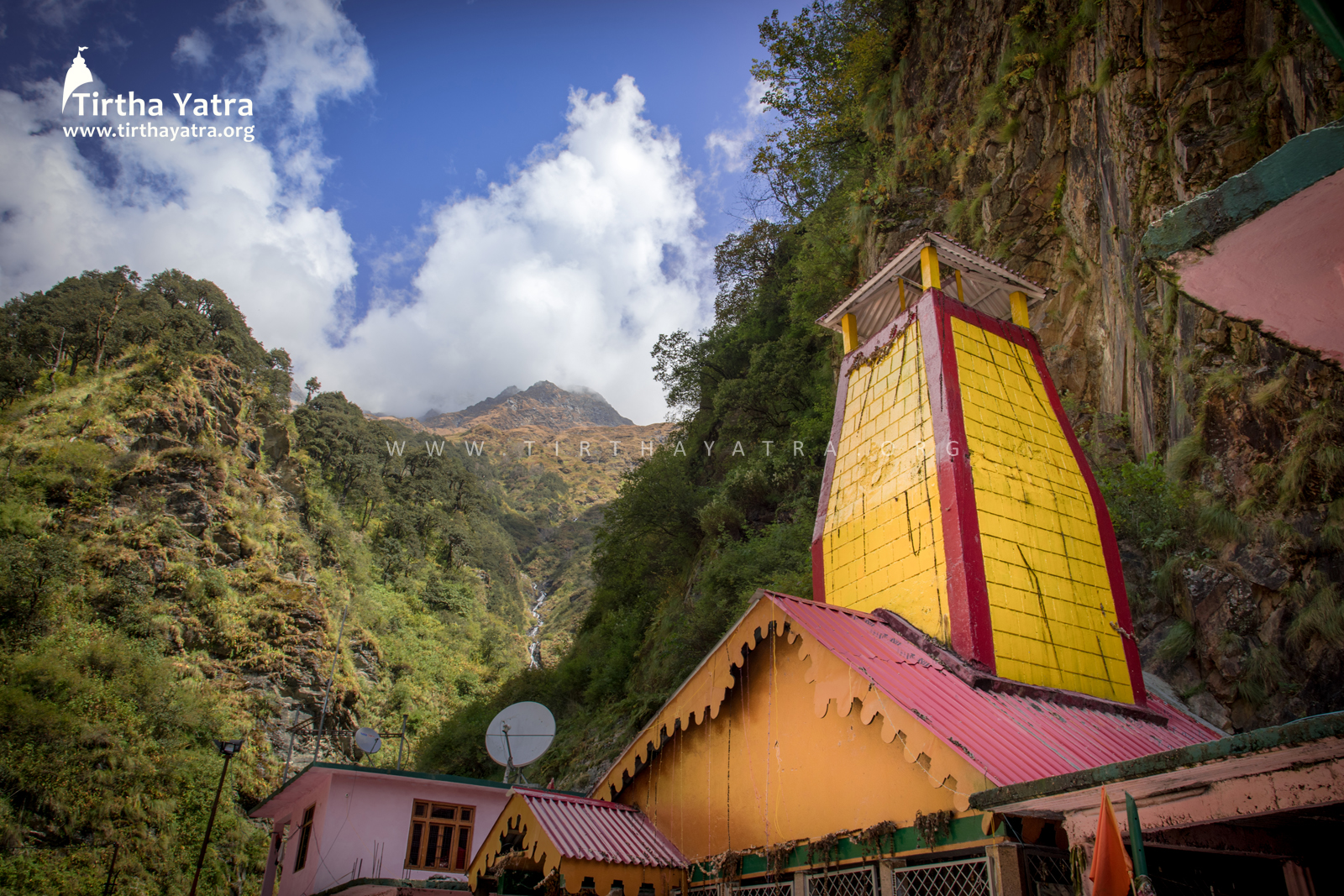 This temple is constructed by the King Pratap Shah of Tehri Garhwal in the traditional Garhwal architecture. Some historians believe that originally the temple was constructed by Queen Guleria of Jaipur. The original temple was destroyed by the weather and in the place of which the recent temple was constructed.
Inside the temple there is the black marble Deity of Mother Yamuna and the Deity of Ganga. There is also a Deity of Lord Krishna and the utsava murthy of Mother Yamuna. The temple has a small pradakshina path.
Divya Shila
The sacred stone slab where Jayamuni performed tapasya. Devotees offer worship and puja near this slab before offering worship in the temple.
Surya Kunda
This hot water spring is situated near the Divya Shila. Devotees cook rice in this kunda to take it back as prasadam of Mother Yamuna.
Mukharvinda
Mukharavinda is next to the Surya Kunda. It is from this place, that mother Yamuna is gushing out in the form of a hot water spring.
Tapta Kunda (Snana Kunda)
Tapta Kunda is a hot water lake at Yamunotri. There are two lakes – one for men and other for women to take a holy dip. Devotees take bath in this hot water lake to burn their sins before having darshan at Yamunotri. Sometimes the water of this lake is very hot and it is not advised to get inside it immediately. One has to slowly get into the lake and take a holy dip.
Sapta Rishi Kunda
Sapta Rishi Kunda, the actual source of Yamuna in the Champasar Glacier, is a fresh water lake at a distance of 1 kilometer from Yamunotri. This lake is situated at 4431 meters above the sea level. But to reach it, one has to take an arduous trek of 15 kilometers. This trek is not frequented by many devotees and hence this trek is considered to be one of the most difficult treks in the Himalayan region. It takes three days from Yamunotri to visit Sapta Rishi Kunda and return to Yamunotri. Sapta Rishi Kunda trek route offers one an unforgettable view of the Yamuna valley and also the rare Himalayan herbs and flowers such as Brahma Kamal.
Shanidev Temple
This five story ancient Shanidev temple is located in the Kharshali village near Janki Chatti. Kharshali village is situated near Janki Chatti in the between the rivers Yamuna and Hiranyabahu. Just above the vigraha of Shanidev in this temple, two mud vessels are kept which mysteriously interchange their place on own, once in a year. The priests of the Yamunotri temple belong to the Bharadwaja clan and live in this Kharshali village.
The temple of Yamunotri is kept open for darshan only from Akshaya Tritiya to Yama Dvitiya (Bhaiya Duj). On the last day of darshan i.e, Bhaiya Duj, the vigraha of Shanidev is brought in a palanquin amidst the bhajans to Yamunotri to take his sister to Kharshali. The utsava-vigraha of Mother Yamuna resides in this temple until the Akshaya Tritiya.
Shani Prayag
The confluence of River Yamuna and Hiranyabahu is called as Shani Prayag. It is located near Janki Chatti.
Important to note while traveling to Yamunotri
Yatris should note the following while visiting the temple of Yamunotri:
Yamuna's water should never be offered to Shiva-linga
Carry camphor and keep smelling it while climbing
Eat raisins and almond at regular intervals
Take general & regular medicines with you
Do not urinate in the waters of Tapta Kunda
Do not litter. Keep the environment clean
Traveling on a pony might not be a good idea due to physical strain
Better take doli if you are unable to walk
Good food is available in the Yamunotri area
How to reach Yamunotri
There are two routes to reach Yamunotri from Haridwar:
Via Rishikesh, Narendranagar, Chamba, Tehri, Dharasu, Brahmakhal, Barkot, Kharadi, Syana Chatti, Rana Chatti, Hanuman Chatti and Janki Chatti
Via Dehradun-Mussorie by-pass, Damta, Purola, Naugaon, Barkot, Kharadi, Syana Chatti, Rana Chatti, Hanuman Chatti and Janki Chatti.
From Janki Chatti one has to ascend 5 kilometers to reach Yamunotri. Barkot is the main junction after Haridwar. Direct buses are available from Haridwar or Rishikesh to Barkot every morning. If you miss these buses, you can travel between the villages by the local transport such as State Transportation Bus, Jeep, Sumo, etc.

2