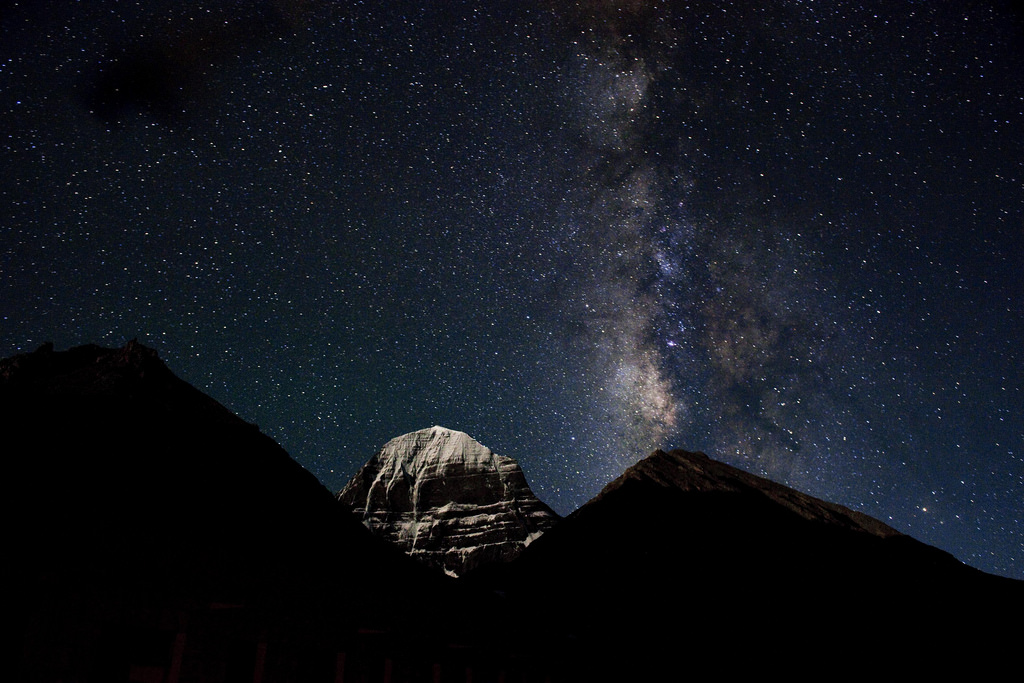 Mount Kailash is the one of the most revered mountains on this planet owing to the fact that Lord Shiva has chosen this mountain for His residence. Lord Shiva is known as the master of the material world. Parvati Devi is the consort of Lord Shiva who administers the material world as Durga Devi on His behalf. He is in charge of tamo-guna i.e. mode of ignorance as well as in charge of dissolving the material world at the end of a fixed cycle. Mount Kailash is located in the north-eastern direction i.e. the direction of Sri Kubera, the treasurer of the devatas. Geographically, the Kailash Parvat lies in the Tibet region of China at an altitude of 21778 feet, approximately 6638 mtrs above the sea level. It is also the source of Asia's four important rivers i.e. Indus, Sutlej, Brahmaputra and Karnali (known as Ghaghaara in India). Kailash Parvat is also referred to as Sitachala – the pure white mountain. Over a thousand devotees make a pilgrimage to this sacred mountain in their Kailash Mansarovar Yatra to receive the blessings of Lord Shiva.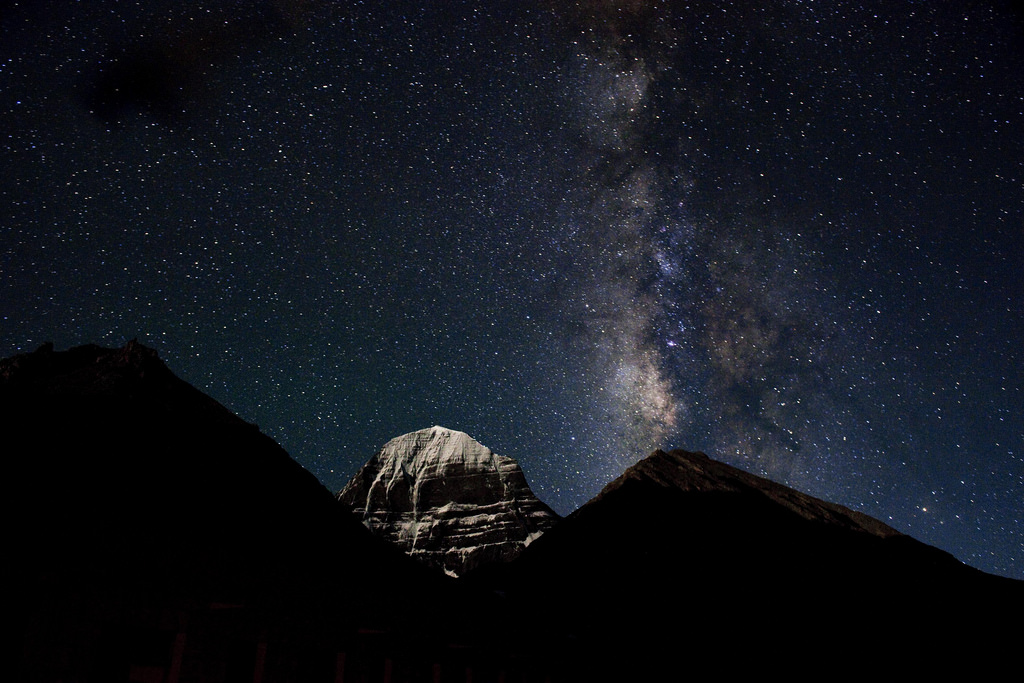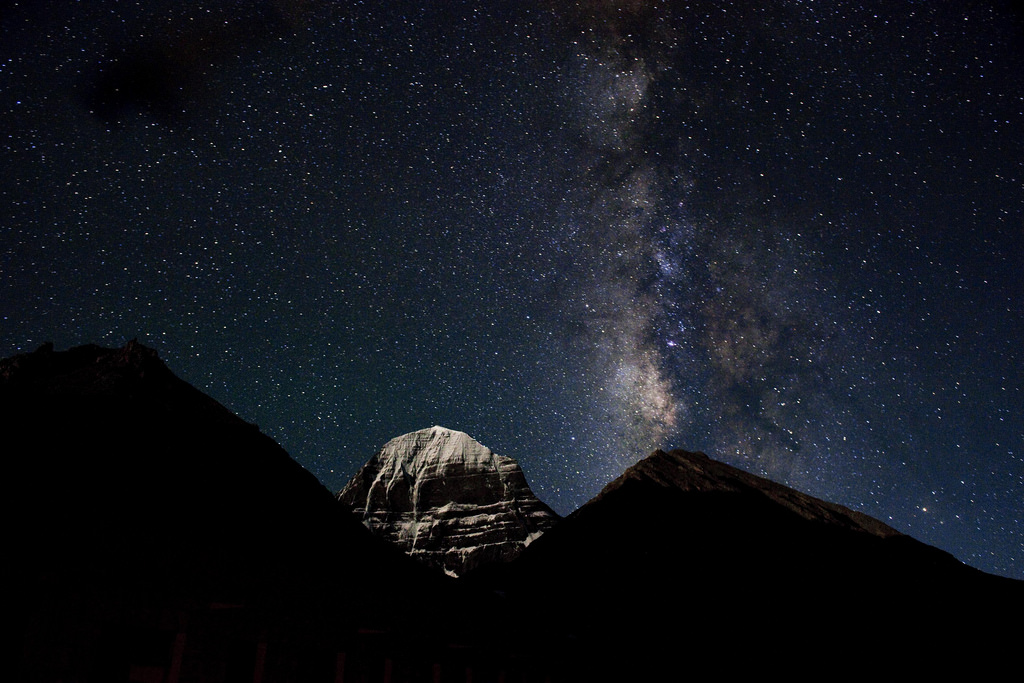 The origin of Mount Kailash
 In a conversation between Lord Brahma and Narada Muni on the topic of the creation of the universe, Lord Brahma tells Narada Muni the following  – "First water was created and then the enormous cosmic egg manifested which consisted of the twenty four elements. To bring that egg into consciousness, I performed tapasya for twelve years to please Lord Vishnu. Pleased by my tapasya, Lord Vishnu appeared before me and then entered into the cosmic egg as a result of which all the world's including the Mount Kailash came into existence."
Lord Shiva chooses Mount Kailash as His abode
In the ensuing conversation, Narada Muni asks Lord Brahma as to when did Lord Shiva make Kailash His abode and how did Lord Shiva and Sri Kubera become friends. Lord Brahma narrated the following history  –
A Brahmin by the name Yagyadutt who was proficient in the performance of Somayagya lived in Kampilyanagar. Yagyadutt had a son named Gunanidhi who was a scholar but indulged in sinful activities such as gambling. He was irreligious and kept bad company. Yagyadutt's wife used to lie about Gunanidhi's activities whenever Yagyadutt would ask her about his conduct, being completely unaware of what was going on. Yagyadutt got Gunanidhi married to a girl from a well to do family but this didn't deter Gunanidhi from continuing his activities in spite of his mother's advice to stop indulging in such activities.
One day, Yagyadutt saw a gambler on the street wear his ring. Being surprised, he went up to the gambler and asked him about the same. Yagyadutt was told by the gambler that his son Gunanidhi had lost the ring in a gambling match. Similarly he had lost many other valuables on earlier occasions too. Infuriated by what he heard, Yagyadutt disowned his wife and son, and then married another woman. Upon hearing about the actions of Yagyadutt, Gunanidhi started feeling remorseful about what he had done and kept on walking until he was tired and sat under a tree. Suddently, he noticed some villagers walking towards the village temple with offerings of food. He started following them and reached the temple sitting down at the temple entrance. He waited for the pujas to get over and then slowly entered the place where the food offerings were kept. As the light wick in the temple was getting dim and being unable to see, he tore his own cloth, made a thick wick and put that in the lamp which enabled him to see properly. Gunanidhi picked up the food offerings and started moving out stealthily when he suddenly dashed against a devotee who was sleeping. The devotee woke up and seeing Gunanidhi fleeing away with the offerings, called out everyone branding him a thief. Everyone present there beat him up badly to death.

After Gunanidhi's death, the Yamadutas came to take away his soul, but the Shivaganas came there immediately and prevented the Yamadutas from taking him away saying that Gunanidhi had observed the Shivaratri fast with devotion, listened to the narration of Lord Shiva's pastimes and even prevented the lamp from burning out. The Yamadutas were also informed that Gunanidhi would become the King of Kalinga in his next birth. Thus, he was taken to Shivaloka and in the next life born as the son of Arindam, the King of Kalinga and named Dama. King Arindam died when Dama was very young and thus, Dama succeeded the throne as the King of Kalinga. The new King passed a decree to renovate all the Shiva temples under his jurisdiction and made it mandatory for all his subjects to worship Lord Shiva.
King Dama becomes Kubera with the blessings of Lord Shiva
During the Padma Kalpa, Sage Vishrawa was born to Sage Pulastya. Sage Vishrawa's son – Vishrawan (Gunanidhi and King Dama in previous lives) ruled over Alkapuri, which was constructed by the celestial architect Sri Vishwakarma. During the kalpa called Meghawan, Vishrawan did severe tapasya for ten lakh years to please Lord Shiva. Being pleased with the tapasya, Lord Shiva appeared along with Parvati Devi before Vishrawan and told him that he could request for any boon that Lord Shiva could fulfill. Hearing Lord Shiva's voice, he opened his eyes but was unable to see owing to Lord Shiva's radiance. He requested Lord Shiva to give him power of sight. After getting back his eye sight, Vishrawan was astonished to see that Parvati Devi, who was more important than Vishrawan himself was standing beside Lord Shiva. He became jealous of this fact and thus lost his eyesight of the left eye. Parvati Devi being astonished at the way in which Vishrawan looked at Her, asked Lord Shiva for the reason. Lord Shiva replied that Vishrawan was her son and thus he was astonished at what Parvati Devi had achieved with Her rigid tapasya.

Lord Shiva thus blessed Vishrawan to be the King of the Kings and promised to live near Alkapuri forever. After being blessed with the boon, Vishrawan offered his respects to Lord Shiva and Parvati Devi. Parvati Devi the said the following to Vishrawan – "Since you have looked at me angrily, your hatred and enemity towards me is clearly visible. For this reason, you shall be known as Kubera." After this, Lord Shiva and His consort Parvati Devi went away to live in the Kailash Parvat which is situated near Alkapuri in Himalayas.
Shiva takes His residence at Kailash
When Lord Shiva heard about the severe tapasya done by Kubera, he started playing on His Damaru (drum), the sound of which reached the three worlds. Lord Shiva reached the place where Kubera was doing his tapasya. Hearing the sound of the Damaru, Lord Brahma and Lord Vishnu appeared too. When Kubera saw Lord Shiva before him, he offered Lord Shiva his seat and worshipped Him. Lord Brahma and Lord Vishnu too were given respects and worshipped.  Being pleased with His devotee's devotion, He decided to stay in his vicinity and hence, ordered Vishwakarma, the celestial architect to construct His abode at Kailash Parbat. After the construction was over, Lord Shiva went to live in Mount Kailash at an auspicious moment, during which He was worshiped by the other devatas too.
(From Srishti Khanda of the Rudra Samhita, Shiva Purana)
Mention of Kailash in Ramayana
Mount Kailash finds mention in various Puranas as the celestial abode of Lord Shiva. However the incident related to Ravana from the Ramayana is worth remembering in this regard.
The demoniac King Ravana and his servants used to harass the sages living in the Himalayas. They started moving further north and reached the region of the Kailash Parvat. Ravana's pushpaka vimana suddenly stopped here. Being astonished Ravana got down surrounded by his ministers and looked around amongst the scenic views of the place. He noticed a strange being who appeared dreadful with a dark yellowish complexion and dwarf stature holding a pike. Ravana called out to the creature and asked him as to which place was this and that why was he stopped from going further.
The creature replied that he was Nandi, the servant of Lord Shiva. He further said that "You have arrived at Lord Shiva's abode, which is inaccessible to all living beings. You will not be able to pass this mountain. Therefore, turn back and go the way you have come."
Ravana looked at Nandi and spoke in a derogatory way "Why should I heed you O- monkey faced one? Who is this Shiva anyway" Being infuriated at Ravana insulting Lord Shiva, Nnadi picked up his pike which was throwing flames of fire and retorted "O Rakshasa, I should kill you at once but I will not do so, as you already stand killed by your own sins. But I say this, as you disregard me in my monkey form, there shall be born on earth many monkeys of terrible strength who will annihilate your race"
As Nandi spoke, the sound of celestial drums roared in the sky along with showers of flowers. This angered Ravana who roared in anger "I shall remove this hill from my path. What do I care for you and your master?"
Ravana started digging the hill from it's sides from the earth with his twenty arms as a result of which the hill rose from the earth a little. Parvati Devi suddenly slipped from Her postion due to this and suddenly clung onto Lord Shiva who reassured Her that this was being done by the demon Ravana who was powerless to harm the both of them. Parvati Devi whose eyes were red with anger cursed that as Ravana had frightened a women through the use of violence, a woman shall be the reason for his death.
Lord Shiva stood up and pressed the hill down with His toe which crushed Ravana's arms. He cried so loudly that it was heard throughout the three worlds and terrified the living beings. He couldn't move being trapped by the weight of the mountain. Ravana's ministers at once implored him to appease Shiva.
Ravana who had studied the scriptures recited verses from the Samaveda glorifying Lord Shiva. But even after a hundred years had passed, Ravana was still stuck and he continued offering prayers. Lord Shiva finally relented and released him and told him the following – "O ten-headed one, your prayers have pleased me. Do not be so rash again. Leave now and go wherever you like"
Ravana bowed to lord Shiva, who stood holding his famous trident. The crescent moon shone from his head and a large serpent was coiled around his blue neck. He gazed at Ravana with his three eyes as the demon folded his palms to address him. "My lord, if you are actually pleased with me then please give me your weapon." Lord Shiva smiled saying "So, be it." Ravana was awarded the boon of the Pashupathastra which made him happy. Ravana thereafter felt that Lord Shiva was worthy of worship.
Lake Mansarovar
Lake Mansarovar lies near the Kailash Parvat in Tibetan region of China. It was created from the mind of Lord Brahma. The devatas are said to take a bath in this lake everyday during the Brahma-Muhurta period. This freshwater lake which is fed by the glaciers of the Kailash mountain is located at a height of 15,000 feet above sea level having a circumference of 88 kilometers and depth of maximum 300 feet. This is quite unusual for the Tibetan plateau which is usually saline in nature.  The lake overflows into the nearby salty Rakshastal through the natural Ganga Chu water channel. Lake Mansarovar is revered by followers of Hinduism, Jainism, Buddhism and Bon. Over a thousand devotees every year make a pilgrimage to this holy lake along with Mount Kailash in their Kailash Mansarovar Yatra.
The actual residence of Lord Shiva
Mount Kailash on this planet, is the reflection of the actual abode of Lord Shiva which lies on the periphery of the Vaikuntha Loka or the para-vyoma – the spiritual sky. Brahma Samhita (Chapter 05, Verse 43) affirms this as follows:
goloka-namni nija-dhamni tale cha tasya devi-mahesha-hari-dhamasu teshu teshu
te te prabhava-nichaya vihitash cha yena  govindam adi-purusham tam aham bhajami
The Bhagavata Purana mentions another refrence about the abode of Lord Shiva – Kubera had once earned the gratitude of Lord Shiva by earnestly worshiping Him and so, from then onwards, Lord Shiva had agreed to Kubera's authority on Kubera's Mount Kailash. Kubera, the appointed treasurer of the swargaloka rules the northeastern direction. Pleased with Kubera's devotion, Lord Shiva along with Parvati Devi and His other entourage took up residence on Mount Kailash, which when compared to His opulent abode outside the material universe is modest. Lord Brahma meant to imply that, "If you (Narada) go see Lord Shiva on Kubera's Kailash, you will not be able to understand fully how much greater Lord Shiva is than I. You should actually visit the Mahesha Dhama."
In this Mahesha Dhams which is also known as the Shivaloka, Lord Shiva's opulence's are unrivaled with ever existing palaces, airplanes and assests such as wealth, sense enjoyment, liberation, religion and devotion to the Supreme Lord. His symbols of supremacy such as jewelry, Chamara, royal umbrella, etc. surpass those of Lord Brahma and the other Devatas. Here, Lord Shiva worships the Personality of Godhead in His form as Sri Sankarshana, who has thousands of serpent hoods. Both Lord Shiva and Lord Sankarshana are the expansions of the Supreme Lord and hence, non-different. When the time for annihilating the material universe comes, Rudra who is in charge of the mode of ignorance appears from Lord Sankarshana. Any living being who sees Lord Shiva worshiping Lord Sankarshana i.e. one expansion of the Supreme Lord worshiping  the other expansion of the Supreme Lord is certainly astonished, especially when Lord Shiva dances in ecstasy and offers beautiful prayers.
(From the Bhagavata Purana, Canto 01, Chapter 2, Verse 93)

The sacred Mount Kailash Parikrama
 Many devotees take the sacred parikrama around Mount Kailas every year. People don't climb Mount Kailash as it is forbidden to do so in the scriptures. Only a liberated soul is allowed into the abode of Lord Shiva. Previous attempts to scale the mountain had been met with resistance from nature. Hence, a parikrama around Mount Kailash is the best offering a devotee can give Lord Shiva at his holy abode.
The parikrama path around the mountain is around 55 kilometers and normally takes around 2 to 3 days to complete. It starts from a place called as Darchen and ends at Darchen. People who are unable to walk the entire length can do the parikrama on a yak too. The entire parikrama path around Mount Kailash passes through the following sacred points –
Lake Mansarovar – a fresh water lake which was created from the mind of Lord Brahma
Gauri Kund – the sacred bathing place of Parvati Devi and where Lord Ganesha was born
Dolma La Pass – the highest point on the parikrama path dedicated to Dolma La Devi. Pilgrims pray here to Dolma La Devi to be able to complete their parikrama successfully
Rakshastal – where Ravana had done penances to please Lord Shiva for many years. This salt water lake lies near Lake Mansarovar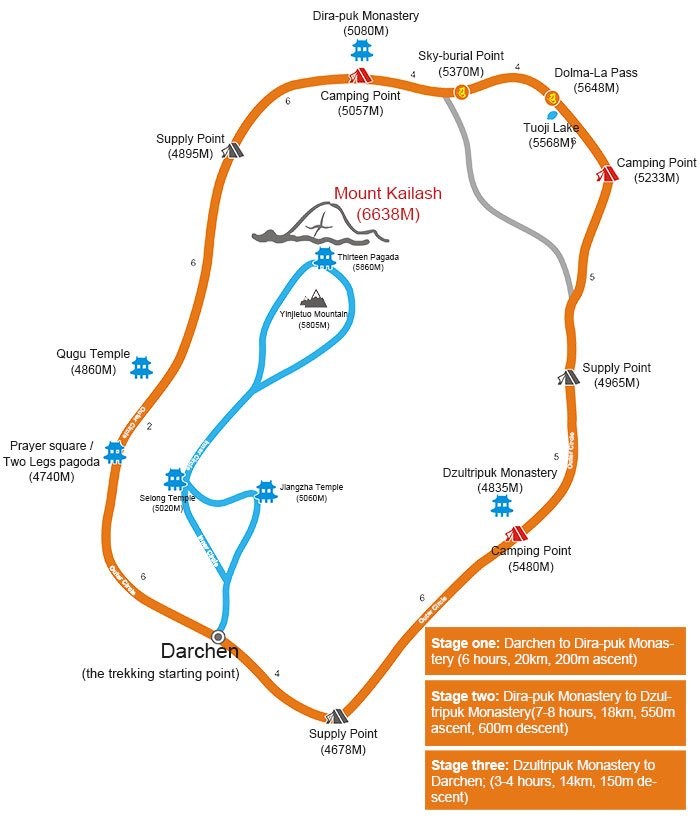 How to visit Mount Kailash
The best way to visit Mount Kailash is to visit with a tour operator. You could also join our spiritual group pilgrimages – the Kailash Mansarovar Yatra.
6