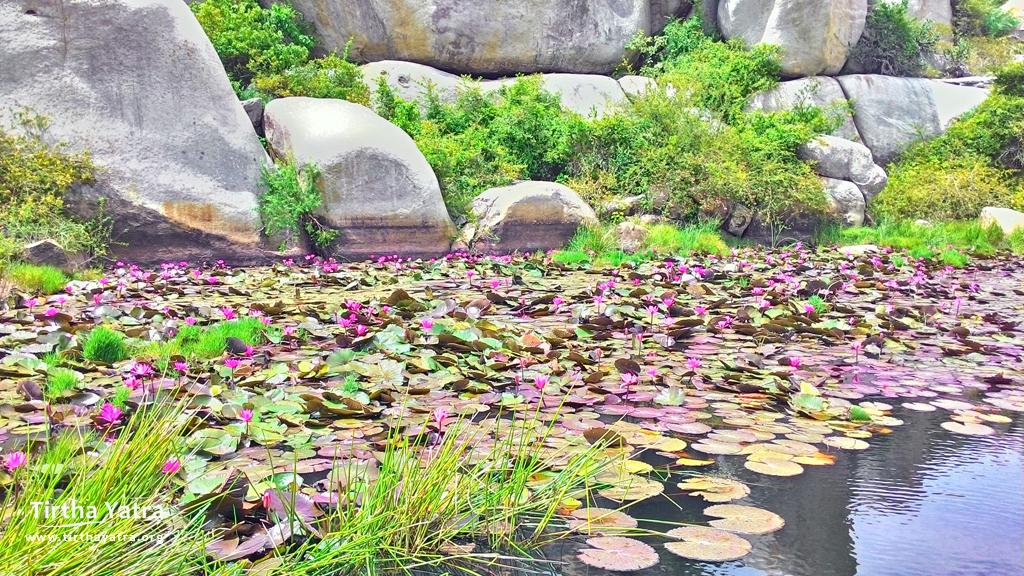 Avani is mostly known to the childless couples who visit this place to receive a blessing from Goddess Parvati. What is less known about Avani is that this place has been threaded into the Uttara Ramayana of Valmiki and had been his ashrama in Treta-yuga.
Importance of Avani
Surrounded by the Rocky and lush green Mountains, Avani is a small beautiful village in Karnataka, situated at a distance of 15 kms from Mulbagal. It is one of the best delights for a weekend trip from Bangalore.
It is the site of Uttara Ramayana. The Sita Parvati temple atop the Avani Hill is famous amongst the childless couples. If a childless married woman visits Avani and takes a vow, she is blessed with a child soon.
Avani means Earth. Mother Sita, the consort of Lord Ramachandra is also known as Avanisuta – the daughter of Earth. Devotees consider Avani as the Gaya of South India. Avani was also known as Haavaniya as this was the site of hundreds of yajnas performed by sages.
Avani finds its historic importance right in the epic Ramayana when mother Sita gave birth to Lava and Kusha. Lava and Kusha grew in the hermitage of sage Valmiki in Avani.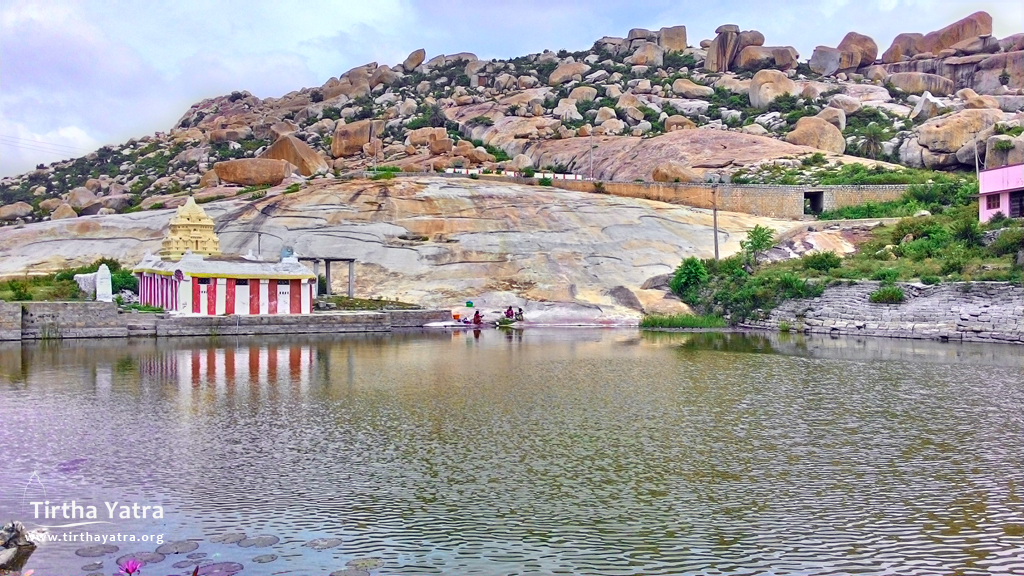 The Uttara Ramayana at Avani
Once, Lord Rama heard a rumor from the citizens of Ayodhya about mother Sita, questioning Her purity. Although the demigods had attested the purity of Mother Sita during the agni-pariksha, Lord Rama was very grieved to hear this. Lord Rama had incarnated Himself in order to set an example of an ideal king. Hence He banished mother Sita to the forest. Banished and helpless, she was given shelter by the sage Valmiki in his ashrama at Avani. He had come to know about this calamity through his transcendental vision and thus rushed to help Her. (Also Read: Bhadrachalam – place from where Sitadevi was kidnapped)
Mother Sita was very much distressed on being separated from Her dear Lord. She wanted to give up Her life. However since She was pregnant during that time She did not want to end Her life and end the lineage of Lord Rama.
She started living in the ashrama of sage Valmiki, always thinking about Lord Rama. In due course of time she gave birth to Her twin-sons named Lava and Kusha. These sons grew on the level of Lord Rama Himself resembling Him in valor, beauty and all the transcendental qualities. Saint Valmiki raised them as though they were his own sons. He taught them all the Vedic knowledge.
After twelve years Lord Rama performed an Ashvamedha-yajna – the horse sacrifice. As a part of this yajna ceremony, the ceremonial horse was left to wonder at will. Whichever place horse wondered, was declared as the territory of Lord Rama. In order to deny one's territory as Lord Rama's one had to stop the horse and challenge for a rival. However every one bowed to the horse accepting the greatness of Lord Rama. But Lava and Kusha did not. When the horse reached Avani, they captured the horse and boldly challenged the authority of Lord Rama. They did so because they were Kshatriyas and it was the duty of a Kshatriya to accept a challenge and fight.
As the news spread till Ayodhya, Rama sent Lakshmana to fight with Lava and Kusha and get the horse. Surprisingly Lakshmana was defeated by the transcendental brothers. Lakshmana was followed by Bharat and Shatrughna who were also defeated by Lava and Kusha. Surprised and shocked, Lord Rama Himself had to come to fight Lava and Kusha. Then the famous battle broke between Lava-Kusha and Lord Rama. Before anything could happen, Valmiki rishi approached the scene and stopped the battle. He asked Lava and Kusha to beg for forgiveness from Lord Rama and return the horse.
Places in Avani which stand testimony to this pastime
Ramalingeshwara temple
This is the cluster of temples which has the shiva-lingas installed and worshiped by Lord Rama and His brothers. The shiva-lingas here are Ramalingeshwara, Bharateshwara, Lakshmaneshwara and Shatrughneshwara. These shiva-lingas were installed by the Lord and His brothers in order to beg forgiveness from Lord Shiva for fighting with children – Lava and Kusha. On the either side of these temples lie the Brahma Tirtha and Kashya Tirtha.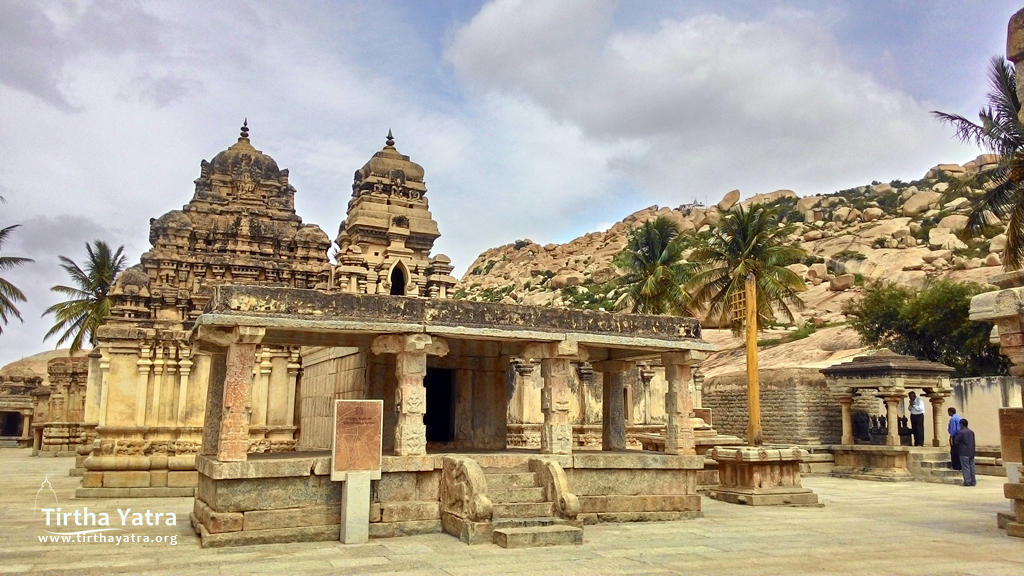 Sita Parvati temple atop the hill
This is the main temple in Avani and is one of the few temples which has the Deity of Sita devi worshiped here. This is the place where Sita-devi entered the Earth.
The Deity of Parvati is self-manifested and was worshiped by Sita-devi. Later on the request of Parvati Devi in a dream, Sri Adi Shankaracharya installed the Deity of Sita-devi in the temple next to the Deity of Parvati.
The childless woman has to take a dip in Lakshmana Tirtha and then without drying her body should visit Sita Parvati temple. She has to carry an unbroken coconut and other puja ingredients along with her. By the time she reaches the temple, she will feel sleepy and should sleep in the temple. During her sleep she will dream of the goddess Parvati who will bless her to fulfil her desire.
Urulu Bande
This is a big boulder of rock with little gap under it. Sita-devi would roll under this boulder in order to cure her stomach disease.
Valmiki Ashrama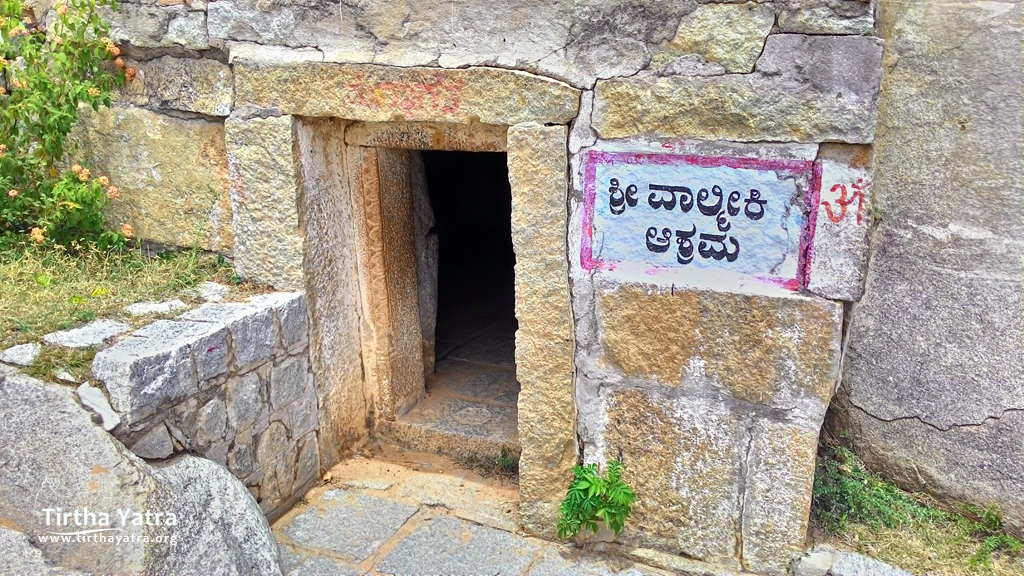 There is a cave where sage Valmiki lived. He performed penances in this cave. The mud here is considered sacred and is believed to have medicinal properties. Locals collect this mud, soak it in water and then drink that water in order to cure their illness. Lava and Kusha took birth in this cave.
Other important places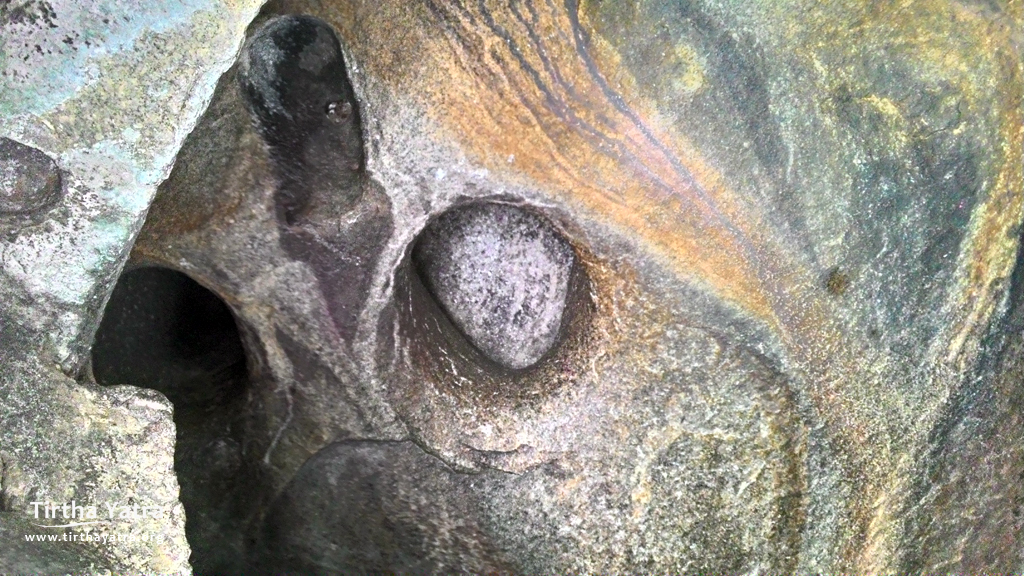 A small cave where Sita-devi lived. In this cave one can also have darshan of vessels used by Sita-devi.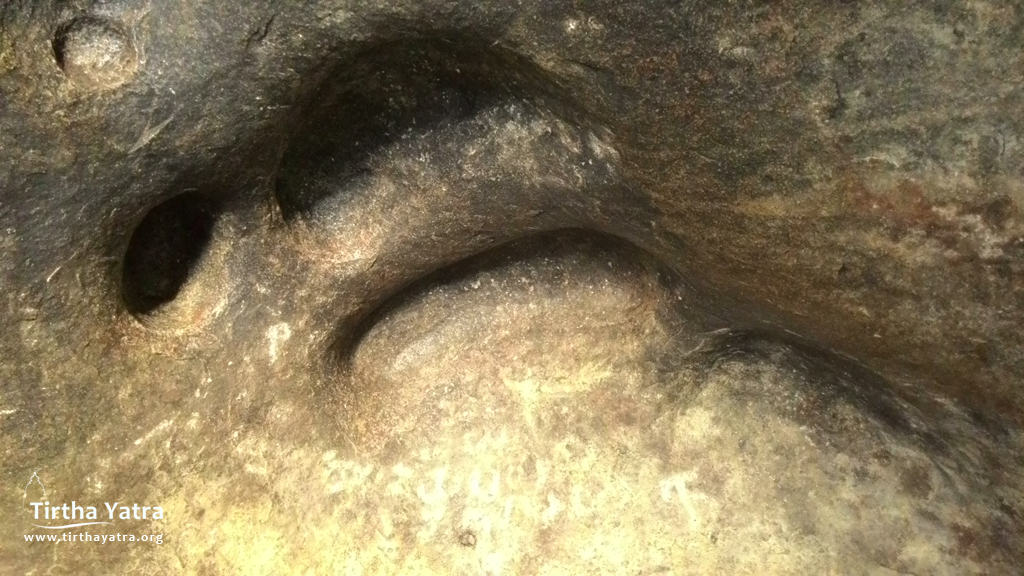 In the same cave, there are also cradles of Lava and Kusha.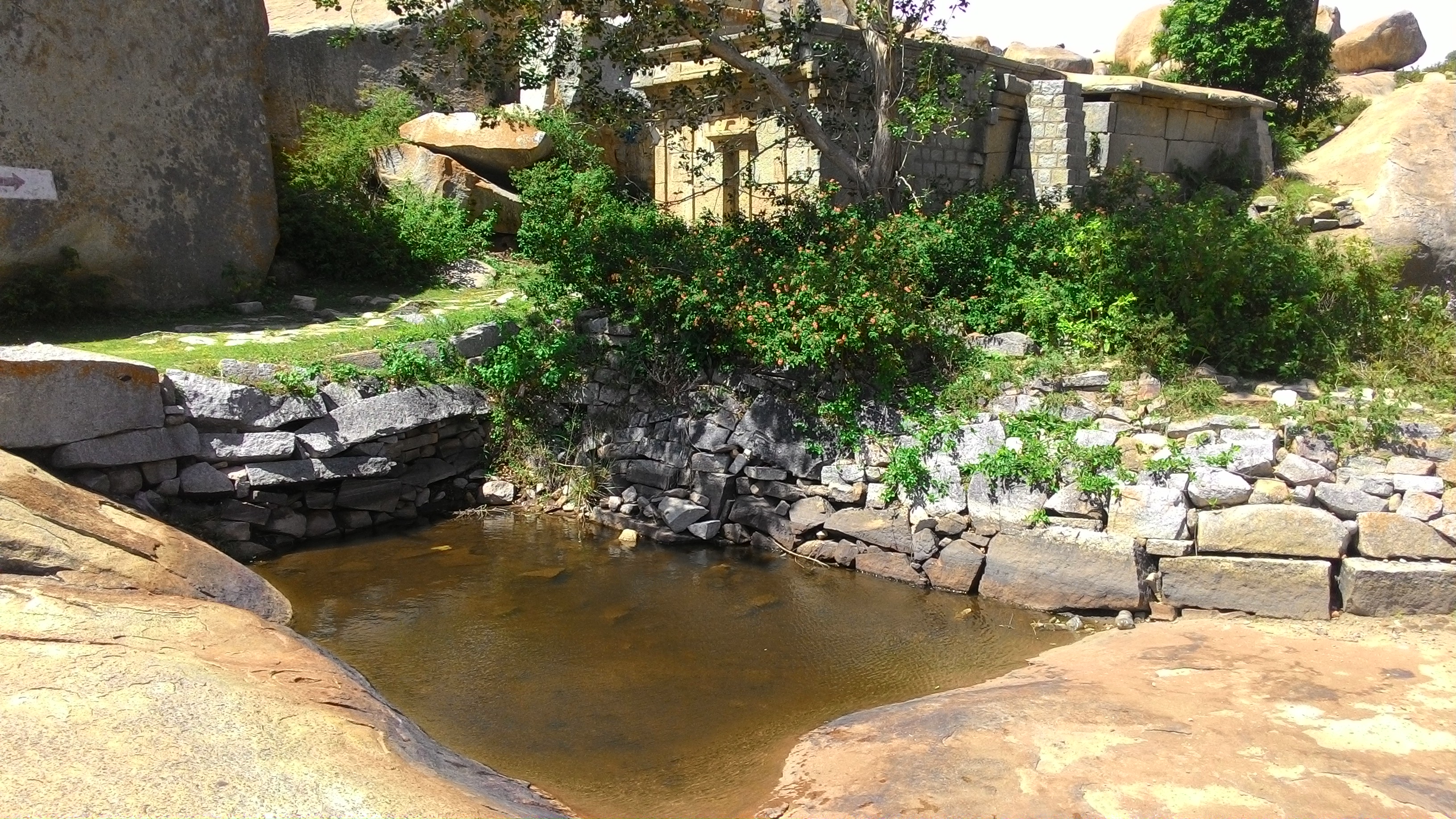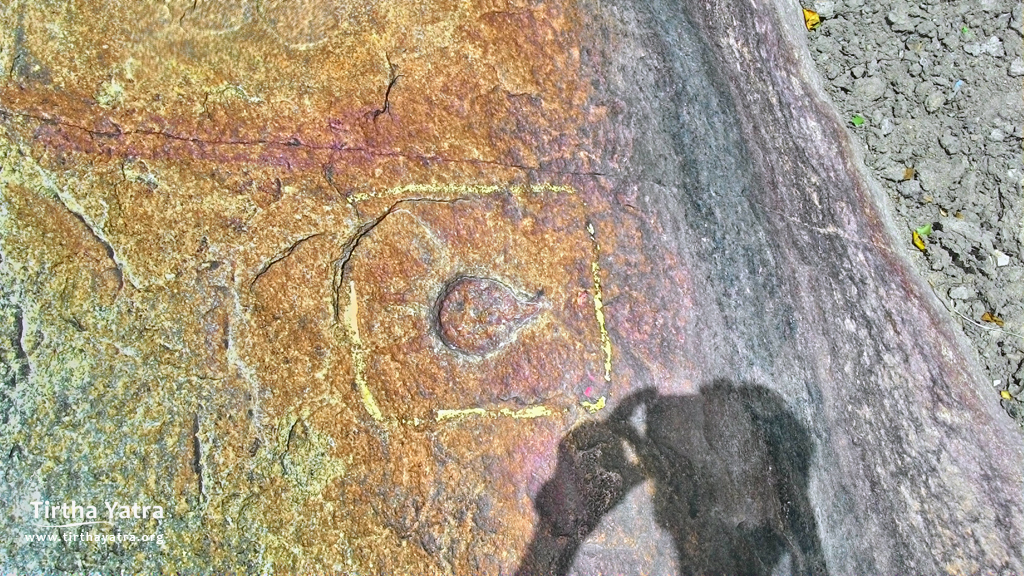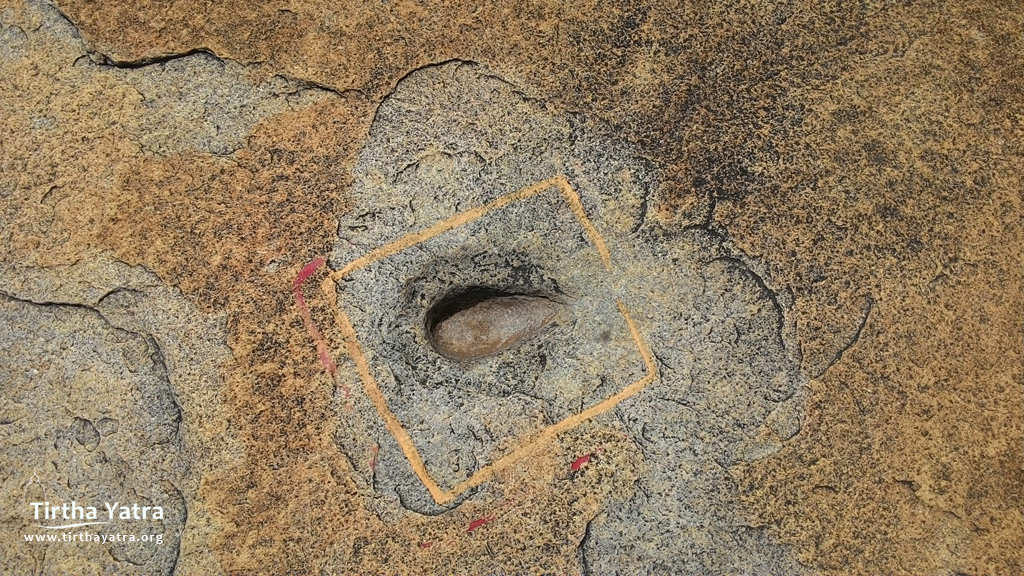 Next to Sita-devi's cave is a little pond in which she washed the clothes of Lava and Kusha. On the bank of this pond there is a place where she would light a lamp. One can also see the impression of medicine vessel of Lava and Kusha.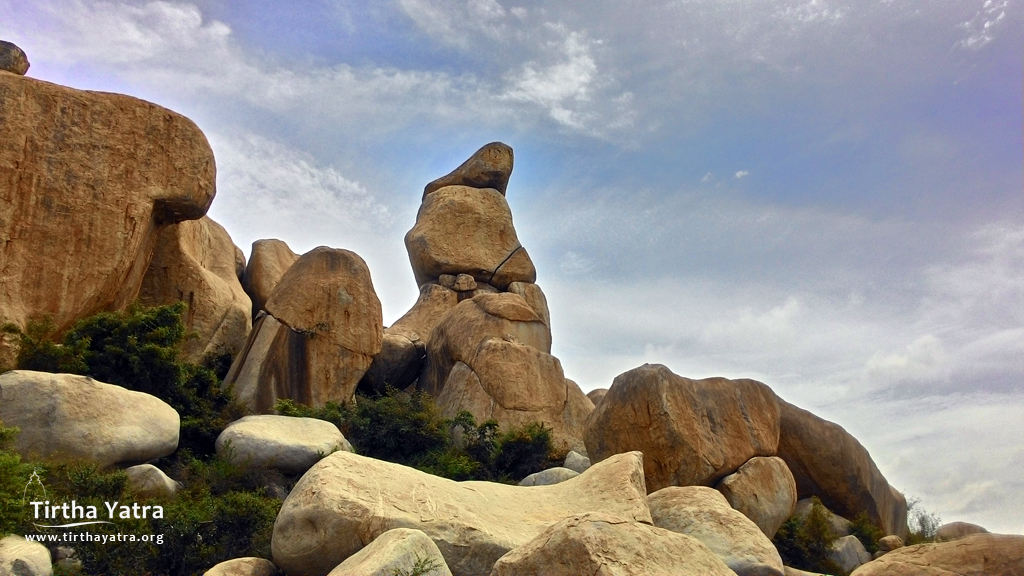 Place from where Sita-devi witnessed the battle between Lava-Kusha and Rama-Lakshmana.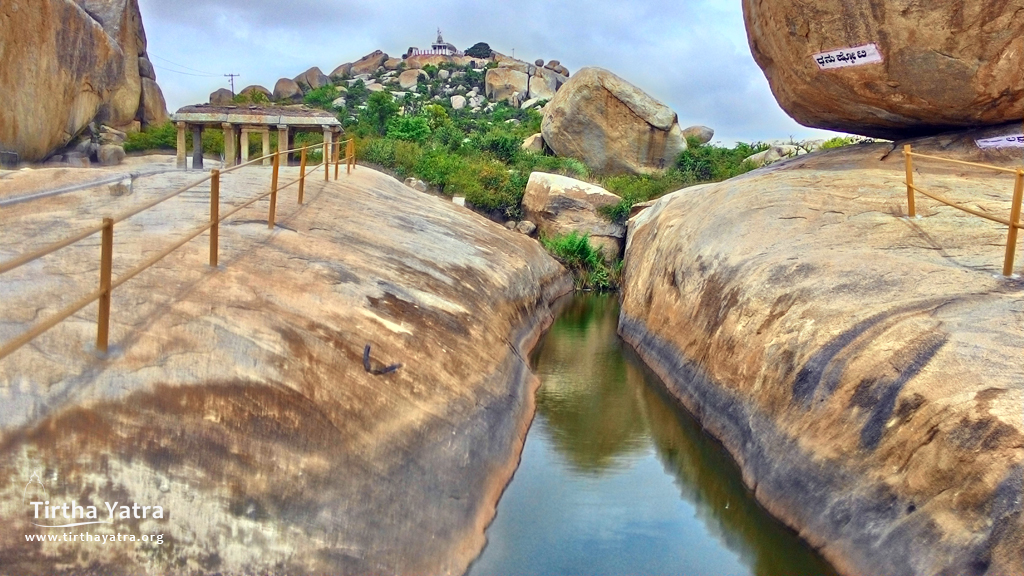 Lakshmana-tirtha: created by Lakshmana in order to quench the thirst of Sita-devi.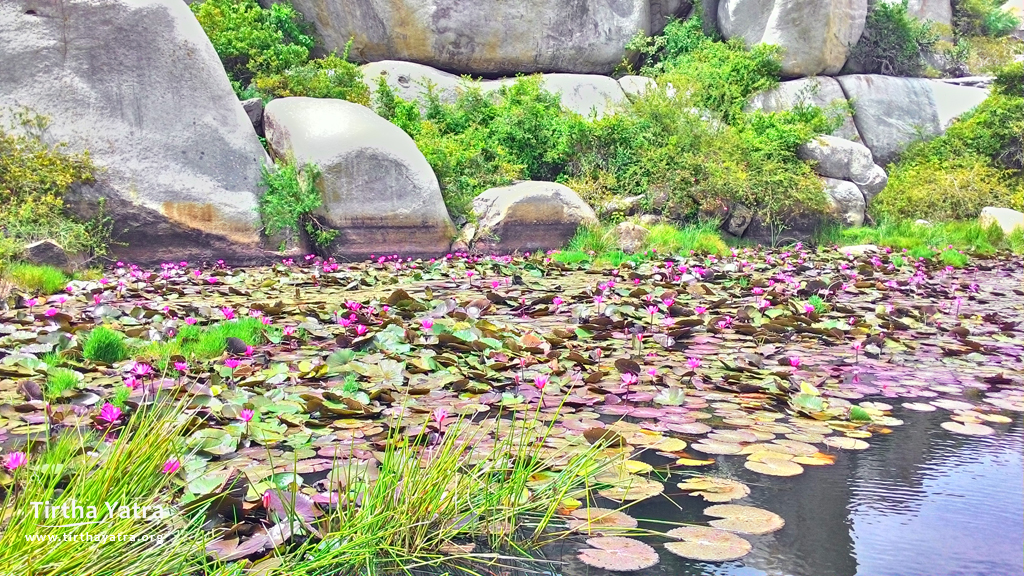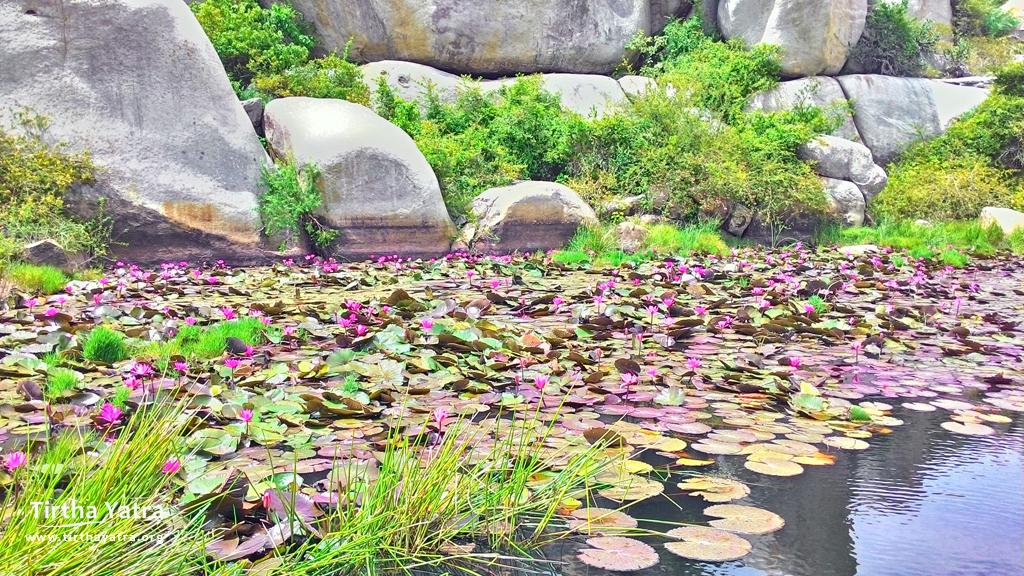 The garden maintained by Lava and Kusha. The garden has a beautiful pond filled with Lilys.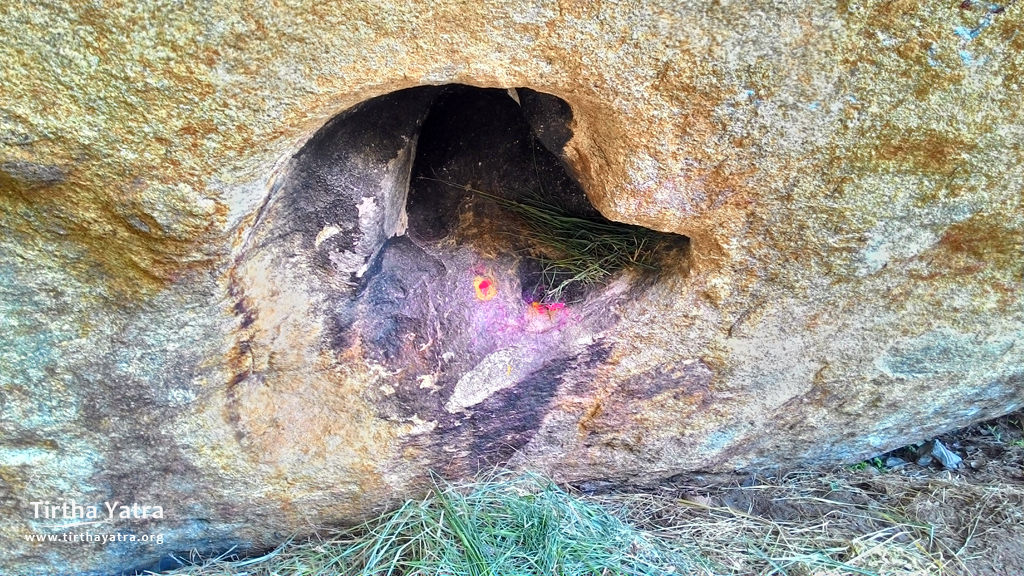 Place where Lava and Kusha tied the horse of Ashwamedha-yajna. There it grazed fresh grass.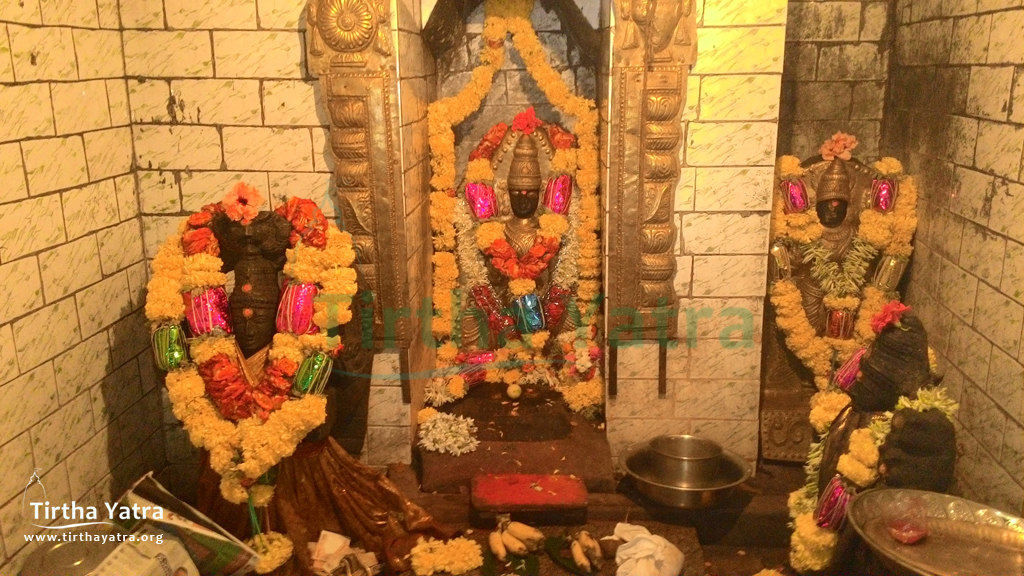 The altar at Sita Parvati Temple. Just below the Deity of Sitadevi in center, one can have darshan of the place where Sitadevi entered the Earth.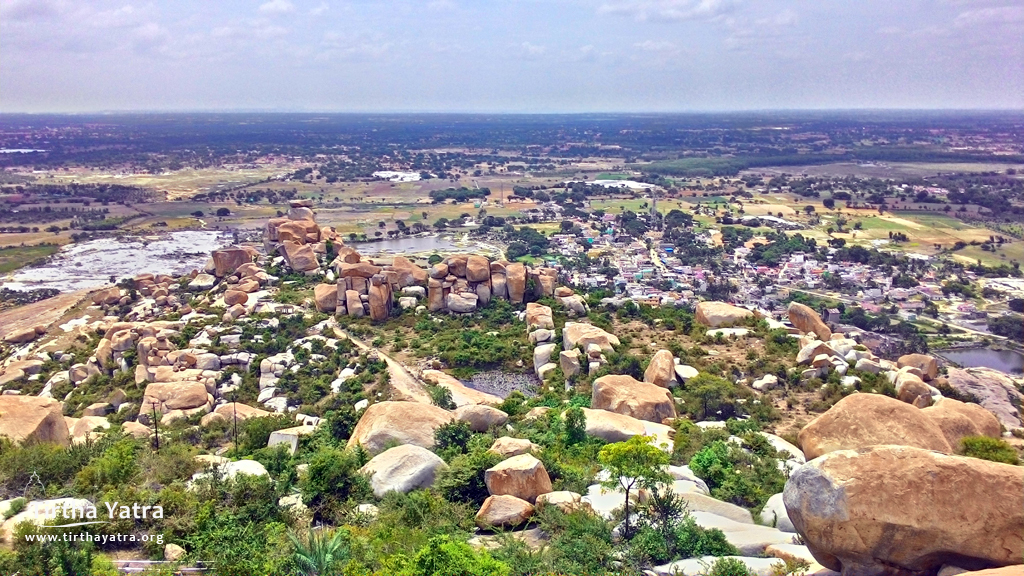 Area where the battle was fought between Lava-Kusha and the brothers of Rama.
The cave of Jambavana. Here Jambavati married Lord Krishna. (photo not available)
Festivals at Avani
Just like other small villages, yearly jaatre (fair) is held in Avani during the Maha-shivaratri festival. A Ratha Yatra is held in the Ramalingeshwara Temple. One can also have darshana of wonderful and gorgeous pallakis of Lord Shiva during this festival. Thousands of people visit Avani during this fair and receive blessings.
How to reach
It is a 2 hour drive from Bangalore to Avani. One has to drive on NH 4 (Bangalore – Tirupati Highway) towards Kolar. You need not enter Kolar. Instead continue on the highway until you come to Kantharaja circle. There is a shani mahatma temple. Then take a 4th right turn to reach the Avani village. The temple of Ramalingeshwara is at the foot hill.
Avani is a small village. You will find hotels for food. There are no facilities to stay. There is Adi Shankaracharya Mutt in the village. The people of the village are very friendly. If you wish, you can visit nearby Sri Padaraja Mutt in Mulbagal for lunch. Nitya annadana begins at 12 pm every day.
16