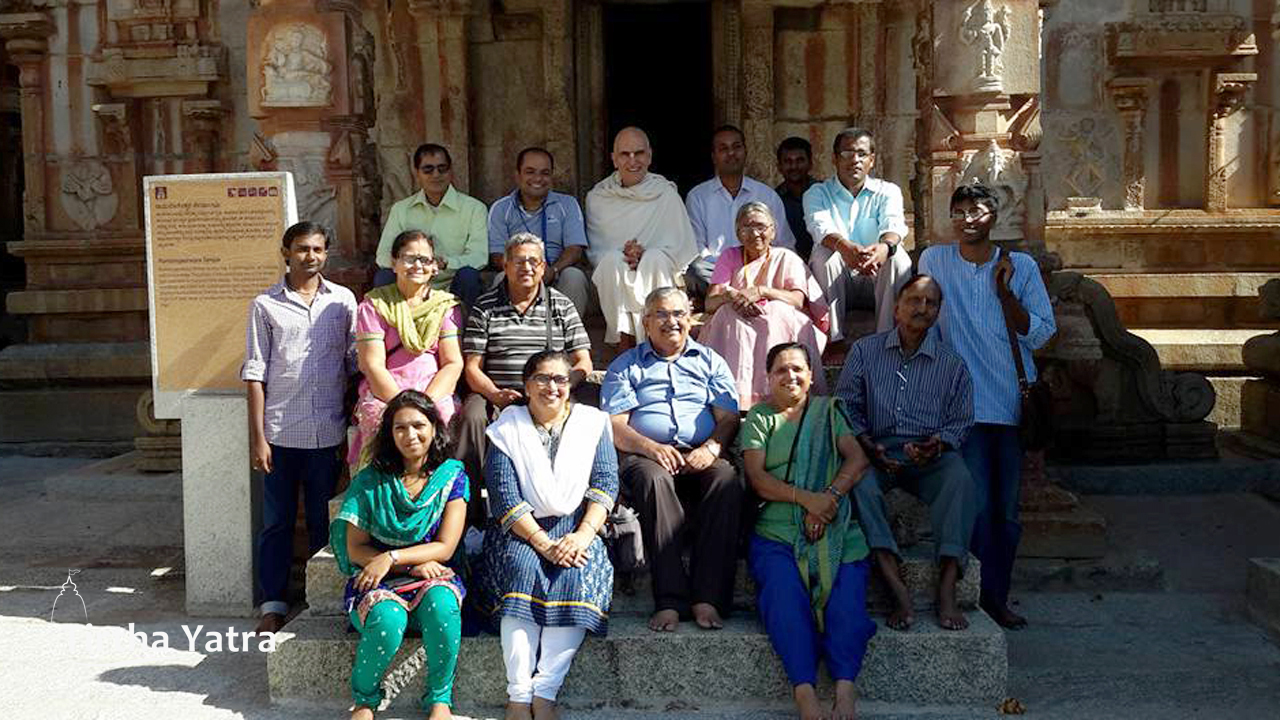 On Aug 30, 2015 (Sun), Tirtha Yatra organized a one day trip from Bangalore to Avani. Avani is a birth-place of Lava and Kusha – the twin-sons of Lord Rama and Sita. It was also the hermitage of Sage Valmiki. (Also Read: Avani – The Birthplace of Lava and Kusha)
Around 20 yatris joined us for this yatra.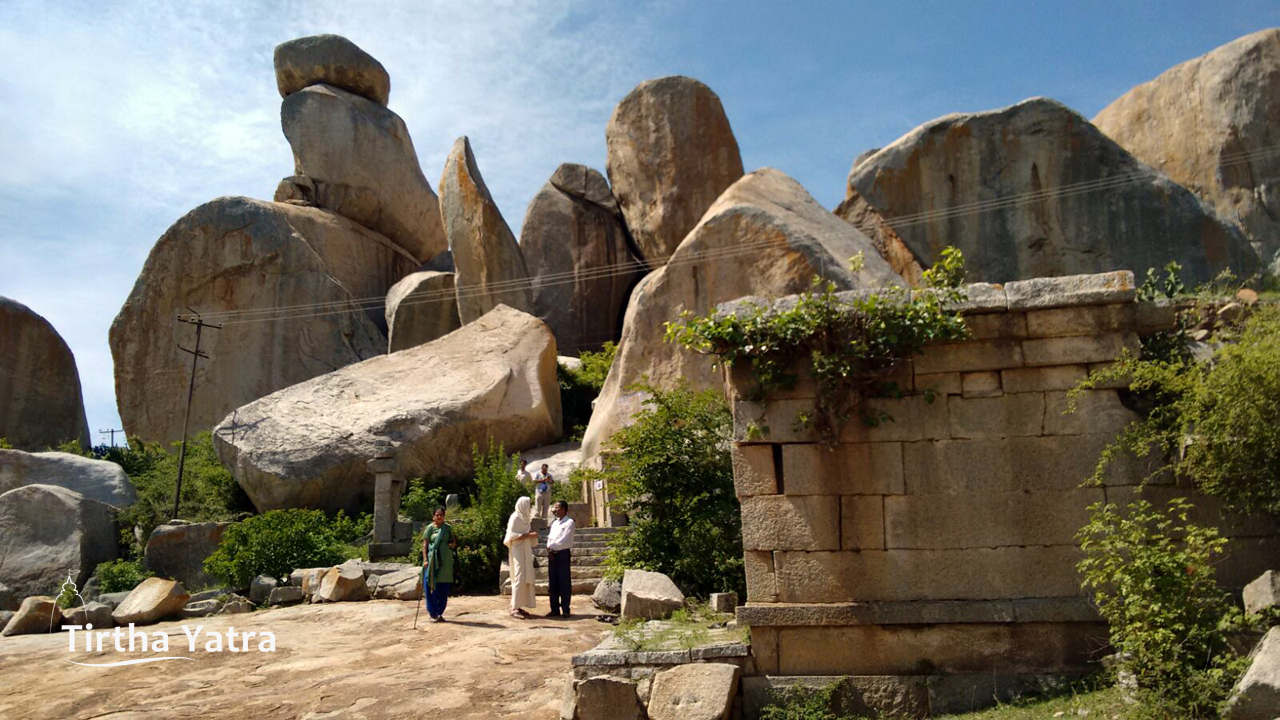 Devotees outside birthplace of Lava and Kusha.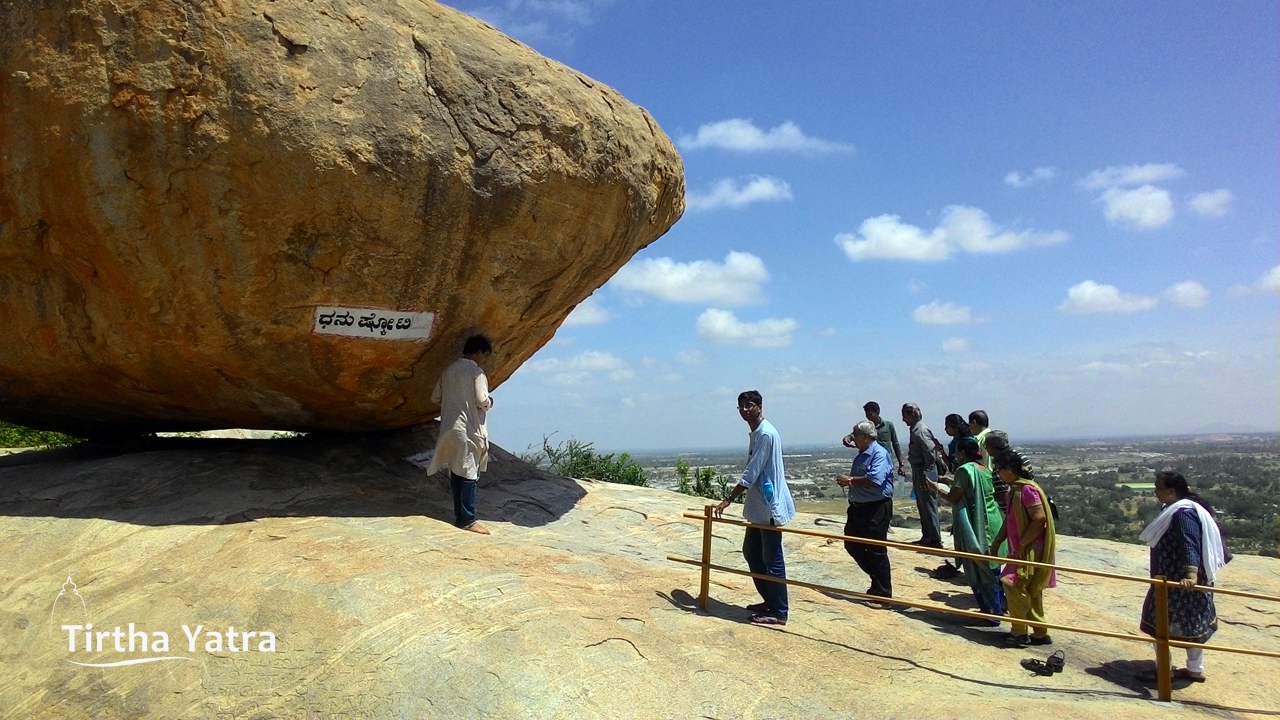 Devotees near Dhanush Koti. This was created by Lakshmana for Sita-devi to take bath. On the banks of Dhanush Koti are the imprints of Lakshmana, Lava and Kusha.

A beautiful panoramic view from the Sita Parvati Temple atop Avani Hill.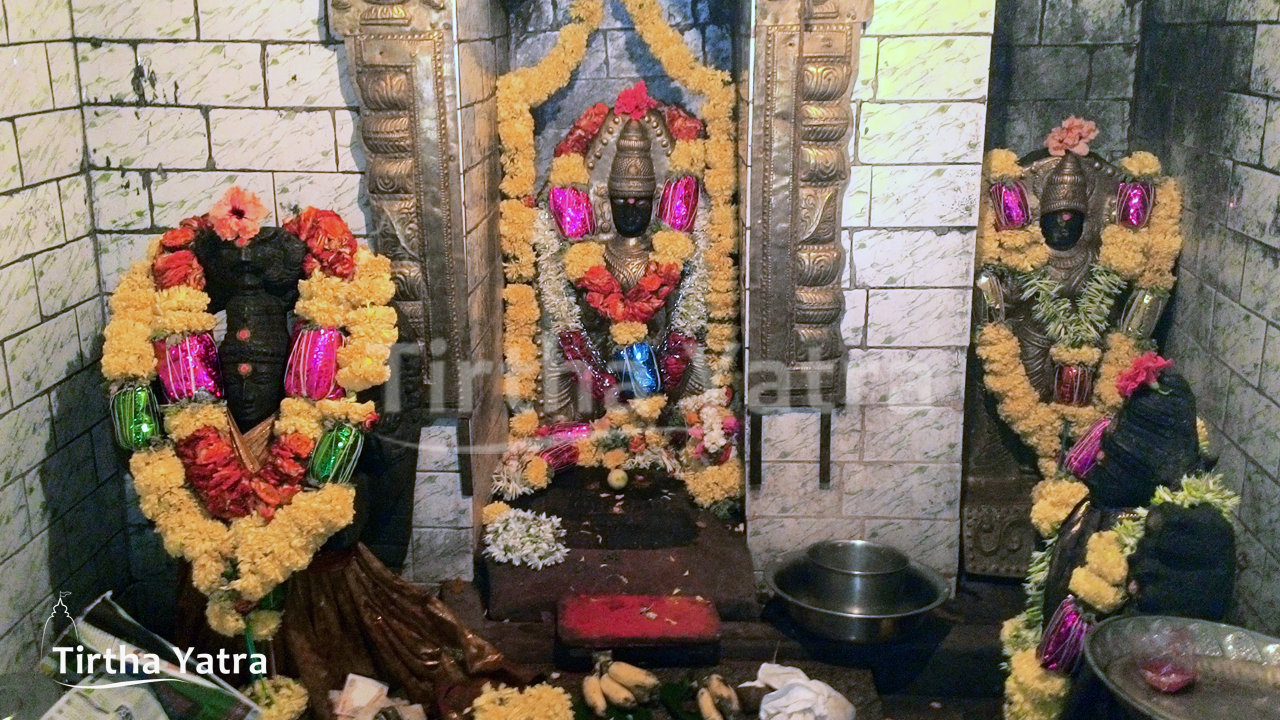 A rare picture of the altar. In the center one can have darshan of Sitadevi. To her right is swayambhu Deity of Parvati Devi. Just below the Deity of Sitadevi one can have darshan of the exact spot where Mother Sita entered the Earth. Lotus feet of Sitadevi are installed atop this place.
Little bit of fun under Urulubande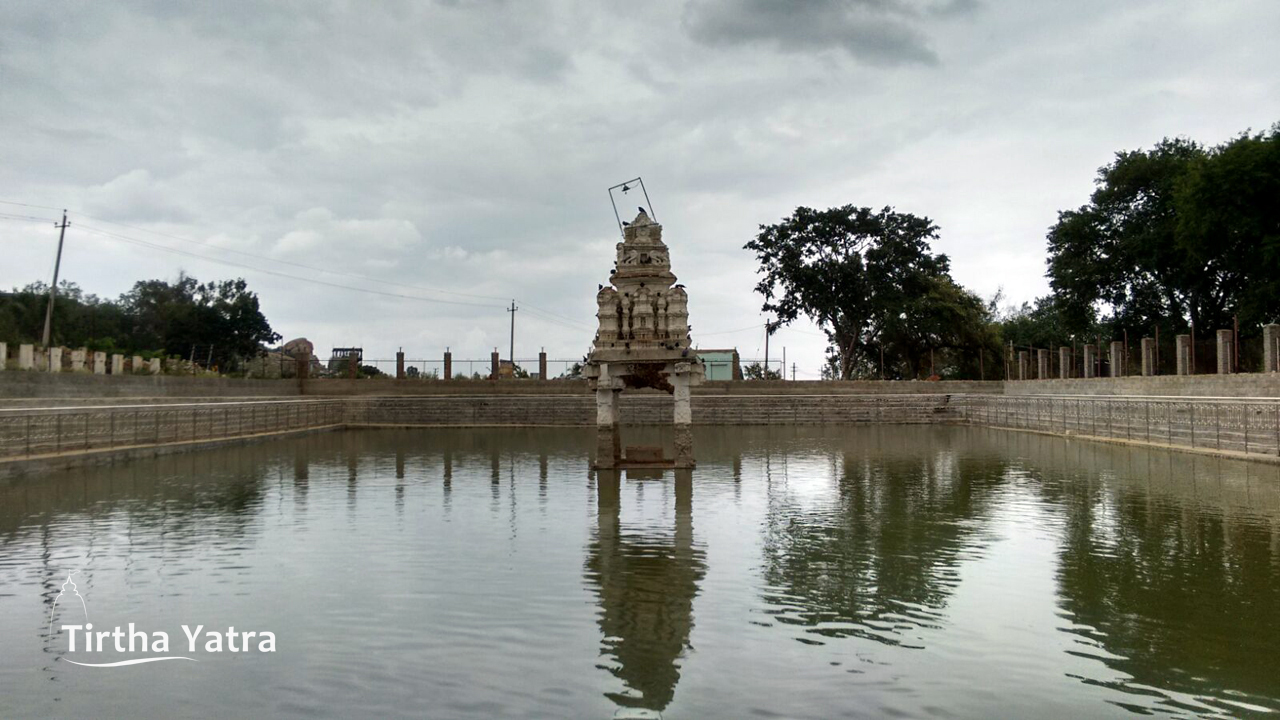 We also visited Sripadaraja Mutt in Mulbagal. Above is the picture of Sri Narasimha Tirtha at Sripadaraja Mutt. Sripadaraja wanted to take a holy dip in the River Ganges. However due to old age he was not able to travel to North India. Hence mother Ganges descended at Sripadaraja Mutt to fulfill the desired of Sripadaraju.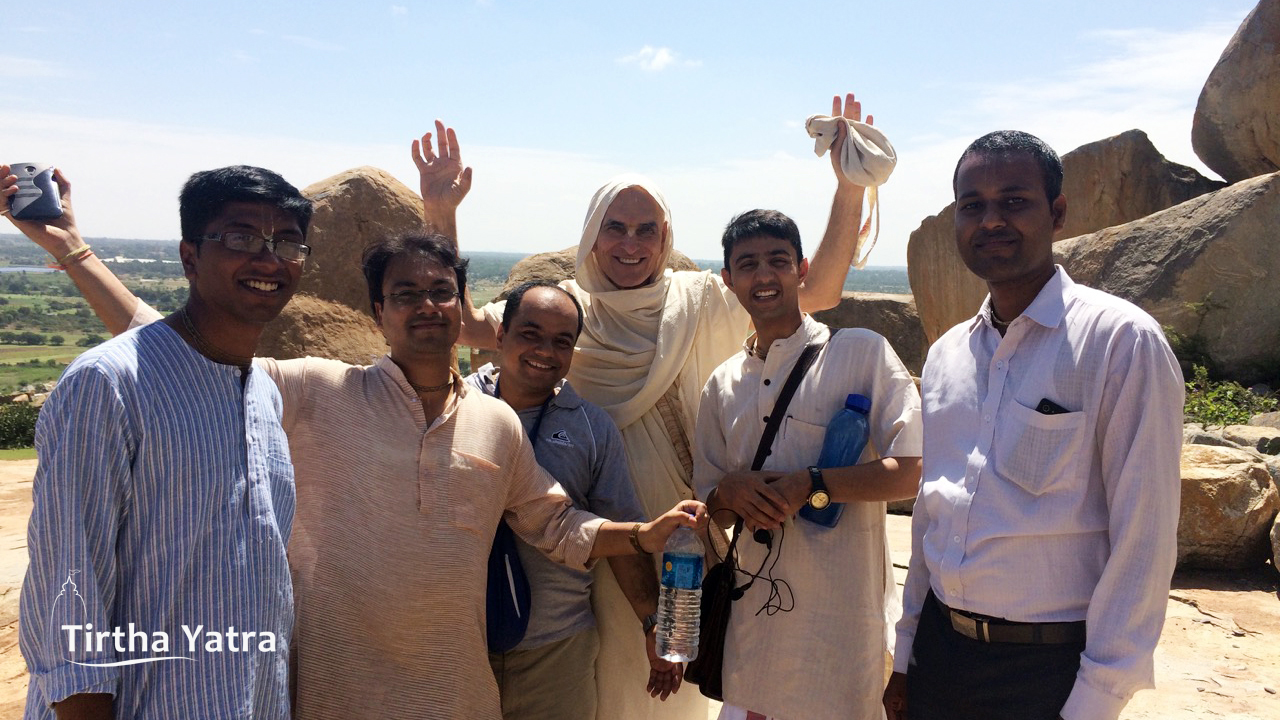 We were all honored to have Sadhu Prabhu with us during the yatra. Yatris utilized this opportunity to have his association through out the Yatra.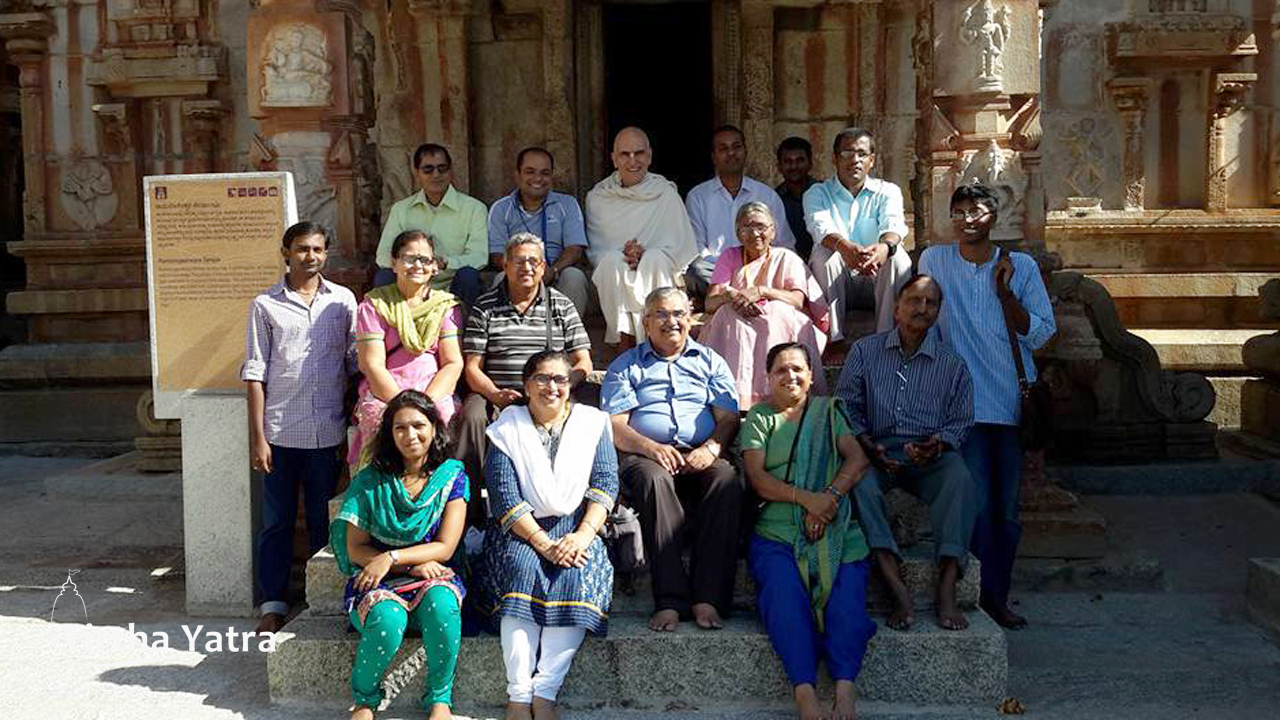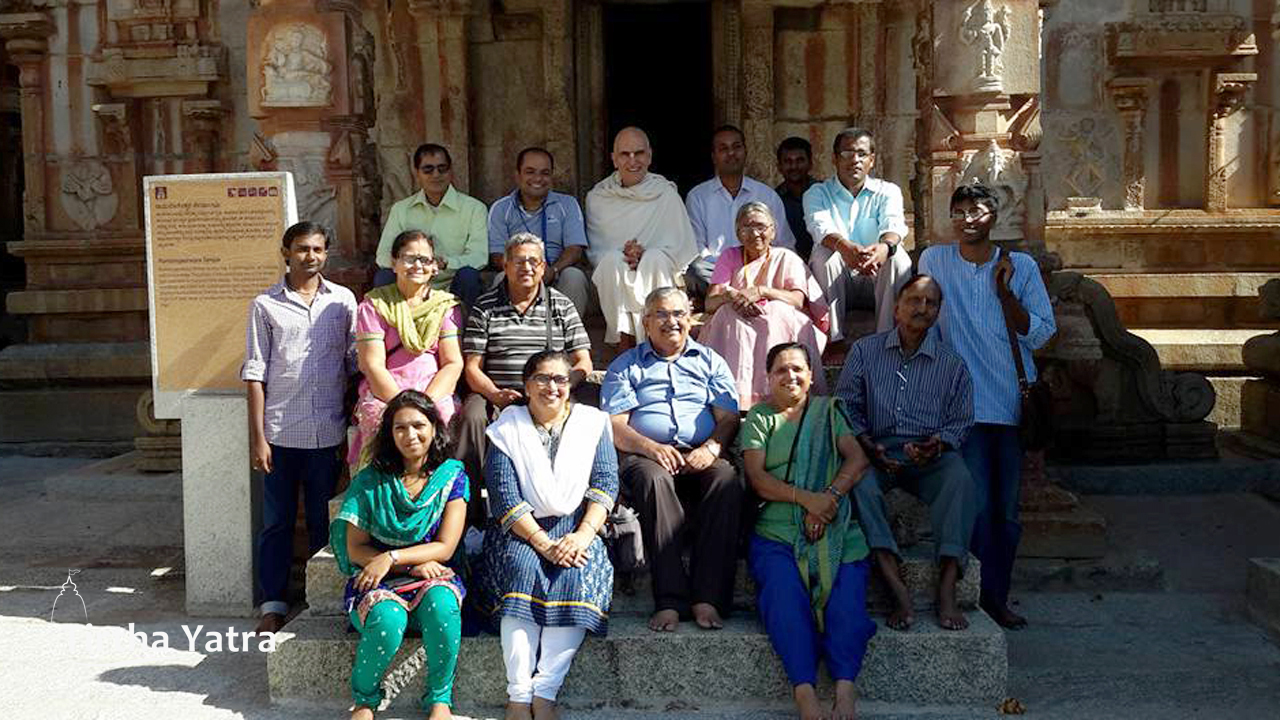 Our group of Yatris at Sri Ramalingeshwara Temple at the foothill of Avani. Truly this trip shall remain a great memory to relish.
Experience of Yatris who joined Avani Yatra
Below are few words of appreciation from our Yatris who joined us. They are source of inspiration for us. We shall surely continue to innovate Tirtha Yatra to give you all an unforgettable spiritual experience.
"Extremely inspiring. Keep up the good work." – His Grace Sadhudasa Anudasa
"It was a wonderful experience. I felt so young. On seeing the hill I decided that I would not be able to make it. But it was great of Navaneeth Krishna to give me hand through out the climb and our Yatra Director for motivation. The trip was like a family. Thank you." – S G Pankajakshi, Senior Manager, Indian Overseas Bank
"It is really amazing to see your commitment and involvement in running the Tirtha Yatra. Your indomitable will to keep the show running and managing the two nearly physically unfit members of the group all the way despite your own physical pain and agony is a great commendable job. May be Lord has bestowed you that strength and we are very fortunate to have your large heart. We are very happy and shall look forward to associate with Tirtha Yatra in future." – Umesh Prabhu, Retired
"It was a very good trip with nice company of other Yatris. We enjoyed the Bhagavath Sannidhya. Excellent experience. Thank you very much." – Sandhya Suresh, Housewife
"Good hand-holding and personal care. Would like to join more such tours." – Geeta Prabhu, House Wife
"First time experience was very good experience. Would like to get updates for the next trips. Yatra organizing team was very friendly. Overall a nice experience." – Rajib, Manager – Mantri Developers
"Excellent coordination from the team." – Navaneetha Krishna, Senior Manager
"It was a wonderful experience. I got spiritually motivated by the trip." – H V Bindu, IT Application Engineer – Exilant
"Completely spiritual as expected." – Debashis
"My experience is very nice. I enjoyed the ancient historical place." – Anil Kumar, Retired
"Good Trip. Very nice and accommodative guides." – M K Suresh, Retired Engineer
"It has been a good divine experience." – Ranga Krishna
"My experience during the Yatra was very nice." – Harish G, Student
"Excellent." – Venkatesh Nayak
Yours in the service of the Holy Dham,
Tirtha Yatra Team
0