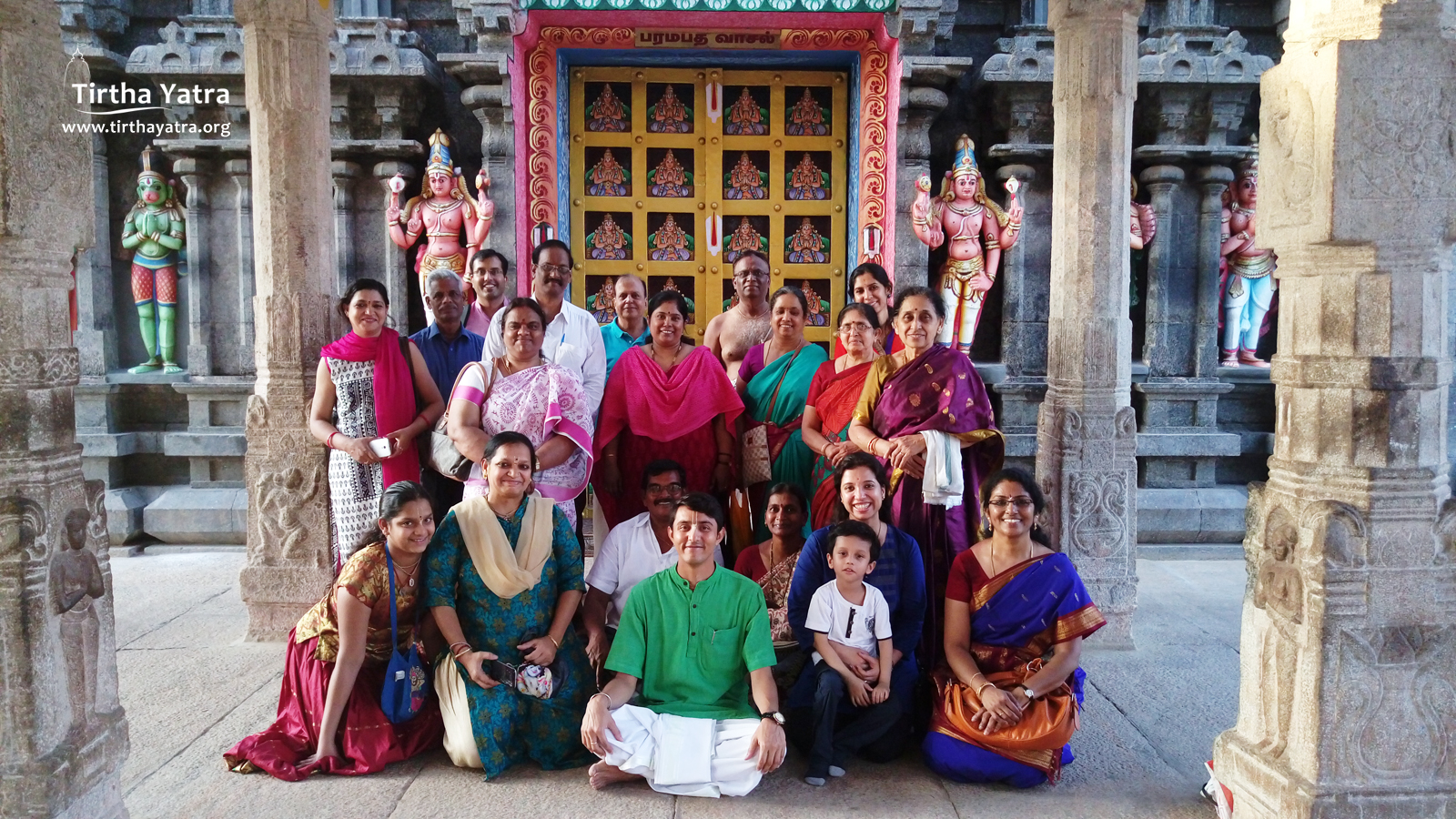 Early in the morning a VIP entry through the Ranga Ranga Gopuram amongst hundreds waiting for darshan, quick security checks through the other gopurams, rushing nimbly through the mantapas of the 156 acres big temple and then finally seated in the mukhya mantapa in front of Lord Ranganatha, our heart was tuned calm amidst a sweet and a melodious veena's strings, waking up Lord Ranganatha. Suddenly our ears were drawn to the jingling sounds of the bells. This was Andal, the elephant who stood there to be seen by the Lord, then came Mahalakshmi, the cow who by herself stood facing her back to the Lord and finally Adalma, the fine white horse. The Supreme Lord casts His merciful glance on these three and then on all of us. This was the Vishwarupa darshana (the first darshan in the morning) of Lord Ranganatha in Srirangam especially arranged for the group of Tirtha Yatris who were on the Triranga Yatra 2016. This darshan was like a dream which will remain clouded in our hearts for a long time to come.
Our journey began on Feb 27th, with door-to-door pick-ups of yatris, travelling to to Srirangapatna, the Adi-ranga. We took holy dip in the river Kaveri and then darshan of Lord Ranganatha in Srirangapatna. After having Pongal as breakfast, we moved to Shivanasamudra (Madhya-ranga) and were enraptured the beauty of Lord Jaganmohana Ranganatha. Without wasting any time, we started our journey to Srirangam, rushing by the side of Barachukki falls. Next few hours were in the lap of nature through the blue and misty mountains of MM Hills and BR Hills. In the evening we reached Srirangam, the Antya-ranga. We rushed in immediately and were blessed by the darshan of Lord Ranganatha. The Lord showered His mercy and blessing on us by allowing us to complete His darshana in a single day.
Our next day was the Vishwarupa darshan of the Lord, followed by the detailed tour of Lord Ranganatha's temple in Srirangam. Our Yatra director took devotees around and explained them the importance and pastimes of the temples. A special lunch menu awaited us in ISKCON Trichy which consisted of pulav, paneer sabji, puri, coconut sabji, bottle-guard sabji, rice, sambar, rasam, gobi-pakoda, gulab-jamun, papad and pickle – now that's yummy. At last with heavy hearts we had to leave Srirangam, praying to Lord Ranganatha to call us again. On the way back to Bengaluru we stopped at Namakkal and had quick darshan of Sri Lakshmi Narasimha and Lord Anjaneya.
Wanting to plan a memorable visit to Srirangam. Then call us at 09844700850
A beautiful sunrise on the river Kaveri in Srirangapatna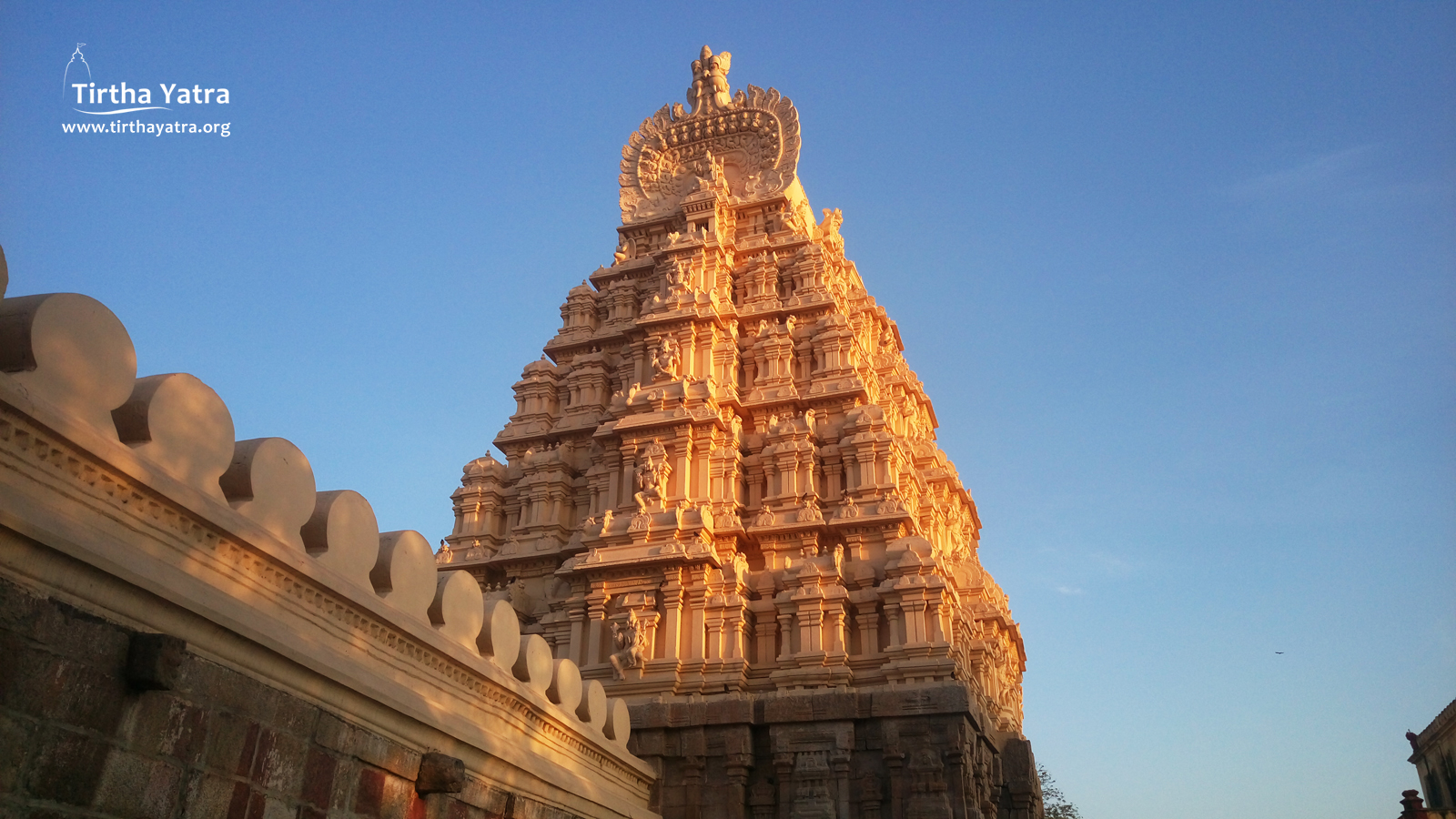 The morning sun-light gold-plating the rajagopuram of Sri Ranganatha Temple in Srirangapatna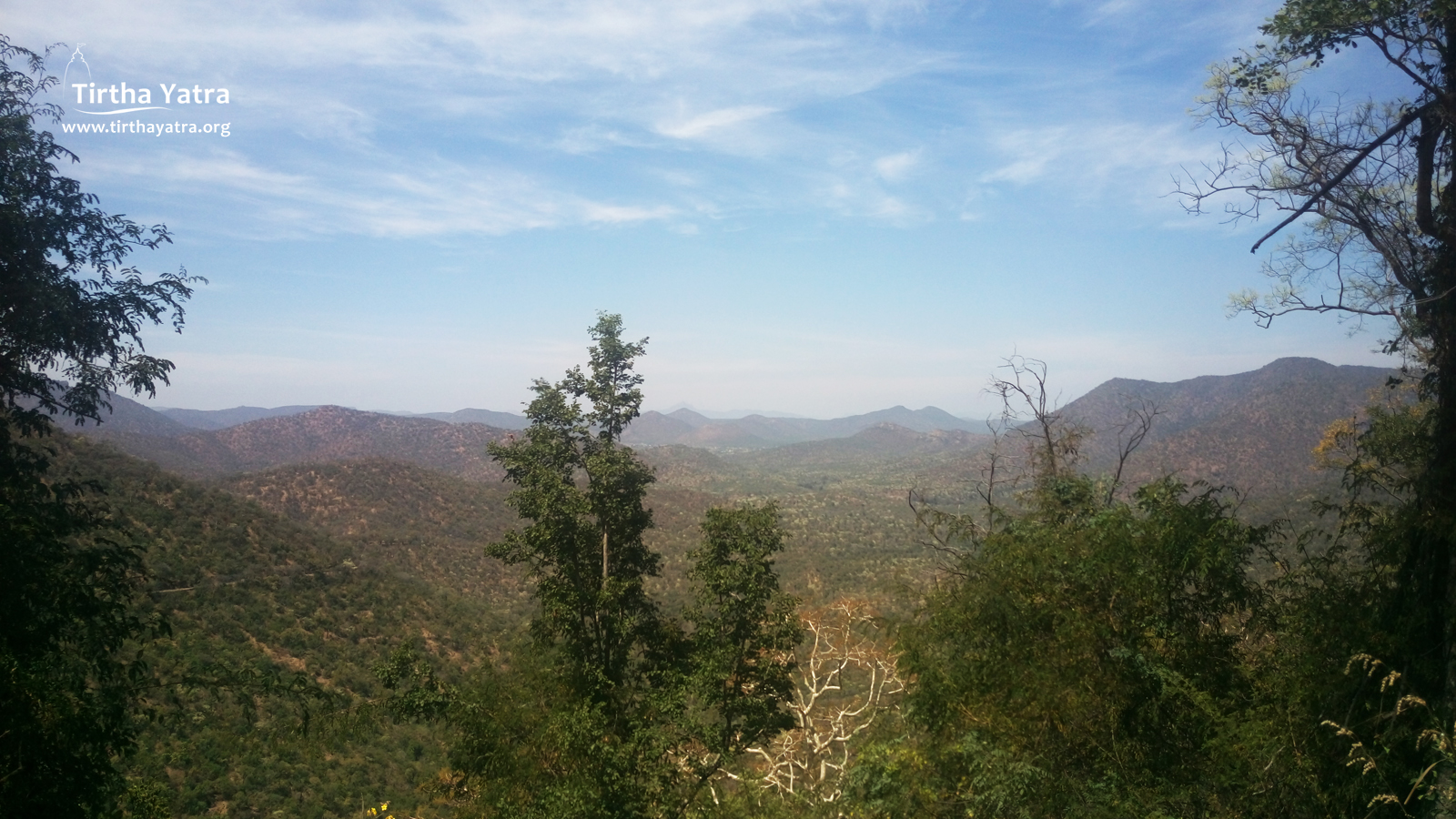 A beautiful and serene view of MM Hills on the way to Srirangam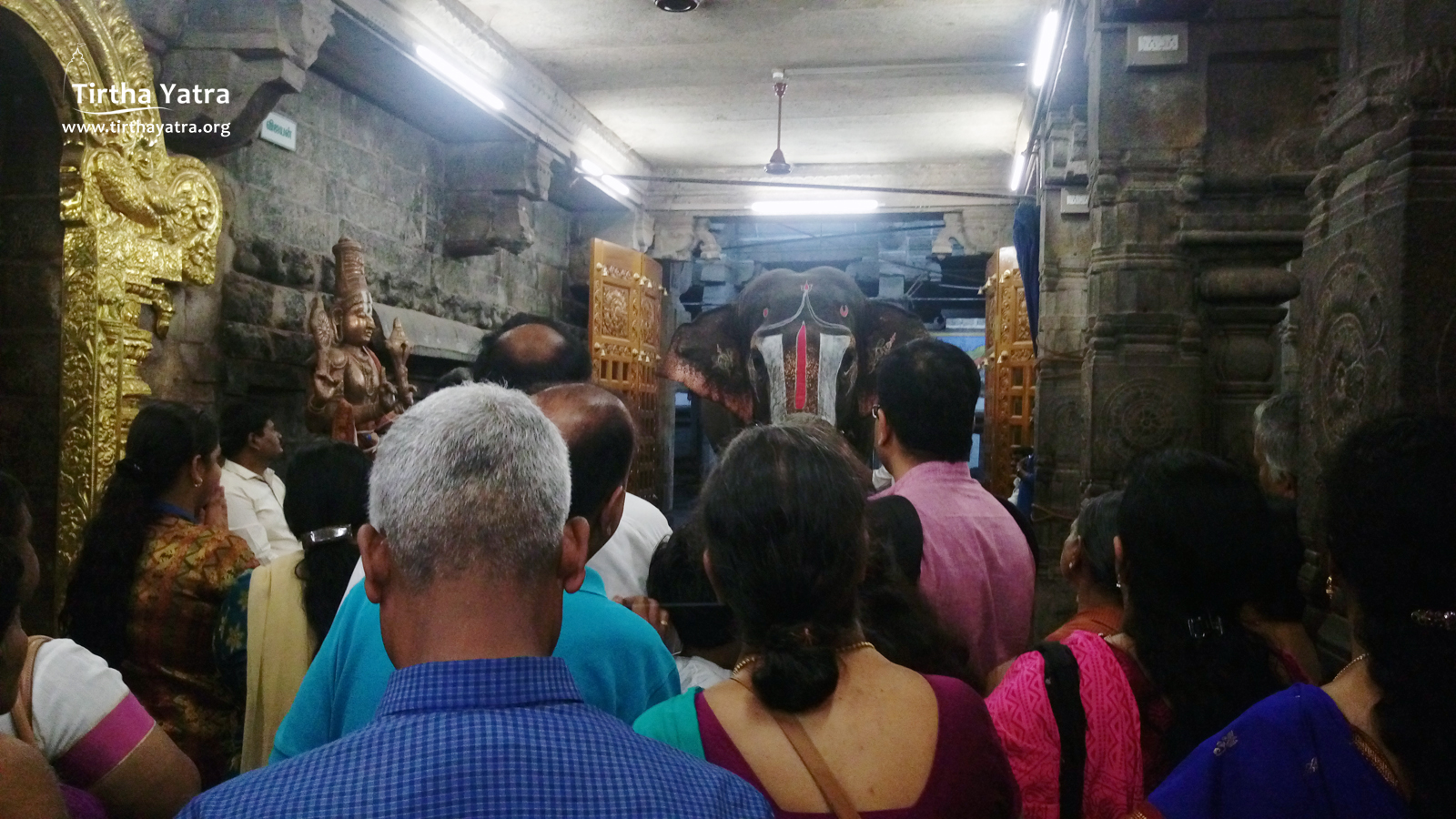 Andal, the elephant makes its entrance to awake Lord Ranganatha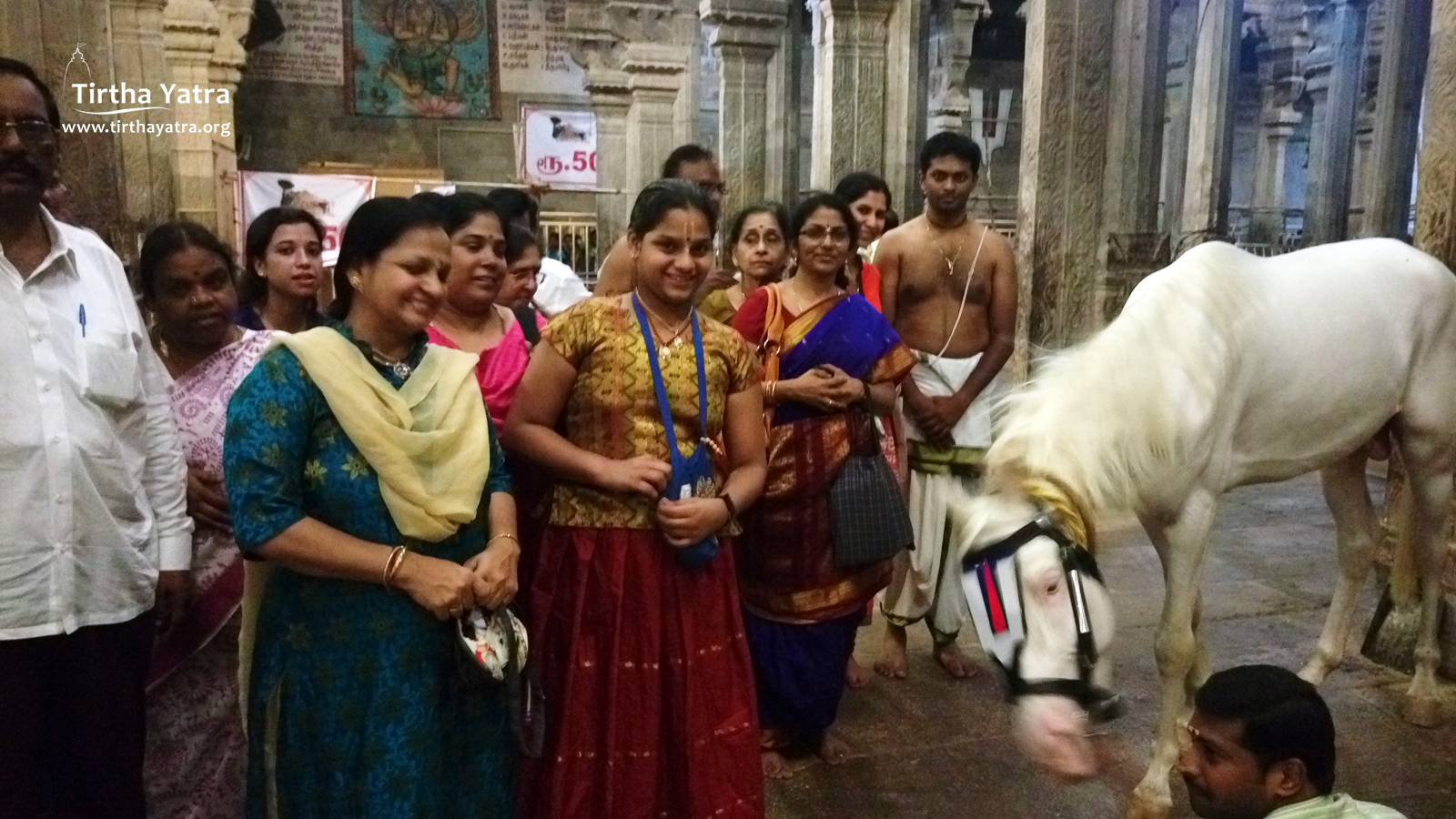 Our group of yatris with Adalma, the sacred horse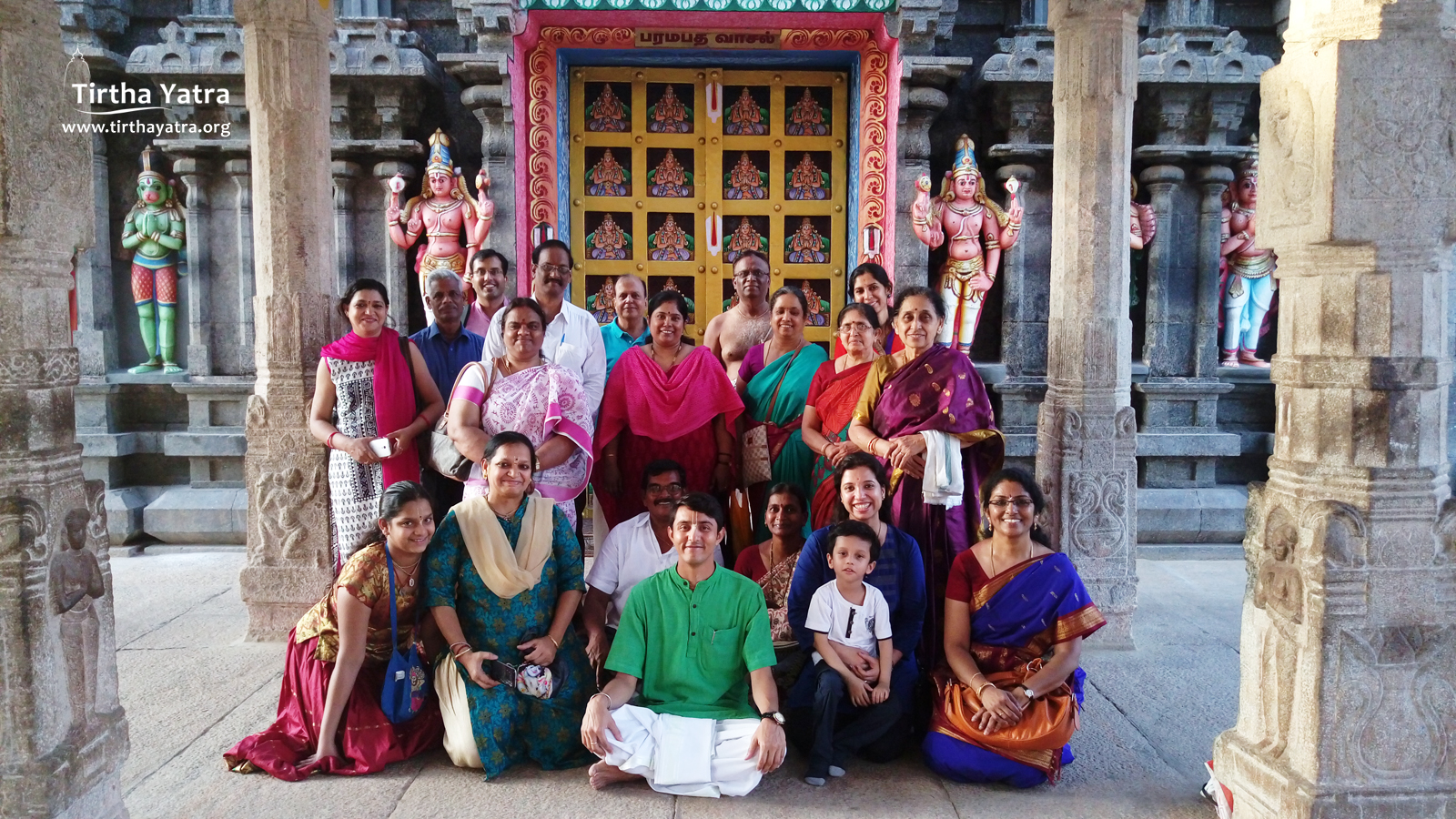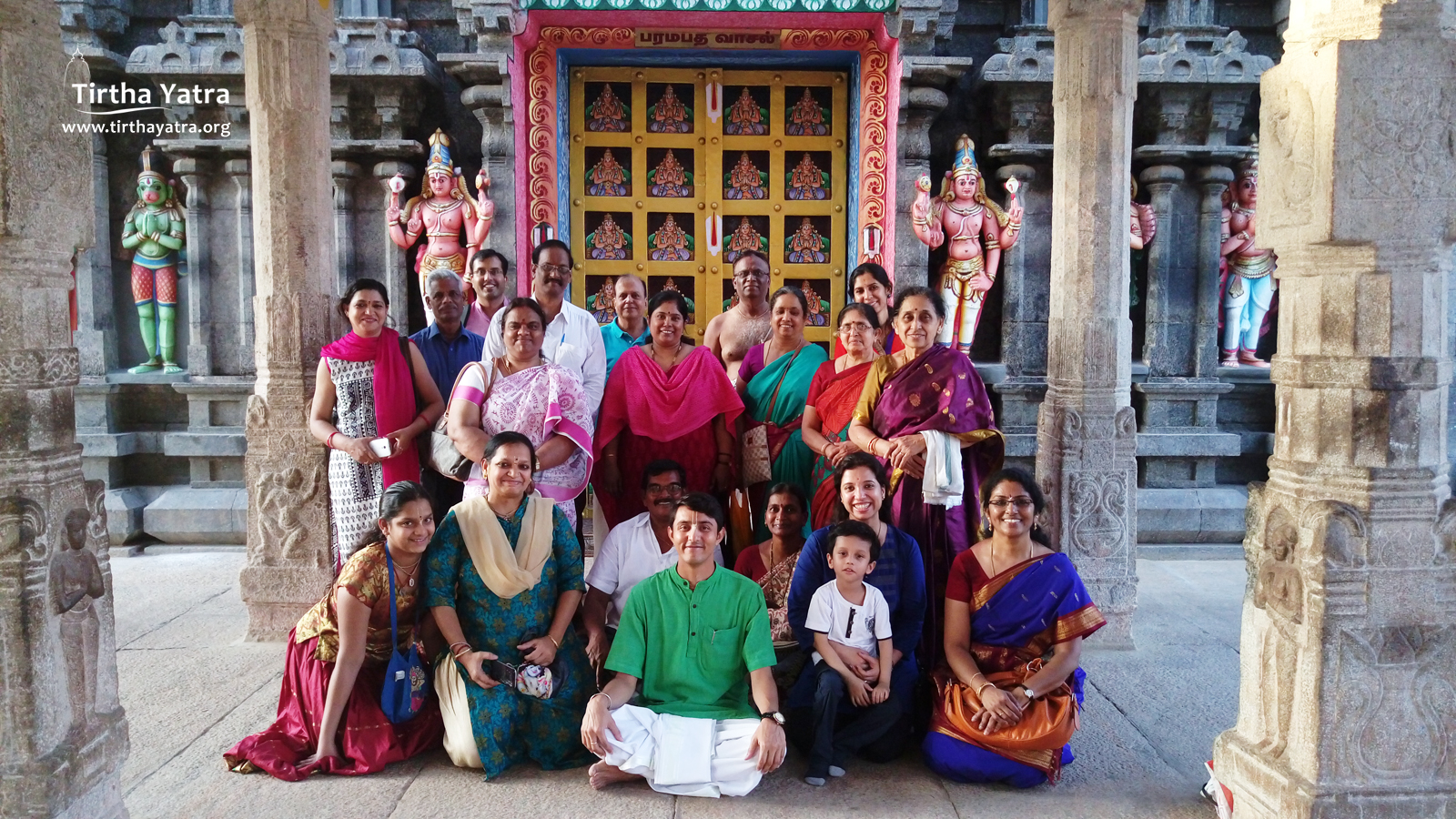 Group of blessed yatris in front of the rajagopuram in Srirangam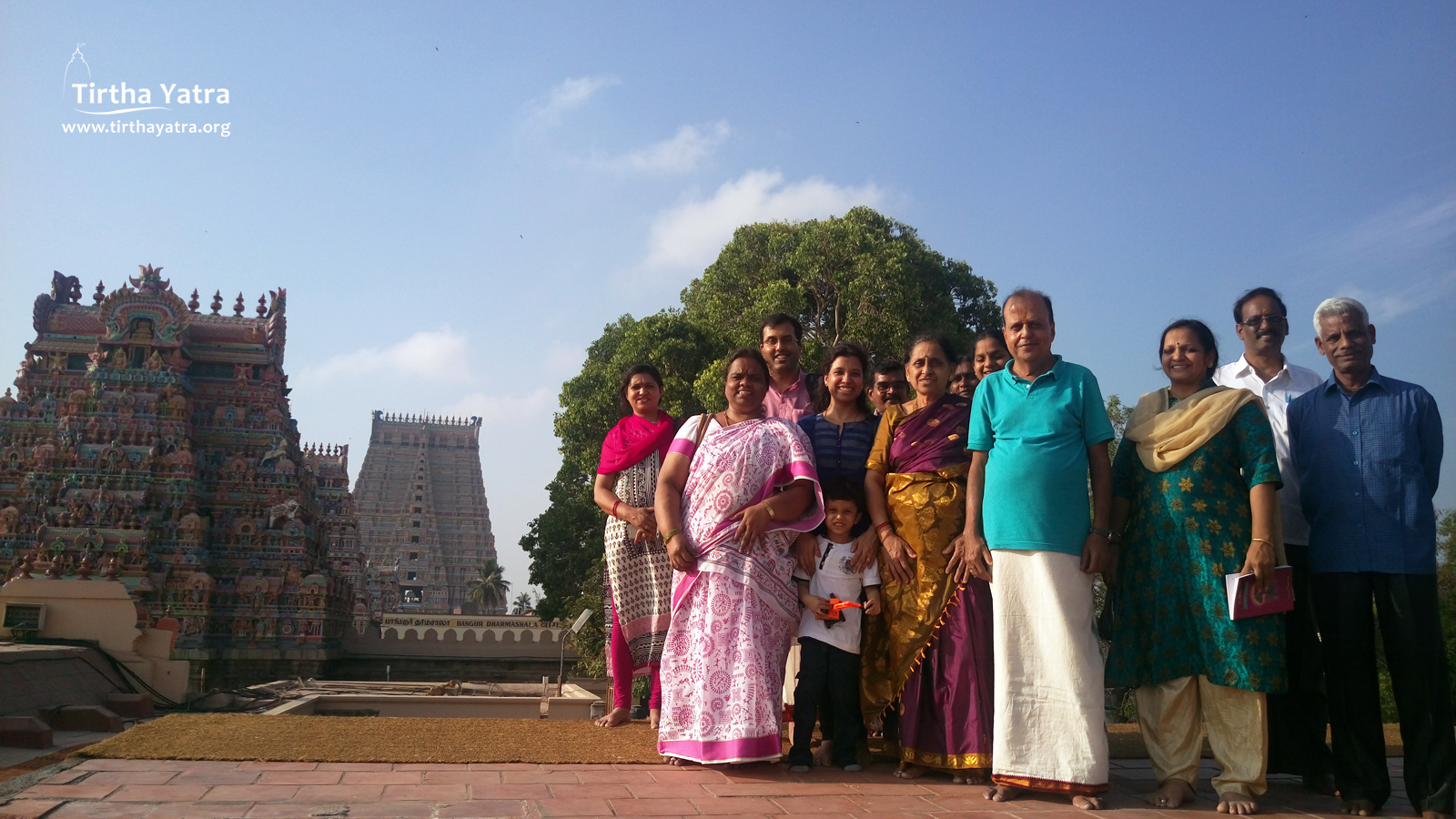 Posing with the asia's tallest gopura in Srirangam
A view of the Rajagopuram and other gopuras in Srirangam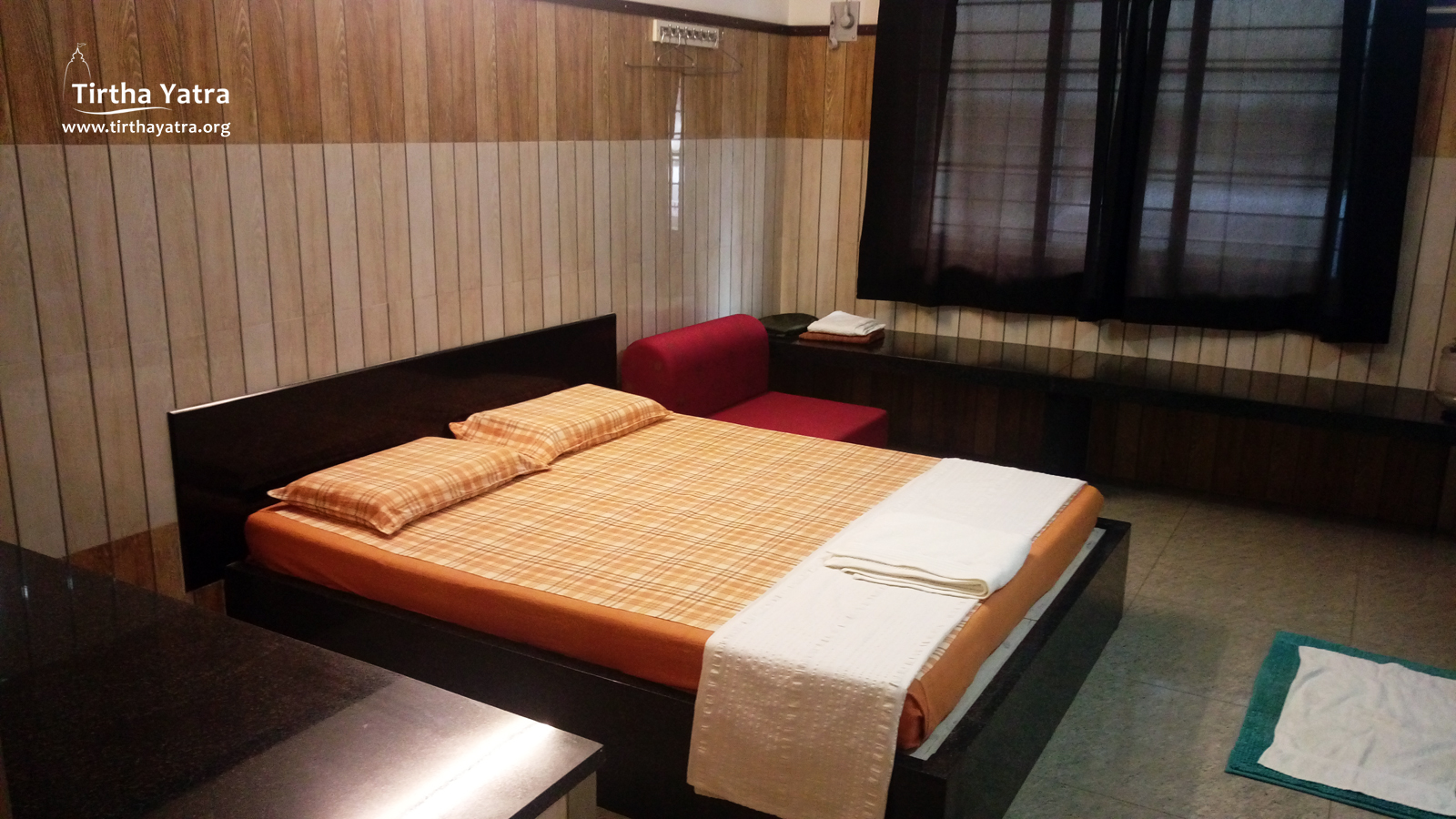 Our room in Srirangam. Ideal for a sound sleep. 🙂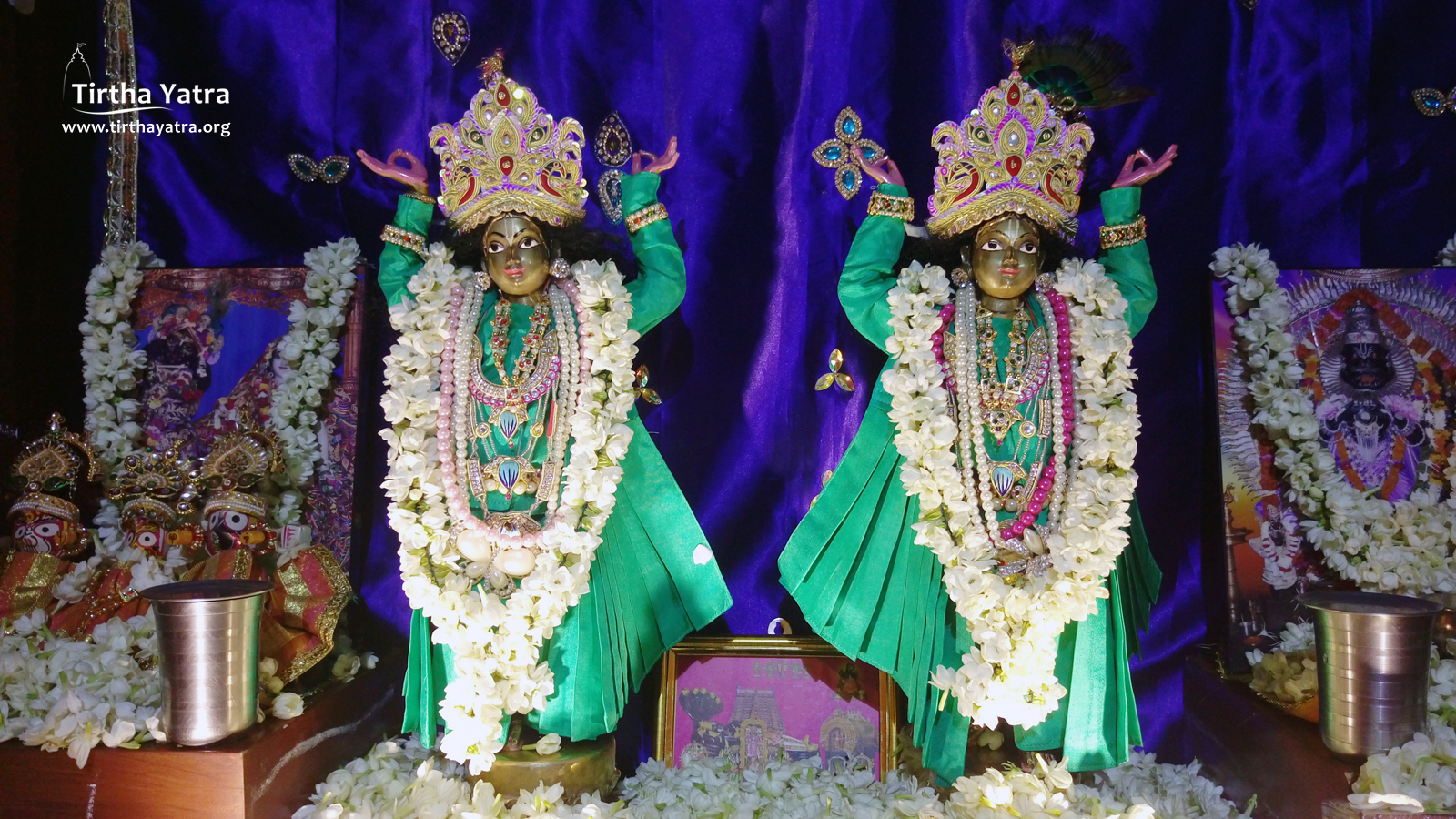 Sri Parama Karuna Nityananda – Deities in ISKCON Trichy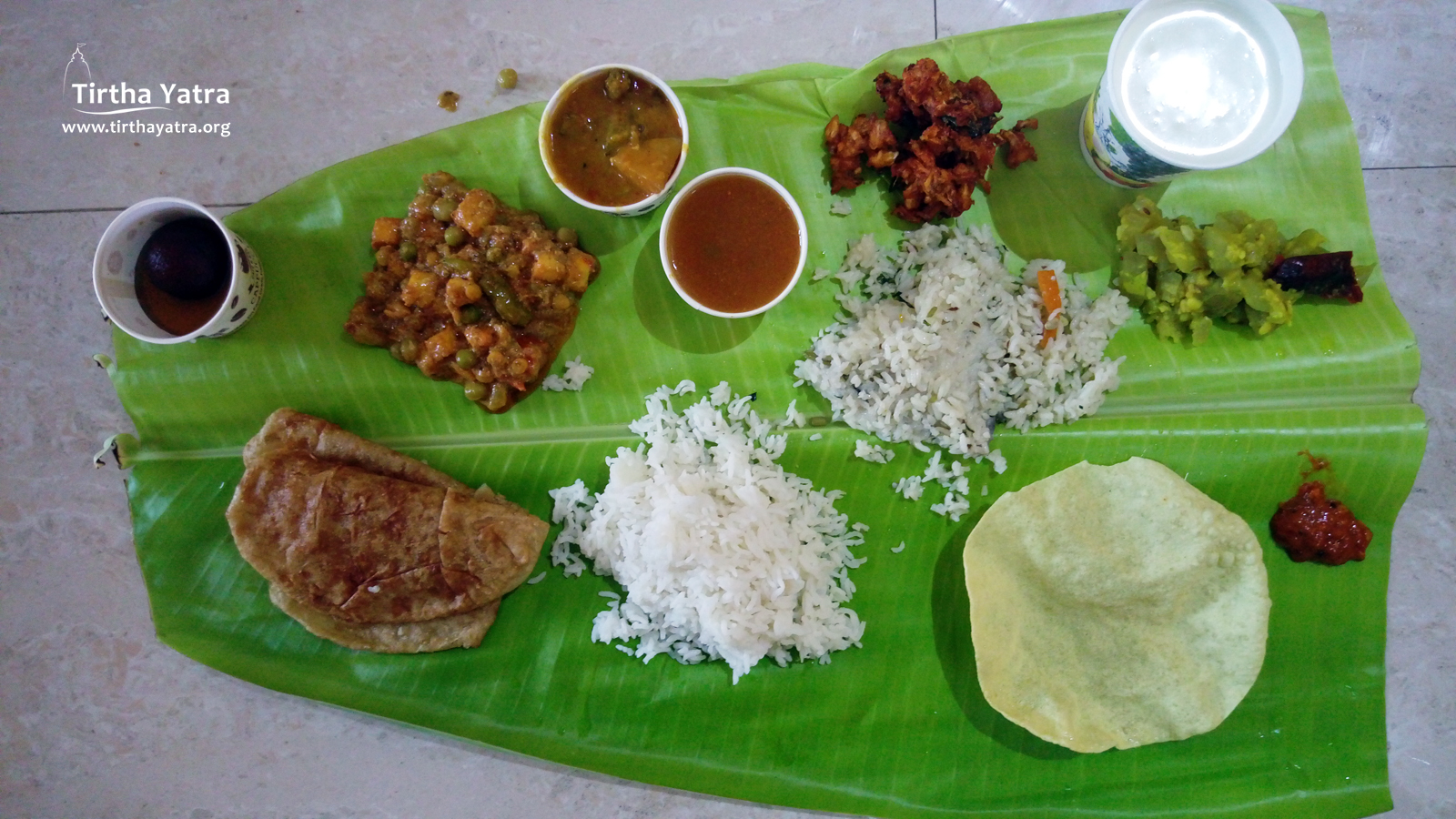 One of the lunch prasadam during the yatra
6