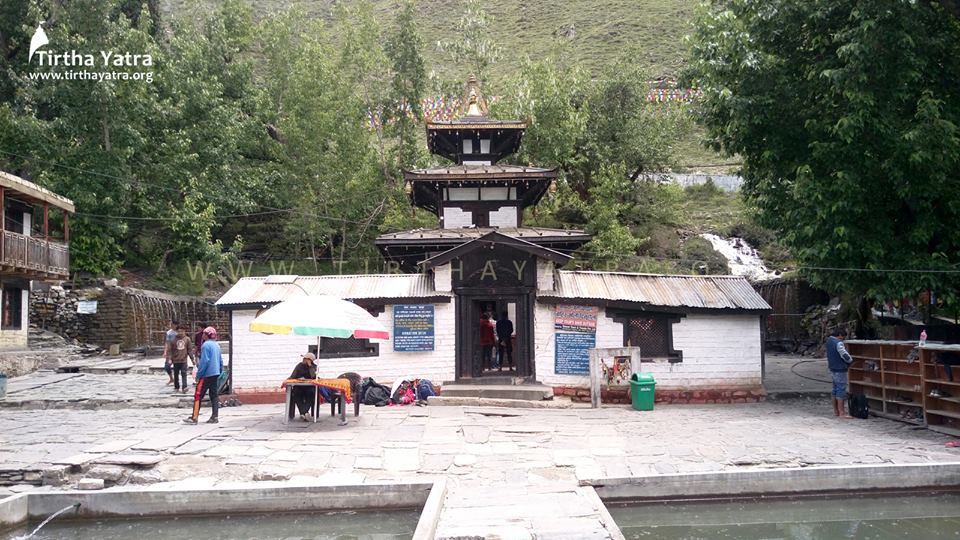 Every devotee of Lord Shiva or Lord Narayana wishes to visit the Muktinath Kshetra or the Pashupatinath Kshetra in Nepal, at least once in a lifetime. And this dream is not so easy unless one is familiar with the routes and the people in Nepal. For a smooth stay, it is essential that one needs a proper guidance to navigate through the country. This is the very purpose of bringing this article – helping you out to visit Nepal if you are venturing alone.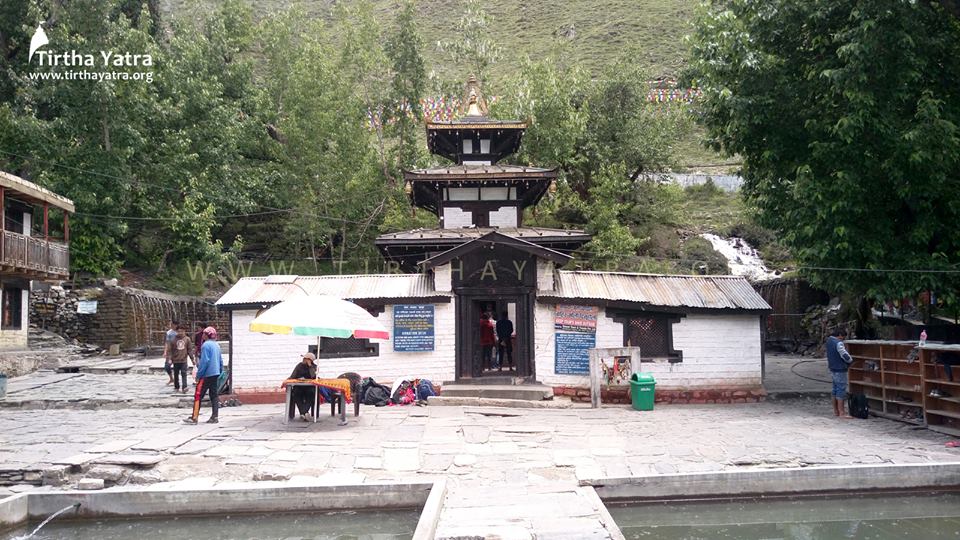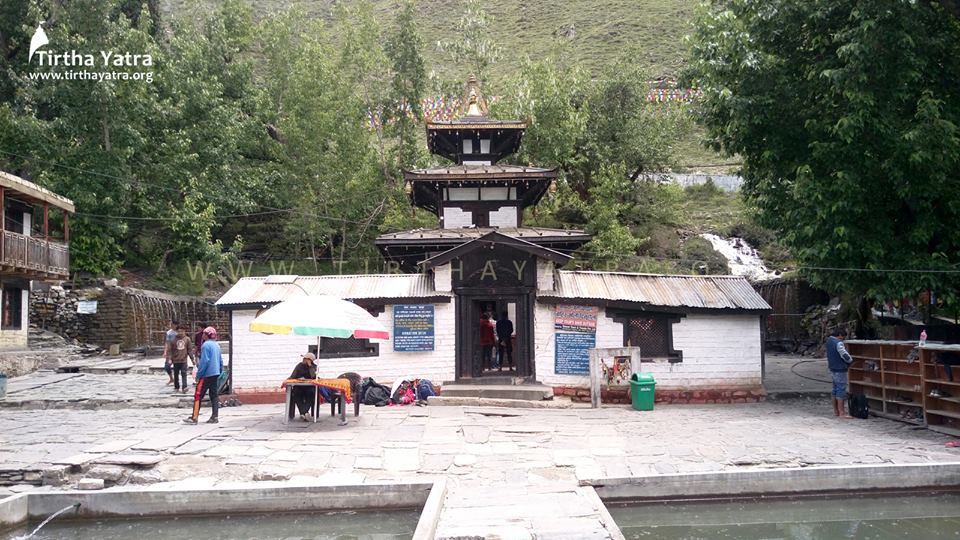 Important points to consider before planning a pilgrimage in Nepal
Nepal is known as the only Hindu nation in the world but most of the citizens prefer non-vegetarian food. There are a very few pure-vegetarian restaurants throughout the country. Almost all the restaurants serve non-vegetarian food. Actually Nepal is no more a 100% Hindu nation in the world.
As of now, there are only two mobile networks in Nepal – NTC and NCell. NTC is a government owned network and is given only to a Nepal Citizen and expensive. If you are lucky, you might get NTC sim at the airport. But I would recommend you go for NCell.
There is no VISA or passport required for an Indian Citizen entering Nepal by road. In case of entering Nepal through air, passport is a must. Sometimes voter ID will also do while entering Nepal through Air. In any case, keep passport handy.
It is always good to carry a set of warm clothes when you travel to Nepal. The plains are hot, but it is cold in the mountains.
For your safety stay at good hotels, at least 3-star hotels.
The Travel Plan
Day 01 – Travelling to Kathmandu
Reach Kathmandu by Air. Air India, Jet Airways and Indigo have frequent flights to Kathmandu. Better to travel by these flights. There is a direct flight available from Mumbai, New Delhi and Bengaluru operated by Royal Nepal Airlines, however many a times there flights are rescheduled or canceled and you get the notice only a week back.
Take a local taxi and check-in to hotel of your choice. You may book the hotels using the hotel booking websites for better discounts. Good hotels in Kathmandu are in the area of Thamel and also near Pashupatinath Temple, in the area called as Goshala. Please note that it is not safe to walk outside with cash and jewelry in Thamel after 7 pm. After reaching Kathmandu, you may plan to visit Pashupatinath Temple. Alternatively, you can visit this temple after returning from Muktinath.
Day 02 – Travelling to Pokhara
Travel from Kathmandu to Pokhara, there are following options:
Option 01: By Air
One can travel from Kathmandu to Pokhara by flight.
Option 02: By Road
There are frequent buses available plying between Kathmandu and Pokhara. Catch a bus in the morning to Pokhara and you shall be there by noon. It is approximately 7 hours of travel from Kathmandu.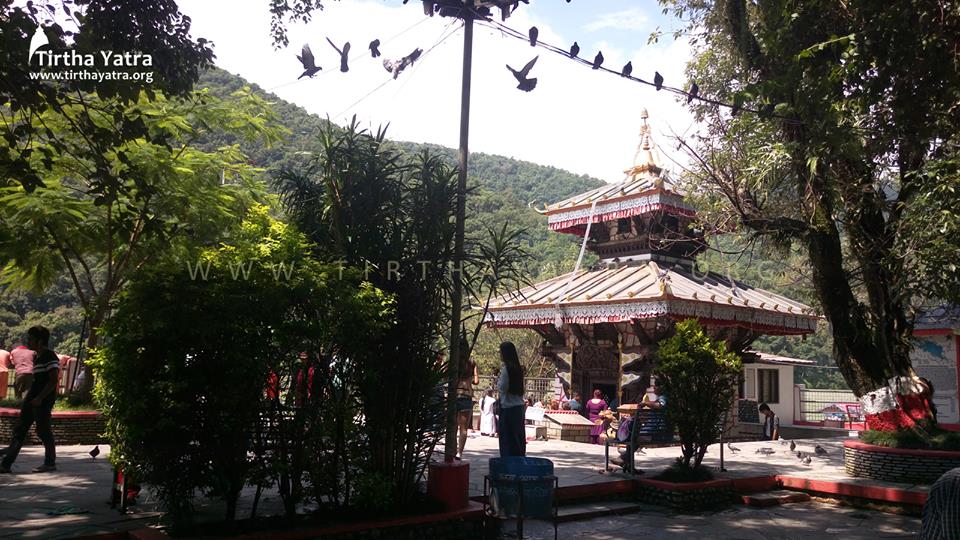 Reach Pokhara and check-in to the hotel. Good hotels in Pokhara are situated at the lake side. After reaching Pokhara, you may go around for sight-seeing. There is a Tal Barahi temple situated in the midst of Phewa Lake, Vindhyavasini Temple, Devi's falls and Mahendra Caves at Pokhara and may more places to visit.
Day 03 – Travelling to Jomsom
Option 01: By Road
From Pokhara only one or two 27 seater buses depart from the city bus stand every day at 6 am directly to Jomsom. Ensure that you book a seat on the previous day itself to get a front seat in the bus. (You will surely thank me later for this). To reach Jomsom from Pokhara, you will have to cross various villages or towns – Beni, Ghansa, Tatopani, Jomsom. The road after Beni is not so great. Indeed, there is no concrete road after Beni. The construction of road is still going on and it might take three years to complete the construction. Those who are heart patients or have a weak heart are not advised to travel by road to Jomsom. And strict no to pregnant women. It takes close to fourteen hours to reach Jomsom by bus. Reach Jomsom and choose a hotel to stay back. All the hotels are quite good. There is a Vaishnava ashrama in Jomsom next to the Ganesh Mandir. The facilities are modest but clean and good. You can get simple sattvic food in this ashram.
Option 02: By Road
In case you miss a bus, you can take a local taxi which ply from Pokhara to Beni and from Beni you can take a taxi to Ghansa and then to Jomsom. There are buses available connecting these villages or towns. You could also hire a taxi from Pokhara to Jomsom and return. Private taxi approximately costs around INR 16000.
Option 03: By Air
If you don't wish to take the risk of traveling on a non-concrete road and save time, you can choose to travel to Jomsom by air from Pokhara which I would also recommend. The journey is worth the price. Local tour operators in Pokhara offer a complete Muktinath package for INR 10,500 (return flight ticket, Annapurna conservation fees, hotel in Jomsom, food in Jomsom and conveyance to Muktinath). It is fairly a good deal. And the flight journey is very picturesque – one of the best. Sometimes flights are cancelled due to unpredictable weather in the valley. Sometimes you might have to wait for 2 – 3 days to catch a flight. If you travel by air to Jomsom, you can have darshan of Lord Muktinath on the same day and stay overnight at Jomsom / Muktinath.
Day 04 – Traveling to Muktinath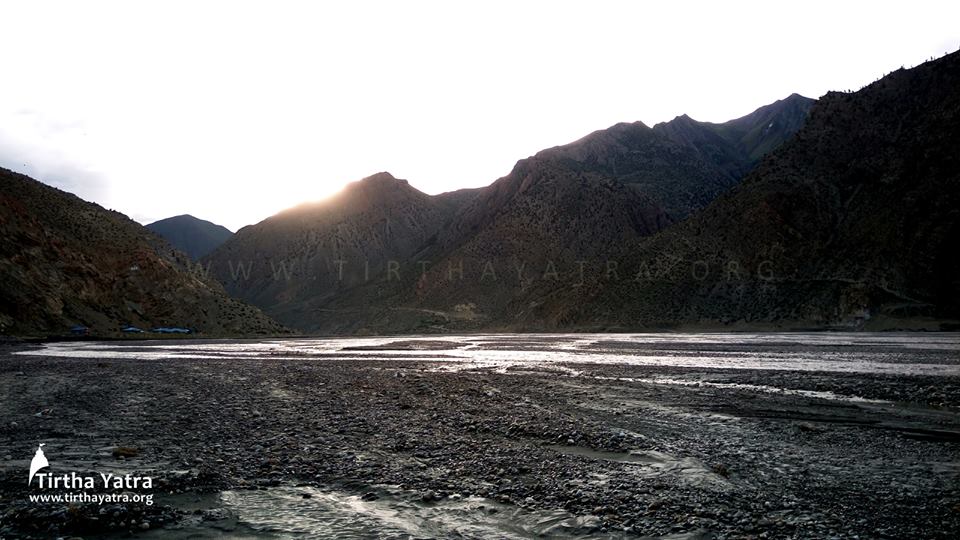 Morning around 8 am, cross the bridge across the Kali Gandaki River and walk a little further to the taxi booking counter at Jomsom. Here buy a ticket to Muktinath which shall cost you NC 350 per person one way. Since the usual route is under construction, the alternative road is little longer and the journey involves breaks in between. You will have to change the buses at three locations and you need not pay money at three places. The moment you reach Muktinath, first approach the vaishnava ashram and inform them about the food. Then visit the temple. You need to climb around 250 steps to reach the temple. Behind the Muktinath temple is Muktidhara – the source of river Gandaki. If you wish to take a holy dip in it, better to tie a cloth on your head and go around in a jiffy. By the time you are finished with the darshan, prasadam would be ready and waiting for you at the ashram. After prasadam travel back to Jomsom. In the evening, you can try your luck in finding the shaligrama shila in the Kali Gandaki River. Remember never purchase a shaligrama shilas as it is a sin to do so.
If you wish to stay overnight at Muktinath, you can do so. There are lot of options available for accommodation.
Day 05 – Traveling to Pokhara
Wake-up early and start your return journey to Pokhara in the same way you came to Jomsom. Reach Pokhara and rest.
Day 06 – Traveling to Kathmandu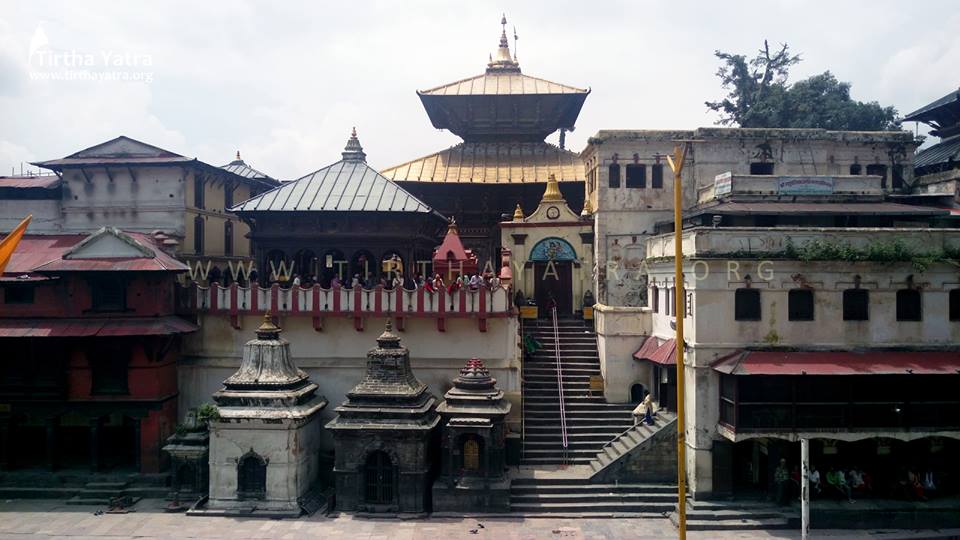 Travel to Kathmandu from Pokhara by bus / air. There are regular buses available. Reach Kathmandu and then fly back to your city on the same day or the next day. If you have not visited Pashupatinath Temple, you may plan to visit the temple. It is very important to have darshan of the four faces of Lord Pashupatinath, from the four doors. The four doors are opened for darshan at 09:30 and are closed around 11:00. In the evening a grand arati is performed from 18:30. If you wish to get a glimpse of the arati, make sure that you are standing on the northern door from 18:00 onwards.
8