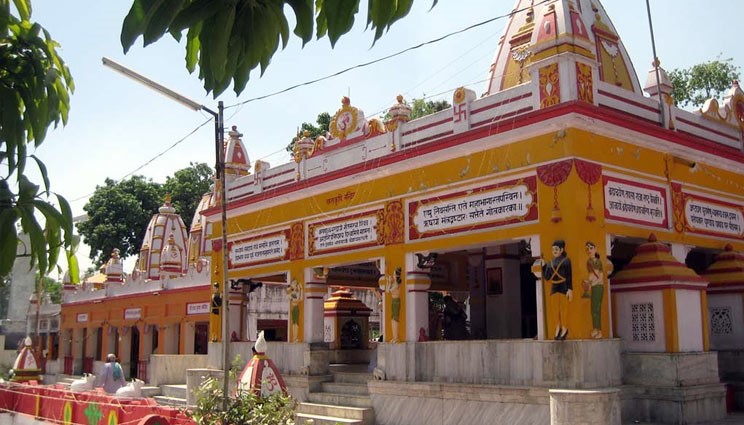 Mayadevi temple is the source of all the shakti peetha temples rather the foremost among all the Shakti Peetha temples. This is the place from where Lord Shiva lifted the body of Sati Devi after she burnt herself in a yogic fire generated from her body. Nestled in the buzz of Haridwar city, this ancient temple is sometimes missed by the devotees who visit Haridwar. Hardly there are visitors in this temple.
We find the following statement in the Garuda Purana:
ayodhya mathura maya kashi kanchi avantika
puri dwaravati chaiva saptaitha mokshadayikaha
There are seven mokshapuris namely Ayodhya, Mathura, Maya, Kashi, Kanchi, Avantika and Dwarka, out of which Mayapuri is Haridwar. The modern city of Haridwar comprises of five Vedic and ancient cities – Haridwar, Kankhal, Bhimgoda, Jwalapur and Mayapuri. Of these five cities, Mayapuri is the ancient most and offers liberation. it is called Mayapuri because the Adhisthathri Devi is Maya Devi, an expansion of Parvati Devi. There are three prominent Devi temples in Haridwar existing from a very ancient time namely Sheethala Devi, Chandi Devi and Mansa Devi. The temple of Mayadevi is towards the south of Daksheshwar Mahadev Mandir called as Kankhal. This Mayadevi isn't the same Maya which administers the material world rather the consort of Lord Shiva.
Sati Devi on reaching the yajna venue of her father Daksha Maharaja found that there was no seat reserved for her husband in the assembly. Seeing that her husband has been insulted, she got furious and left the place deciding to end her life. She left the place at Kankhal and reached Mayapuri where she sat in yogic meditation. Through her yogic powers, she generated an inner fire which consumed her body thus leading to the end of her life. When Lord Shiva came to know this, he came here and lifted Sati Devi's body going around the whole universe. This affected all the living beings in the universe. Seeing the condition, Lord Vishnu sent His Sudarshana Chakra to cut Sati Devi's body into various pieces. The places where her body parts fell in Bharatavarsha came to be known as Shakti Peethas. The current temple which is located near Har Ki Pauri in Haridwar was built in the eleventh century and houses the Deities of Kali Devi on the left of Maya Devi and the Deity of Kamakhya Devi on the right of Maya Devi.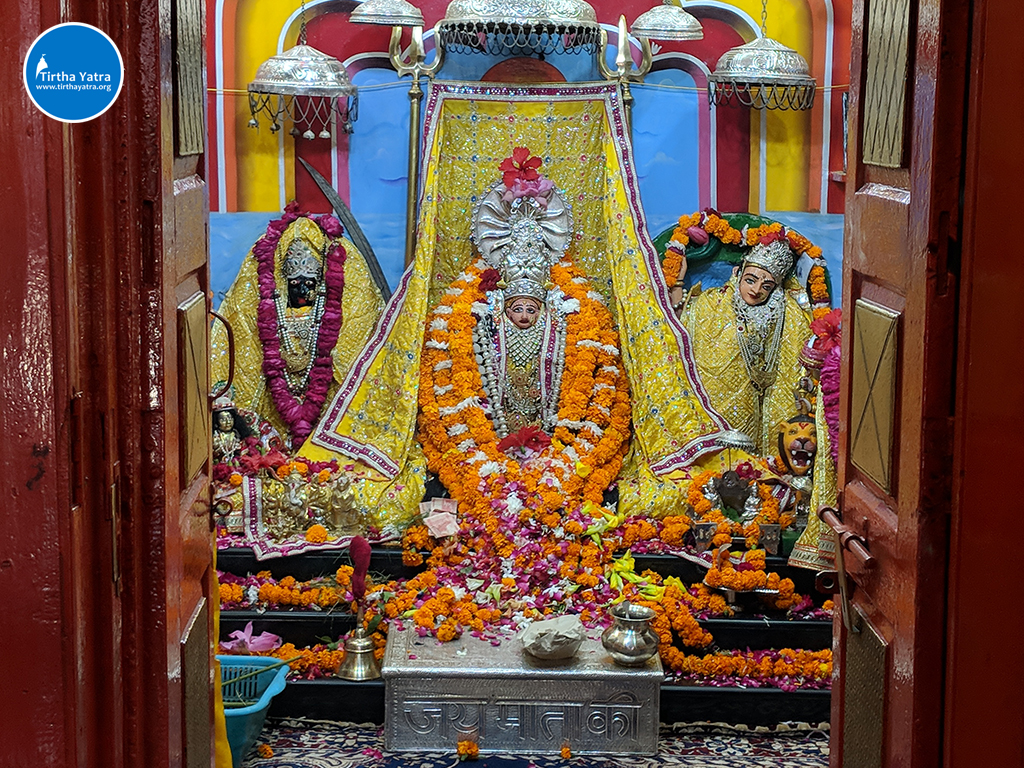 The Origin of Mayadevi Temple
Once Daksha, the leader of the Prajapatis had arranged a grand fire sacrifice in which all great sages, philosophers, demigods and fire gods had participated with their followers. When Daksha entered the assembly, everyone stood up to offer their respects except for Lord Brahma and Lord Shiva. His effulgence lit up the entire assembly due to which all the assembled personalities appeared insignificant. He was welcomed by Lord Brahma, the president of the assembly. After offering respects to Lord Brahma, Daksha sat down. While doing so, he observed that Lord Shiva didn't stand up to offer him respects especially being his son-in-law as his daughter Sati Devi was married to Lord Shiva. He became angry that Lord Shiva didn't offer him respects and hence started speaking very strongly against Lord Shiva. Daksha insulted Lord Shiva very badly that some members of the assembly requested him not to do so. Lord Shiva all this while was unmoved by Daksha's insult and didn't react in any way. Daksha assuming that Lord Shiva was sitting against him cursed Lord Shiva saying, "The demigods are eligible to share in the oblations of sacrifice, but Lord Siva, who is the lowest of all the demigods, should not have a share." Saying so in great anger, he left the assembly and went back home.
Understanding that Lord Shiva had been abused by Daksha Prajapati, Nandishvara who is the chief of Lord Shiva's associates got angry and started cursing Daksha and the all the brahmanas present there who did not raise their voice against Daksha's insult. Reacting to Nandishvara cursing Daksha and the brahmanas present in the assembly, Sage Bhrighu started cursing all the followers of Lord Shiva in a very angry tone. Seeing the curse and counter curse going on, Lord Shiva became morose and left the assembly for his residence at Kailash.
Talks between Lord Shiva and Parvati Devi
The tension between Lord Shiva and His father-in-law Daksha continued for a long time. In the meantime, Daksha performed a great sacrifice by the name Vaajapeya and became excessively confident of support by Lord Brahma. He then performed another great sacrifice called Brihaspati Sava in which great personalities and their wives from all over the universe participated. Sati Devi observed all the denizens of the universe going in grandeur to attend the sacrifice and so spoke to her husband Lord Shiva in great anxiety telling him about her desire to see her relatives especially her mother and sisters. Sati Devi tried convincing Lord Shiva about her bodily connection with her family and the need to be there at the sacrifice. Lord Shiva sensing Sati devi's anxiety tried calming her down with wise counsel saying that one shouldn't go to a relative's place when they are unwelcome. Sati Devi thought over the wise counsel for some time being afflicted with affection for her relatives but at the same time afraid of Lord Shiva's warning. She was unable to restrain herself from going to the sacrificial arena and hence set off to the venue.
Sati Devi leaves for Daksa's sacrificial venue
When Lord Shiva's disciples saw Sati Devi leaving Kailash to her father Daksha's place, they all followed her in the thousands headed by Lord Shiva's carrier bull Nandi and accompanied by the Yakshas. They arranged for Sati Devi to be seated on a bull and gave her the bird which was her pet. Offering her all paraphernalia and comforts, they carried her as in a royal parade. After reaching her father Daksha's house, Sati Devi entered the venue where the sacrifice was being performed. She wasn't welcomed by anyone in the assembly due to the fear of Daksha except for her mother and sisters who spoke to her pleasingly. Sati Devi didn't accept the seat or gifts offered to her, for Daksha didn't welcome her nor spoke to her. She observed that there was no seat reserved for her husband Lord Shiva neither she being the wife of the exalted Lord Shiva was received by Daksha. Sati Devi was very angry at this behaviour by her father Daksha that she looked at him in such a way that she would have burnt him. The followers of Lord Shiva were ready to kill or cause harm to Daksha but Sati Devi restrained them and started talking herself in great anger against her father. As she went on talking in the same manner she said the following –
"Therefore, I shall no longer bear this unworthy body, which has been received from you, who have blasphemed Lord Siva. If someone has taken food which is poisonous, the best treatment is to vomit. Because of our family relationship, when Lord Siva addresses me as Dakshayani, I at once become morose, and my jolliness and my smile at once disappear. I feel very much sorry that my body, which is just like a bag, has been produced by you. I shall therefore give it up."
Thus while talking to her father in the sacrificial arena, she sat down on the ground facing north. Dressed in saffron garments, she purified herself with water and sat in yogic meditation. In the course of meditation, she generated a fire from within her body which consumed her body in a blaze.
The exact spot where Sati Devi burnt her body is today called as the Mayadevi Mandir in Haridwar.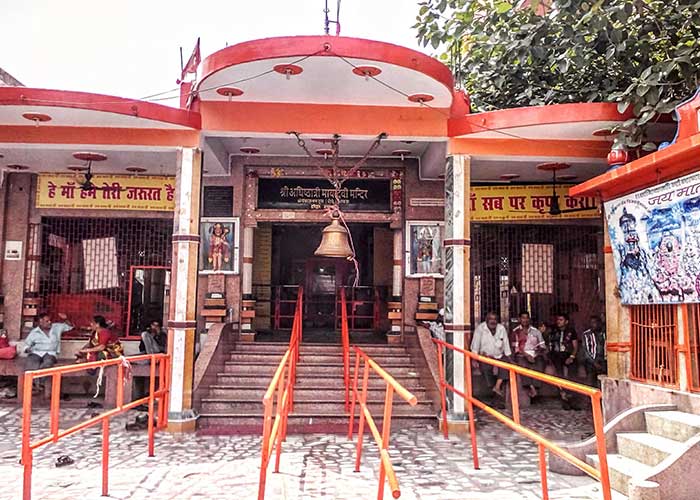 How to reach Mayadevi Temple
The temple is situated near Har-ki-pauri and well known to the locals – rickshaw, autos, etc.
By Road – Haridwar can be reached easily by road from Delhi, Haryana, UP, Punjab and other parts of Uttarakhand. Several state transport and private buses connect Haridwar with these places. Bus service is available at frequent basis and fares are also economical.
By Train – Haridwar has its own railway station which connects the pilgrimage town well with rest of India. It is directly linked with cities like Delhi, Kolkata, Mumbai, Dehradun, Jaipur, Ahmedabad, Patna, Gaya, Varanasi, Bhubaneswar, Puri and Kochi by a good number of express trains. The temple is located at a distance of half a kilometer from the Haridwar railway station.
By Flight – The nearest airport is the Jolly Grant Airport in Dehradun located at a distance of thirty-five kilometers. You can take a taxi or bus to reach Haridwar from here.
References
The content in this article has been adapted from the Srimad Bhagavatam by HDG A.C Bhaktivedanta Swami Prabhupada. Additional content has been taken from the temple history published by the temple authorities.
2