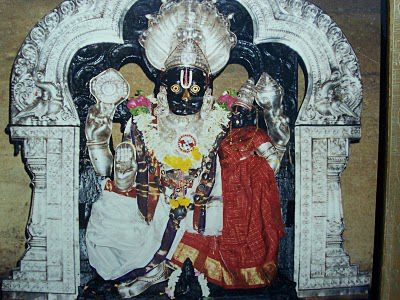 Tirtha Yatra had conducted a free archana seva for devotees in Ahobilam, the avatara sthala of Lord Narasimha, on the auspicious occasion of Narasimha Jayanti this year 2017.  Around 1200 devotees from around the world registered for this seva through Tirtha Yatra's website and were blessed to have the archana done in their names. Tirtha Yatra launched this initiative in order to help devotees who are not able to travel to Ahobilam on that day or for some reason are missing the holy place. This has been a unique opportunity for us to undertake such an activity in Ahobilam, where Lord Narasimha appeared to protect His devotee Prahlada.
Tirtha Yatra organizes spiritual yatras every month to Ahobilam where we provide you with an unforgettable spiritual experience. We provide brahminical food, narration of the Sthala-purana, melodious bhajans, excellent transportation and accommodation with best facilities. We are also senior citizen friendly with our yatra directors always available at a moment's notice. Tirtha Yatra always strives to innovate and be ahead of everyone else as our Yatris are always at the centre of our activities. This has been supported by the wonderful feedback we have received from the Yatra participants.
As a part of Tirtha Yatra's efforts to educate and help understand the rich heritage and importance of the Holy places, many initiatives are undertaken on a regular basis. Apart from Free Archana seva, Tirtha Yatra will soon launch many other initiatives to achieve its purpose.  People interested in knowing about and being updated on Tirtha Yatra's activities can subscribe to our Whatsapp group by sending a Whatsapp message with the text 'START' to 9844700850.
1