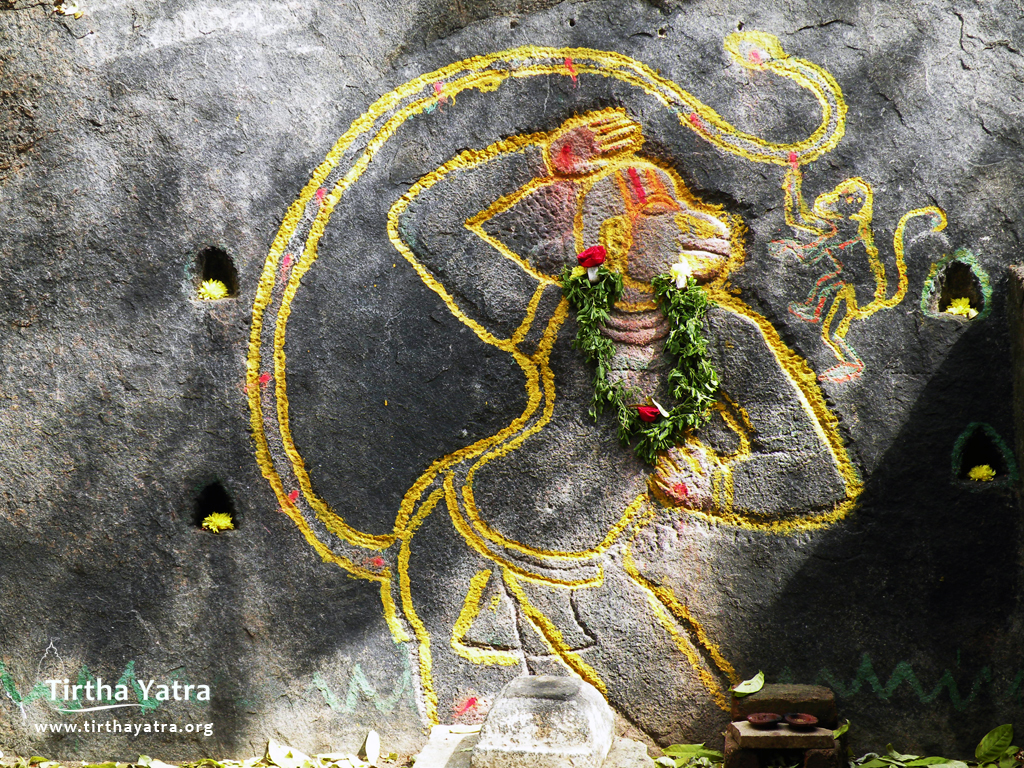 As the name itself suggests, Ramanagara is the town named after Sri Ramachandra, the King of Ayodhya. Veiled in its scenic beauty is Ramagiri or Ramadevara Betta, a sacred hill dedicated to Sri Ramachandra. Most of them know this place as the shooting site of the famous Sholay Movie. This place is also the favorite spot for trekking.
This place is about 50 kms far from Bangalore on Bangalore-Mysore Highway. To reach this sacred hill one has to drive through the Ramanagara village. A small shrine housing a very beautiful Deity of Sri Pattabhirama is located on top of the hill amidst the huge boulders of stones. One has to climb around 400 steps amidst the modestly thick and lush green forest to reach the temple.
The appearance of the Deity Pattabhirama at Ramadevara Betta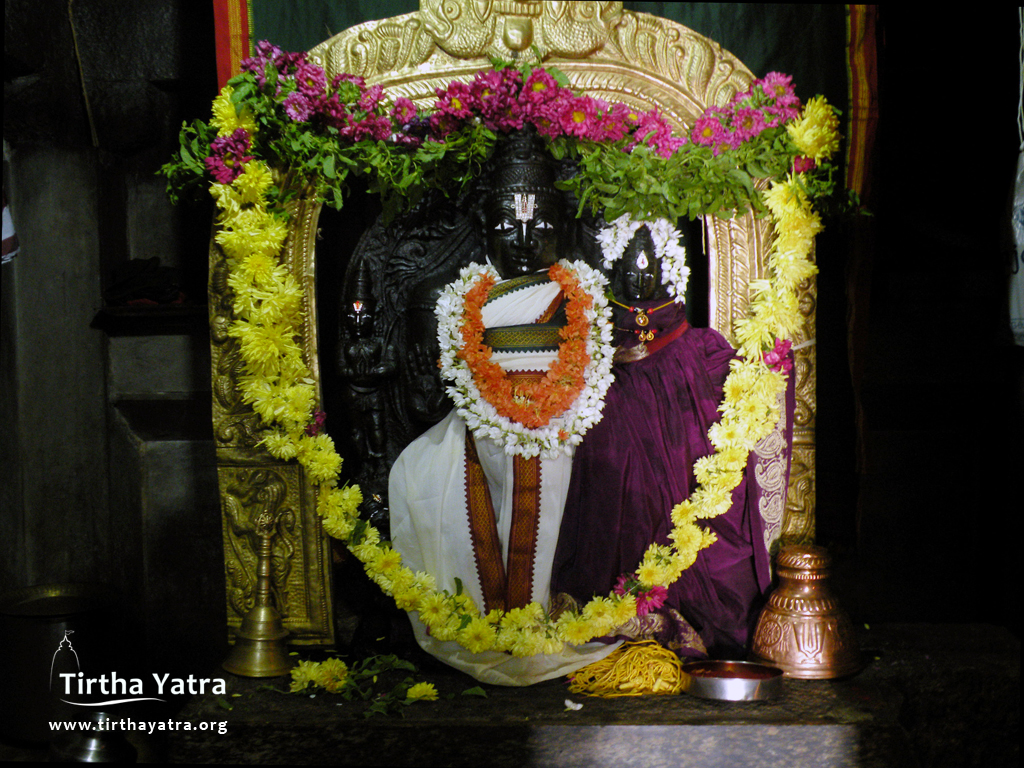 After slaying the demon Ravana, Sri Ramachandra returned to Ayodhya. A grand coronation ceremony was performed in Ayodhya announcing Lord Rama as the king of Ayodhya. Charmed by the opulence and the beauty of Lord Rama, Sugriva desired to worship Him in the mood of a king. Hence He got a Deity of Sri Ramachandra carved in a sitting posture (on a throne), mother Sita sitting on His left lap, Lakshmana and Hanuman standing to the right. He was carrying this Deity along with him on his way to Kishkindha to install and worship. When he reached this place, he was attacked by a demon named Sukhasura. He kept the Deity in a place and started fighting with the demon. After a strong duel between both of them, finally Sugriva defeated and killed Sukhasura. He then went to pick the Deity in order to resume his journey but could not even move the Deity an inch. He then heard a voice from sky that Lord Rama wished to be worshiped in that place as the place was extremely beautiful surrounded by lush green trees and beautiful mountains. Sugriva then installed the Deity here and the worship is going on since then.
Lord Rama punishes Kakasura
Another pastime states that during the exile, Lord Ramachandra and mother Sita stayed in this place. During Their stay here, once Ramachandra was taking rest on the lap of Sitadevi. At that time the king of crows named Kakasura attacked Sitadevi. Not wanting to disturb Ramachandra, Sitadevi tolerated the pain. However a drop of blood from Her body fell onto Ramachandra, which awoke Him. Looking at the wound, He got very angry and thus summoned an arrow using darbha grass. The arrow chased Kakasura to all the corners of the universe. He approached various demigods including Lord Brahma and Lord Shiva asking them to save him from the wrath of Ramchandra. They all denied that they had no power to stop the arrow of Ramachandra, the Supreme Lord. They advised him to approach the Lord Himself and beg forgiveness for his offense as no one could save him. Kakasura then approached Ramachandra and fell at His feet. Lord Ramachandra being an epitome of mercy forgave the demon. However He asked him to sacrifice something to the arrow as the arrow had to destroy something. Kakasura offered his left eye as a sacrifice to the arrow thus saving him. And from that day on crows can't see from their left eye. Due to this pastime not even a single crow is seen here even today.
Sri Rama Tirtha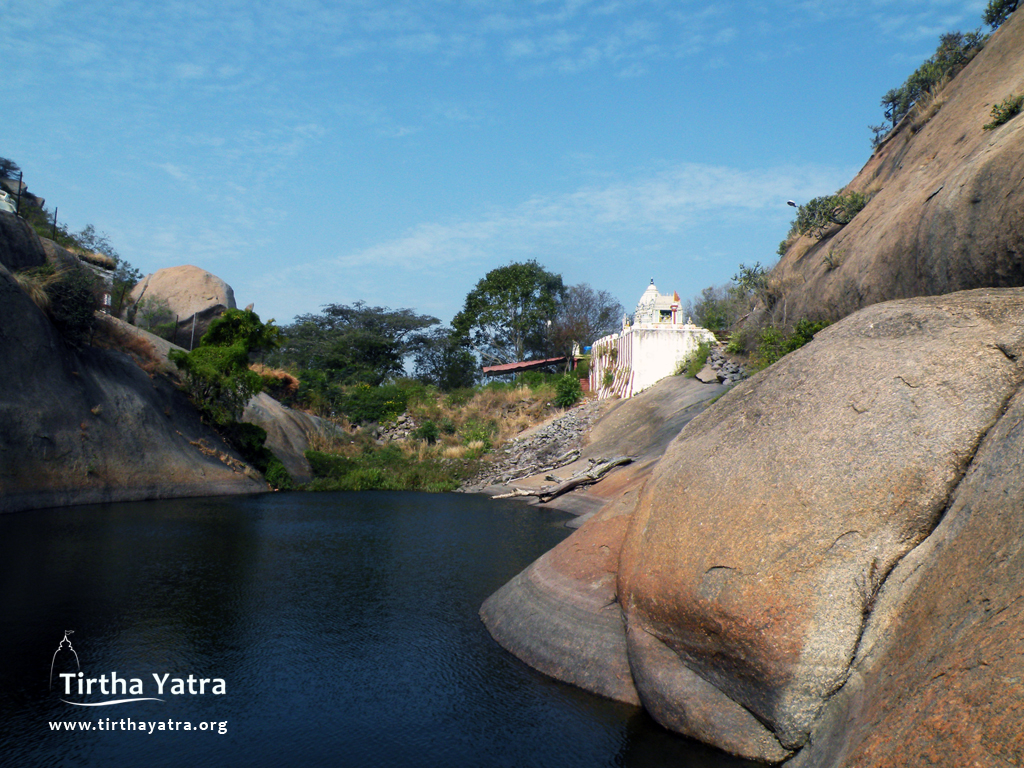 Sri Rama Tirtha which is beside the temple of Sri Pattabhirama, was created by Lord Ramachandra by shooting an arrow, to quench the thirst of Mother Sita. This sacred tirtha is very beautiful with its scintillating and serene waters. The water is very sweet and very clean. The water of this tirtha is used for bathing Sri Pattabhirama and also in naivedya of the Lord. In fact this is the cleanest tirtha I have come across till now. The water in this tirtha never dries up. And the depth of this tirtha is unknown.
Tapobhumi of Sapta-rishis
The sapta-rishis have performed austerities on this sacred hill and there are seven huge stone boulders right opposite to the temple of Sri Pattabhirama to signify the place of their austerities. The legend also says that while Sitadevi was taking bath in the Rama Tirtha, by mistake the sages cast a glance on Her and hence She cursed them to become stones.
How to Reach
To reach this place one has to take an immediate right turn after Ghousia Engineering College, Ramanagara. It is a wonderful short and sweet trip on a weekend. One can also get many buses from Majestic Bus Stand in Bangalore. There is a facility in the temple for ordering the meal prasadam for a small donation. The Pujari is Sri Nagaraja Bhattar who can be reached at 09844783393 / 09964112629. You can call him beforehand and inform him about the prasadam requirement. He is a very friendly Pujari.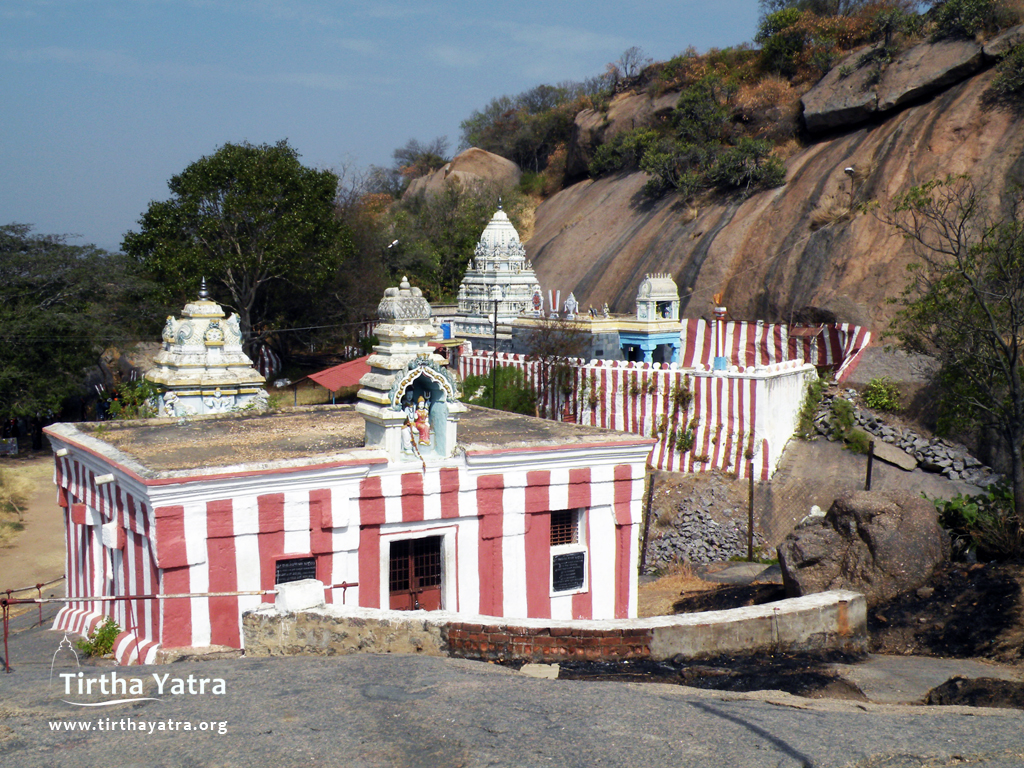 Temple Timings
The temple is open from 9 am – 12 pm on weekdays and 9 am to 6 pm on Saturday and Sunday.
0