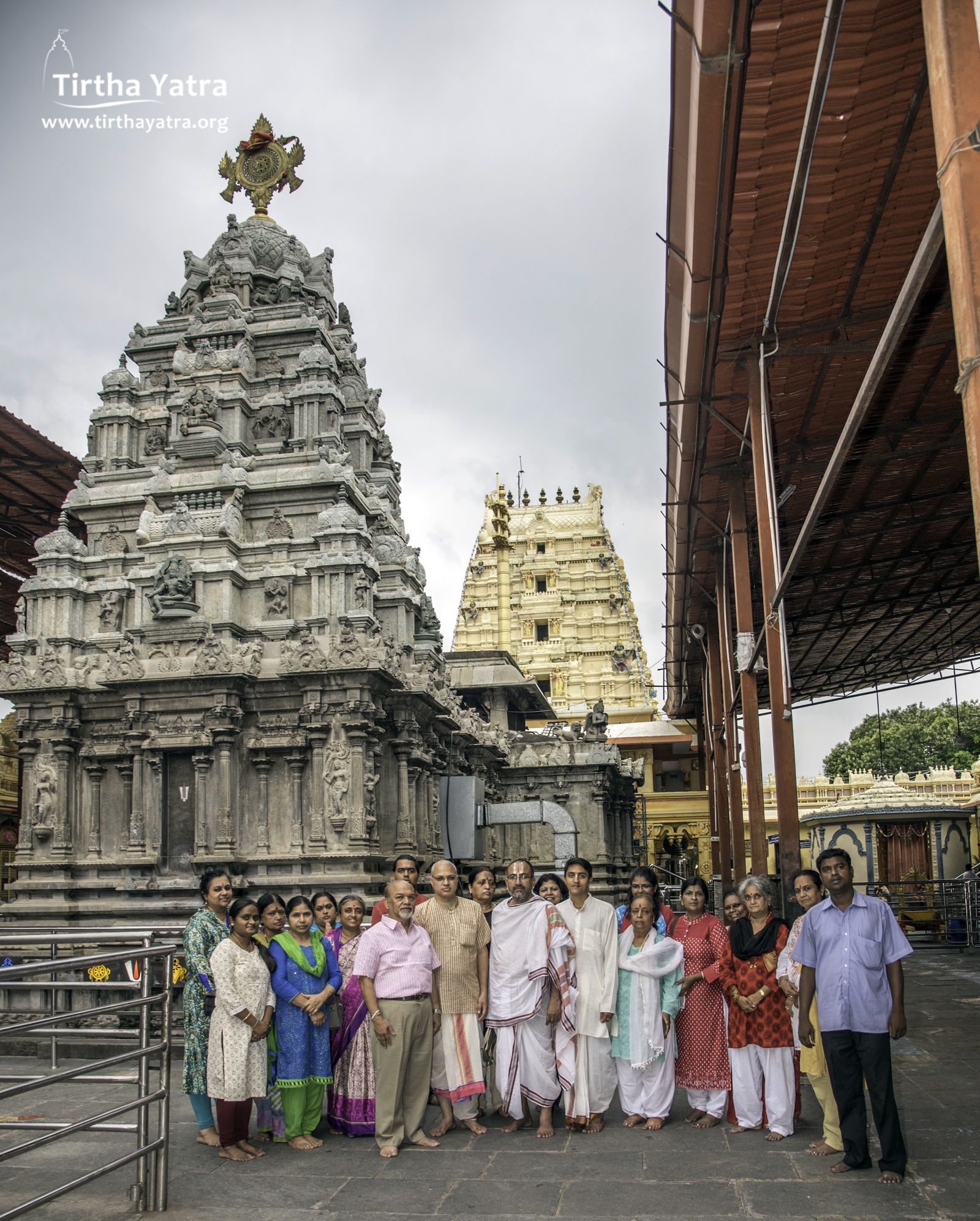 Every yatra we conduct is directed by the Supreme Lord. Yatra directors are just the puppets in the hands of the Supreme Lord to direct the yatra to His holy place. We realized this perfectly during our recent pilgrimage to Bhadrachalam. You must be surprised why we are writing about all these difficulties as no company would do; we did it so for you to know the greatness of the Lord's holy name.
The first hurdle in Bengaluru
We were supposed to depart from Bengaluru on Sep 09. Due to the Cauvery river issue, Karnataka Bundh was announced on that day. This delayed our yatra by two and a half hours. We departed at 7 pm instead of 4:30 pm. Well, this was the first hurdle which unfolded a series of them till we reached Bhadrachalam. The next obstacle came at a petrol bunk near Hoskote. Suddenly the compressor pipe of our bus got cut and we had to stop. Our bus could not move further. But this did not stop us. We insisted our driver to repair it and move on. It took nearly three hours to repair that pipe. We then moved on to our journey hoping to cover the distance soon. Further at a distance, our drivers ate forty-five minutes to eat dinner. Later the state-border tax payment taxed us another hour. And finally that night our driver had to stop for a short tea-break of forty five minutes.
Next day announced as Andhra Bundh
Next day (Sep 10), we all woke up in the morning only to find out that it was Andhra Bundh and we had to drive all the way through Andhra to reach Bhadrachalam. We decided to move further on our journey until we were asked to stop. By the mercy of the Lord the situation in the state was quite peaceful and we could pass through smoothly. In between we had to manage breakfast at a hotel near Kalahasti and lunch packets from our friend in Vijayawada. Thanks to all the ladies who brought an Akshaya Patra of unlimited snacks which kept our mouths engaged for the whole Yatra.
Heavy rain enroute Bhadrachalam
If you are thinking we reached Bhadrachalam, then not yet. Our next hurdle was the crossing of border to enter Telangana. Our bus was stopped and the driver was heavily penalized. This killed two more hours. By this time our scheduled time to reach Bhadrachalam had extended to 7 pm. While on the way, it began to rain cats and dogs, the rain which we rarely come across. From all the sides, our bus was being constantly hit by rain. And below roads were all clogged with water as though some river lost its way. Due to the heavy showers, the road was not visible. What we could see is just water everywhere. Braving the situation we still went ahead. The next hurdle was a huge bamboo tree bent due to rain. We had to switch off the AC and move swiftly to pass safely without disturbing the tree. Just fifty kilometers before Bhadrachalam, a tree was uprooted blocking the road. Being scared and helpless, the driver refused to move further. Then suddenly from nowhere villagers approached us and guided to a mud road which was just behind us. It was a deviation to cross the fallen tree and then join the same road. After crossing the tree, as we joined the road, we were not surprised to find a truck broken down ahead of us. At that moment we all began to chant rama rama rameti… and decided to chant until we reached Bhadrachalam.
The power of Holy Name
The moment we began the chanting, all the hurdles started clearing. Truck got repaired, it stopped raining and we moved further without any obstacle. Finally we reached Bhadrachalam safely by 10 pm, covering a journey of twenty seven hours. The next day morning we had darshan of Sri Vaikuntha Rama. Due to heavy rush, we could not have proper darshan of Their Lordships. Being not satisfied by the glance of the Lord, we chanted Vishnu Sahasranama praying the Lord to grant us longer darshan. We then left to Parnasaala and this time again our bus broke down, hence we had to take local transport to reach Parnasaala enjoying the fresh and cool breeze from the sacred waters of Godavari. After having peaceful darshan at Parnasaala we returned to Bhadrachalam to relish a grand and delicious lunch. After lunch we all moved to temple to have VIP darshan in the temple. We were all made to sit right in front of Lord Sita Ramachandra and allowed to have darshan to our heart's content. Sankalpa was done for every yatri. We all sat there chanting the holy name of Rama capturing Him in our hearts. We began our return journey to Bengaluru which took eighteen hours to cover. On the day of our return, Sec 144 was announced due to Cauvery issue. In spite of that we all reached home safe.
What we learnt on this yatra
All this we went through was worth it for the great darshan of the Lord. We cannot approach the Supreme Lord without being purified. Our sins have to washed-off before approaching such a pure personality. Hence Lord wanted us to undergo these difficulties for purification and grant His darshan so that we would cherish His beautiful form all throughout our life. Another important aspect to this yatra is the power of the Holy Name. We should never forget that the Holy Name of the Lord is very powerful. It can remove any obstacle to serve the Lord. We should always remember the Lord's name and never forget it. That will make our life successful.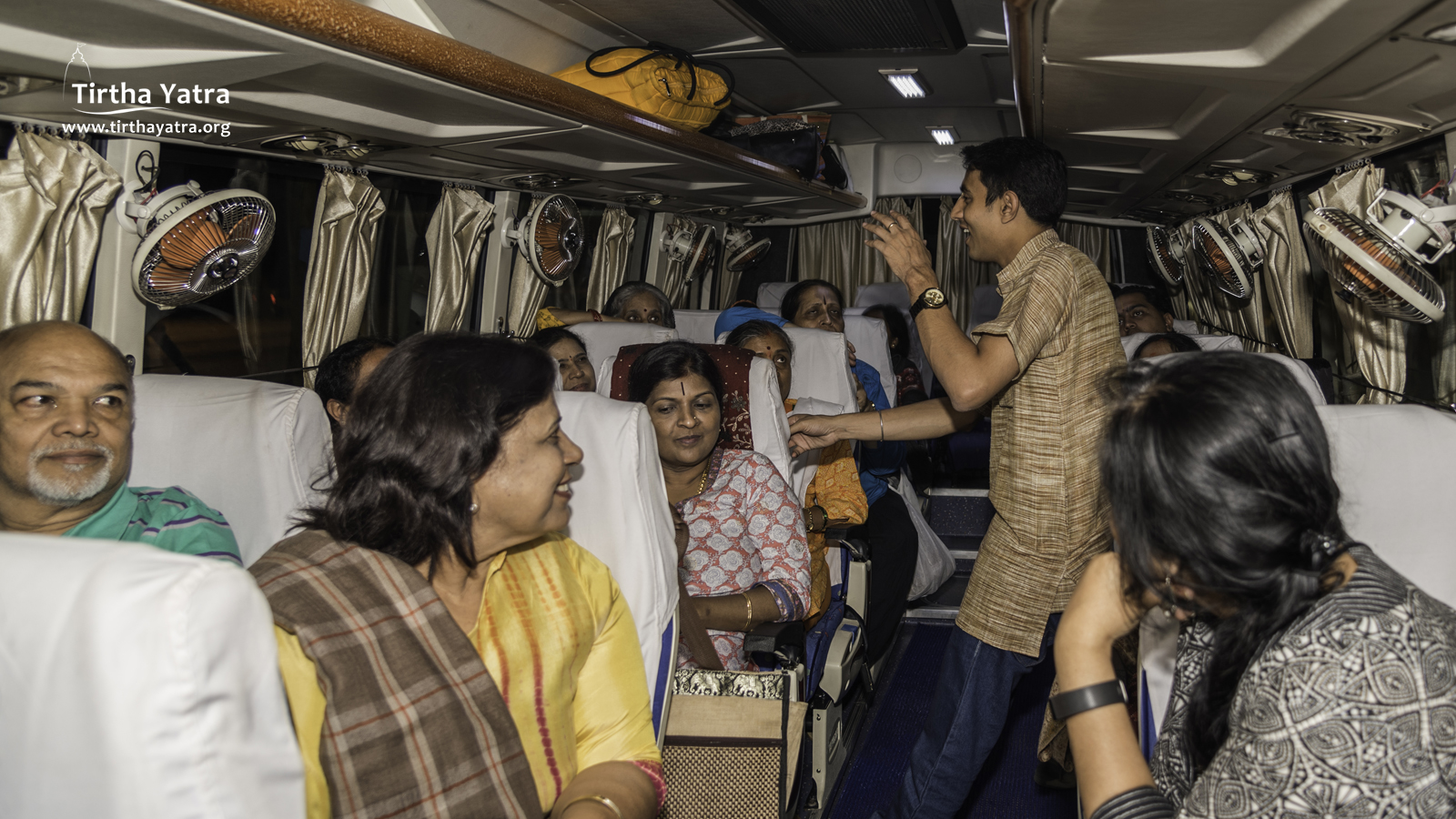 Yatra director Agrani Krishna Dasa explaining to Yatris about the Bhadrachalam temple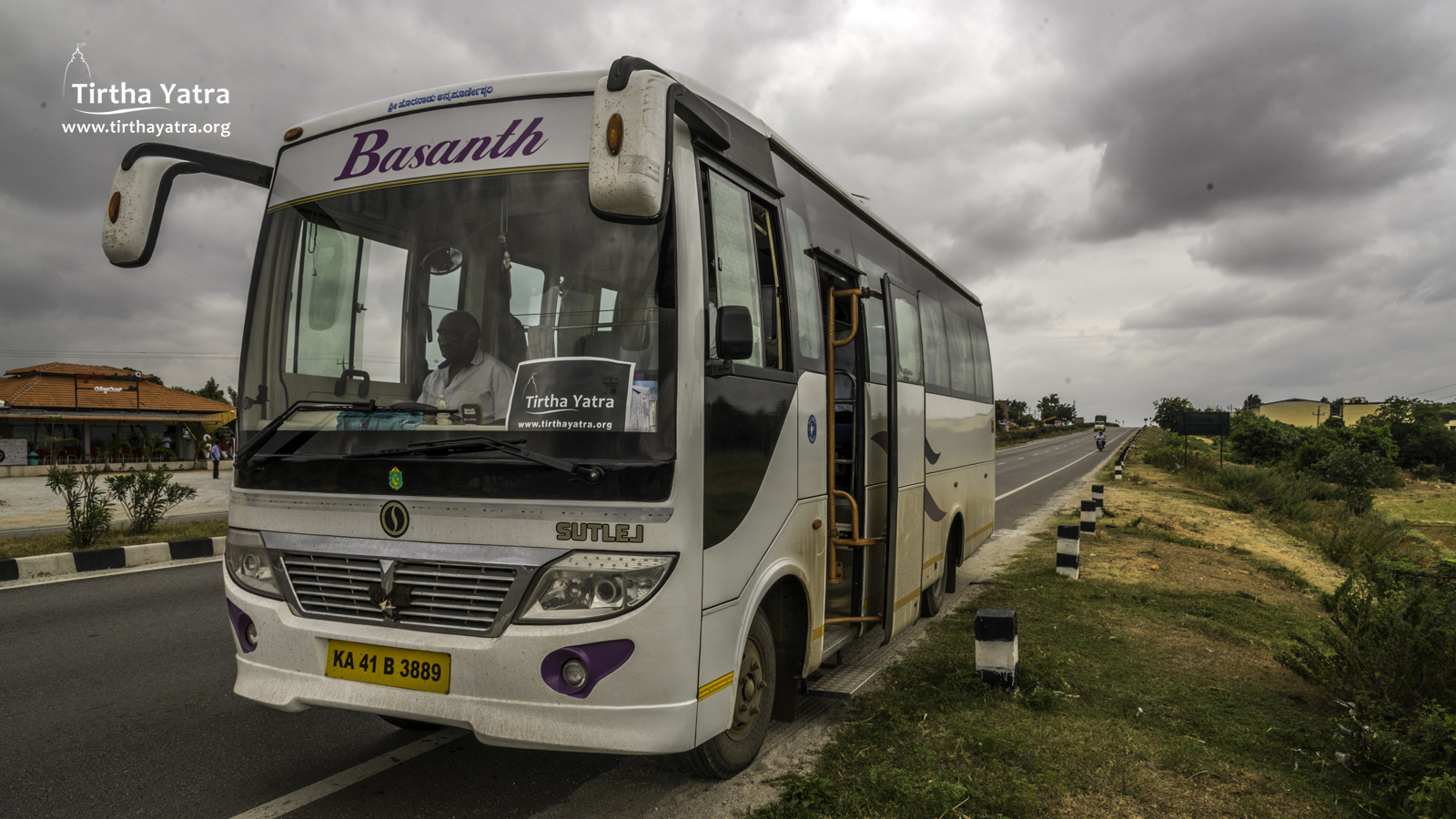 Our Divya Ratha – vehicle which too so many difficulties and kept us safe. 🙂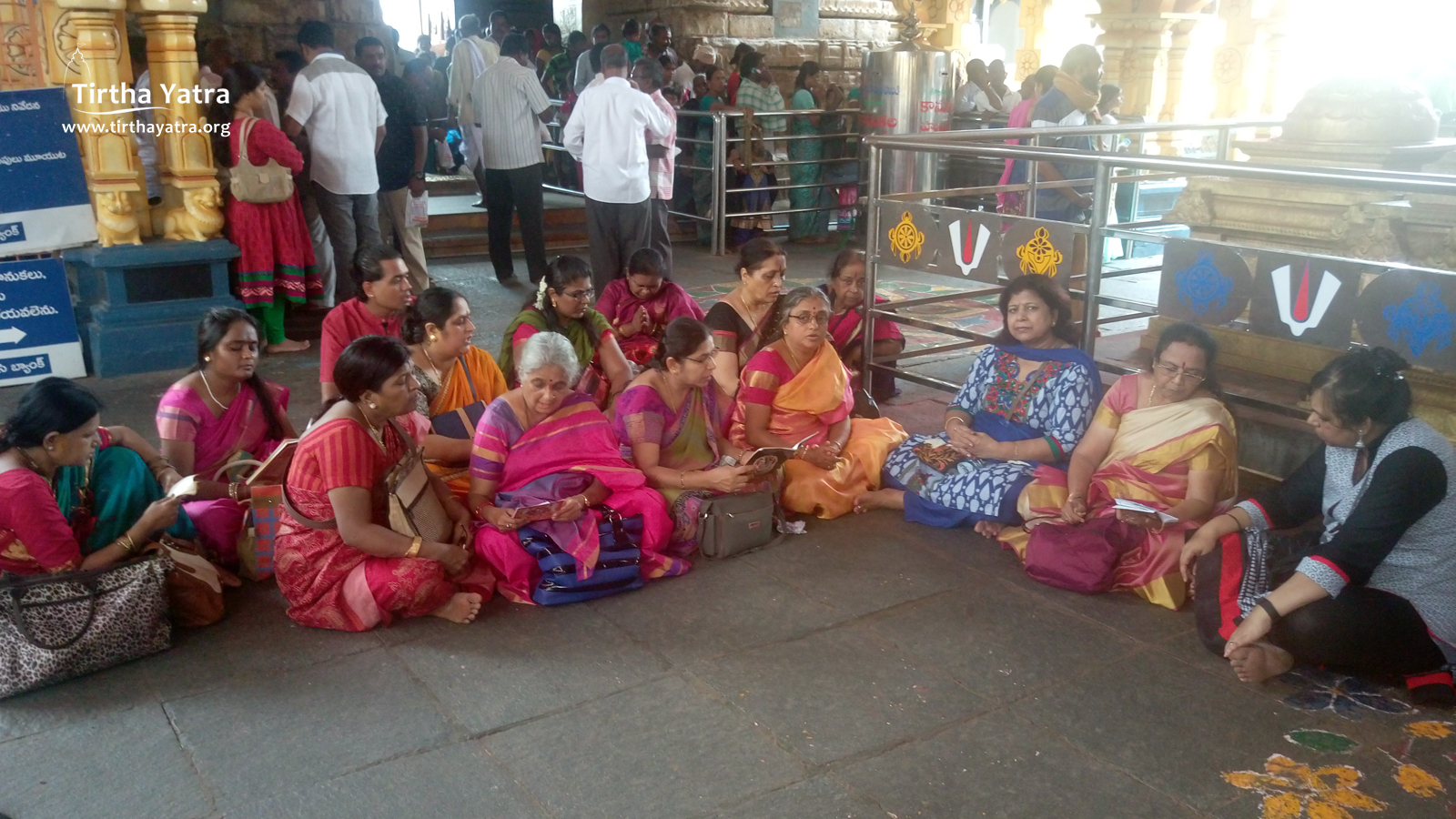 Yatris chanting Vishnu Sahasranama in the temple to invoke the blessings of the Lord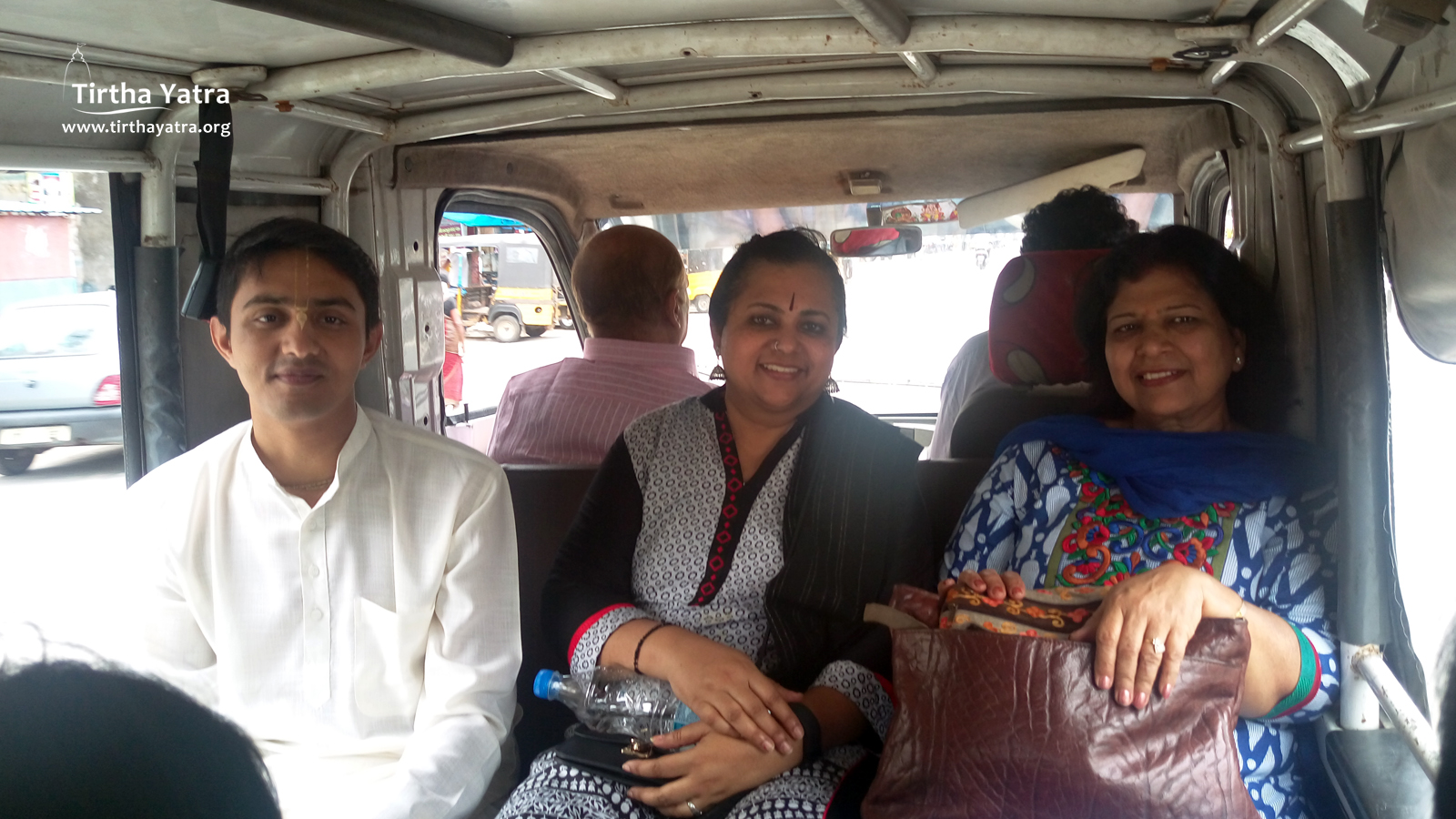 Experience of a local transport enroute Parnasaala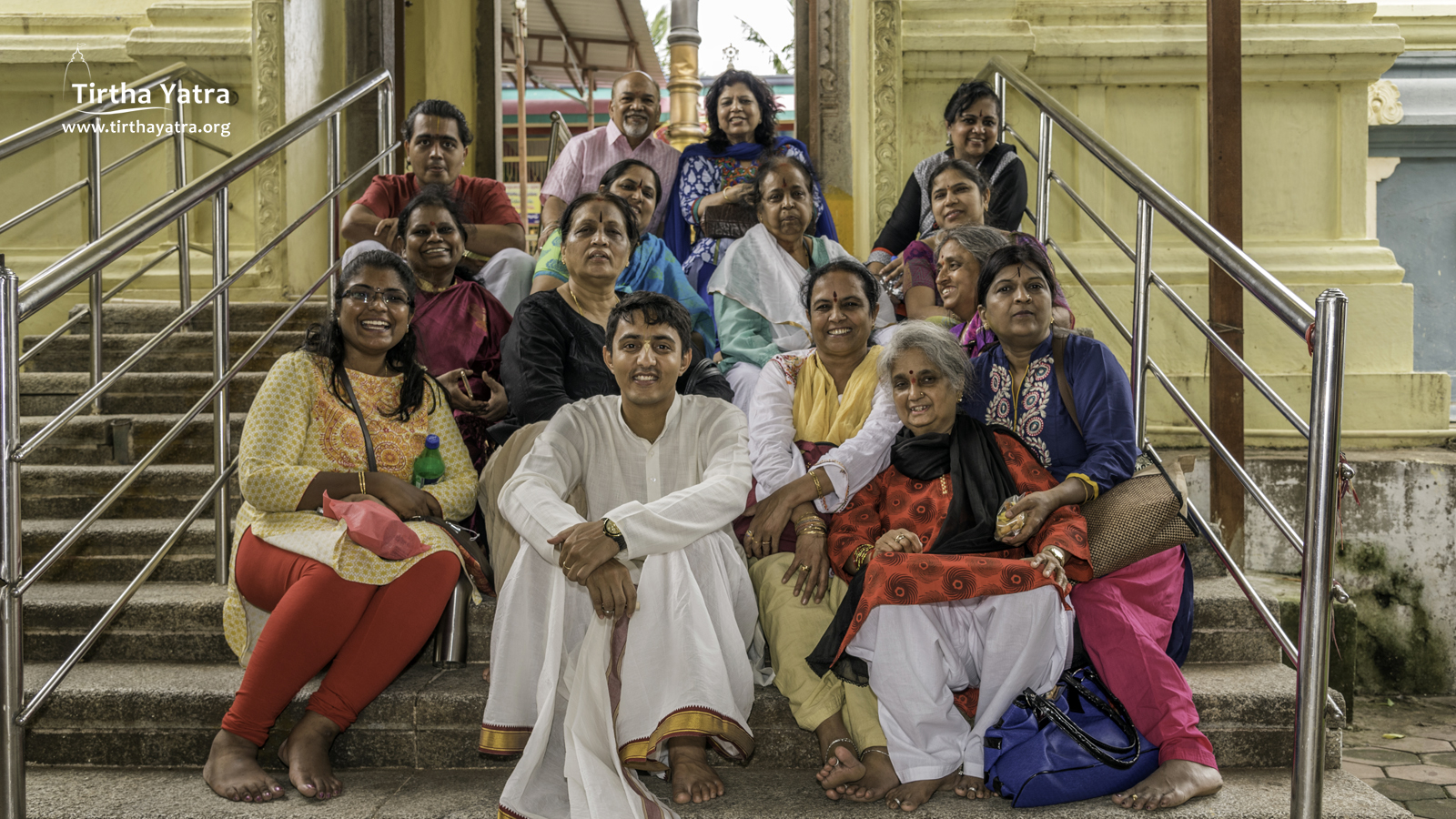 Yatris in Sri Shoka Rama temple at Parnasaala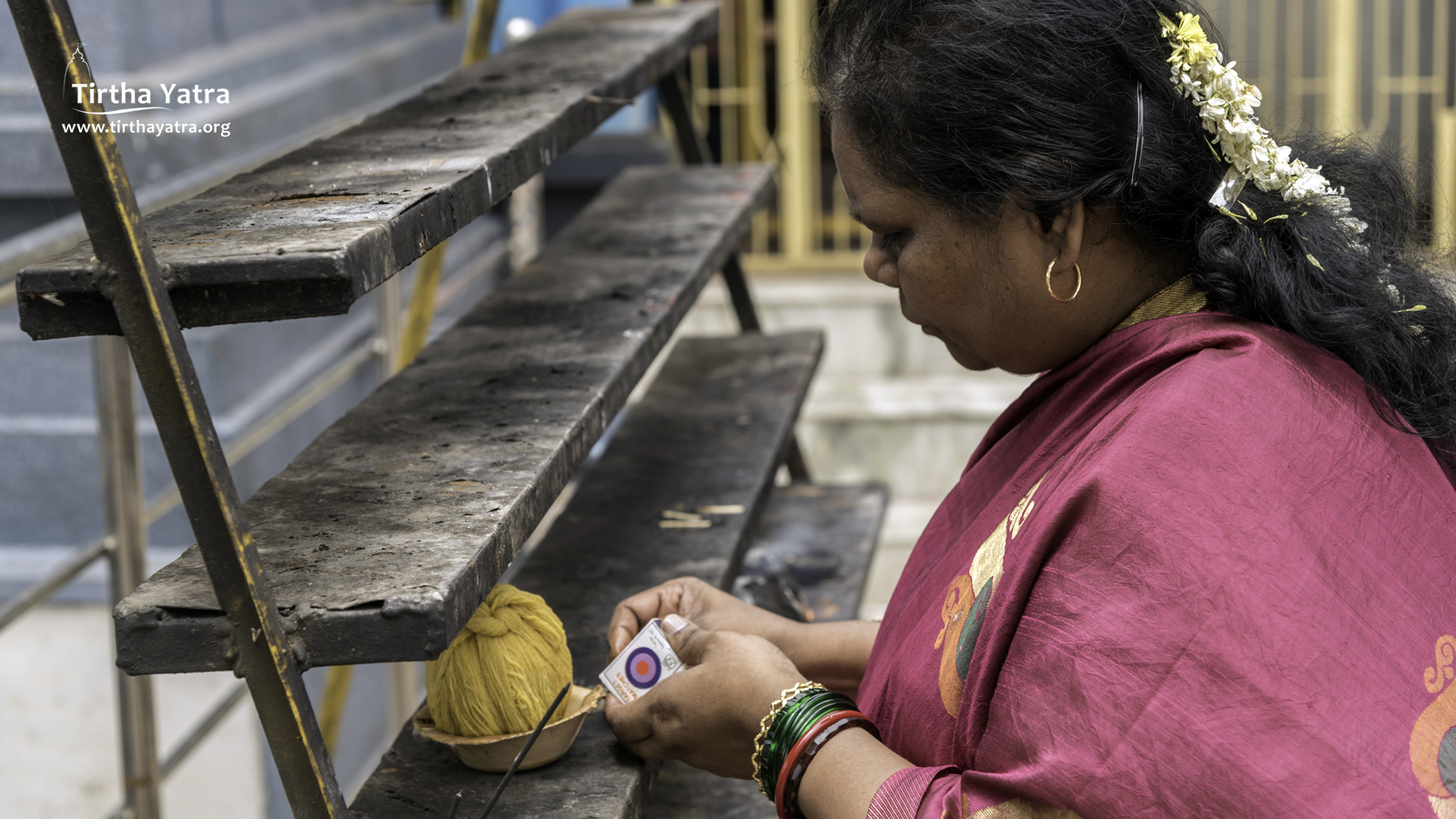 Lighting the lamp and burning away the sins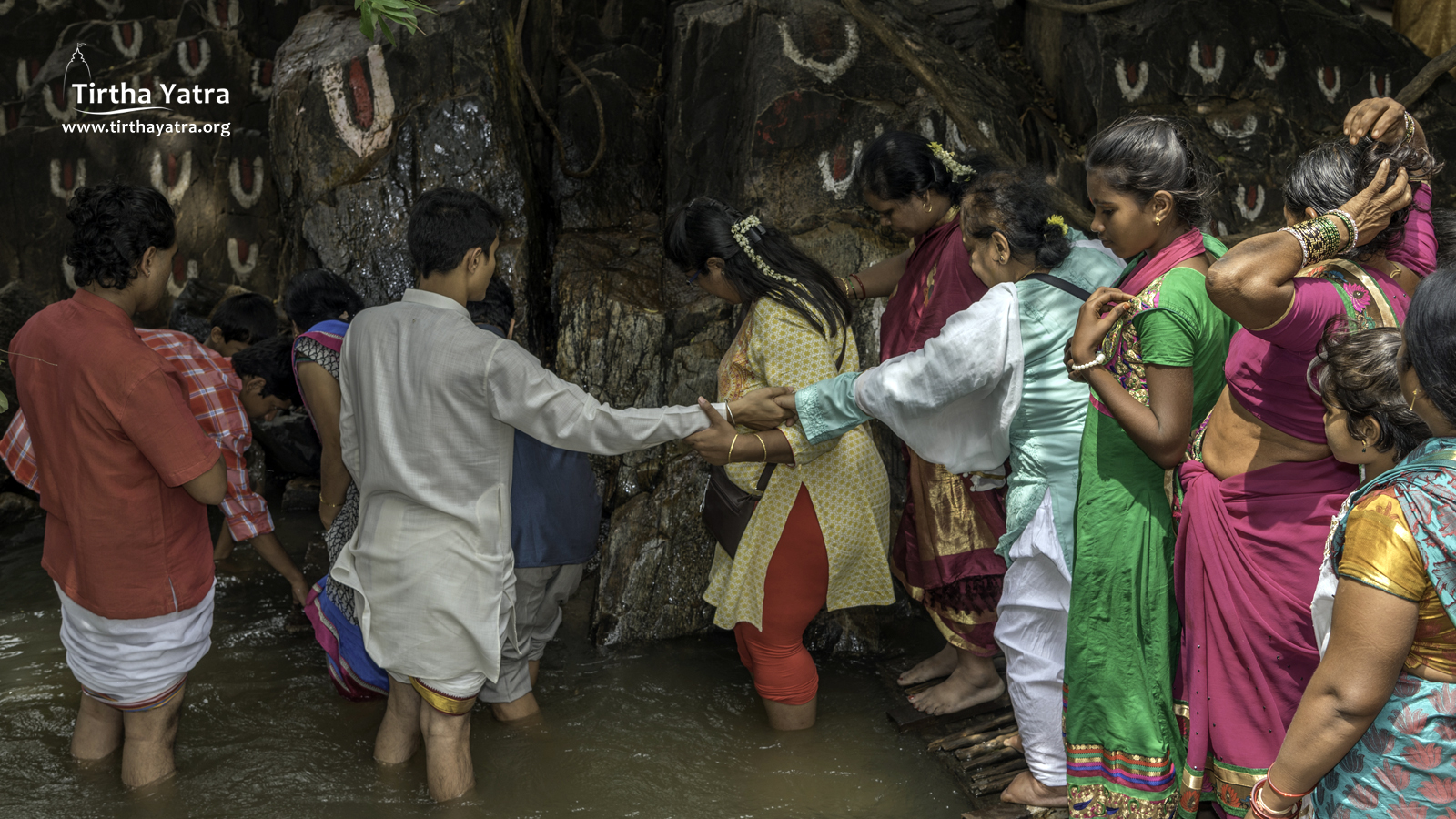 Helping out elderly yatris to have blessing of the Lord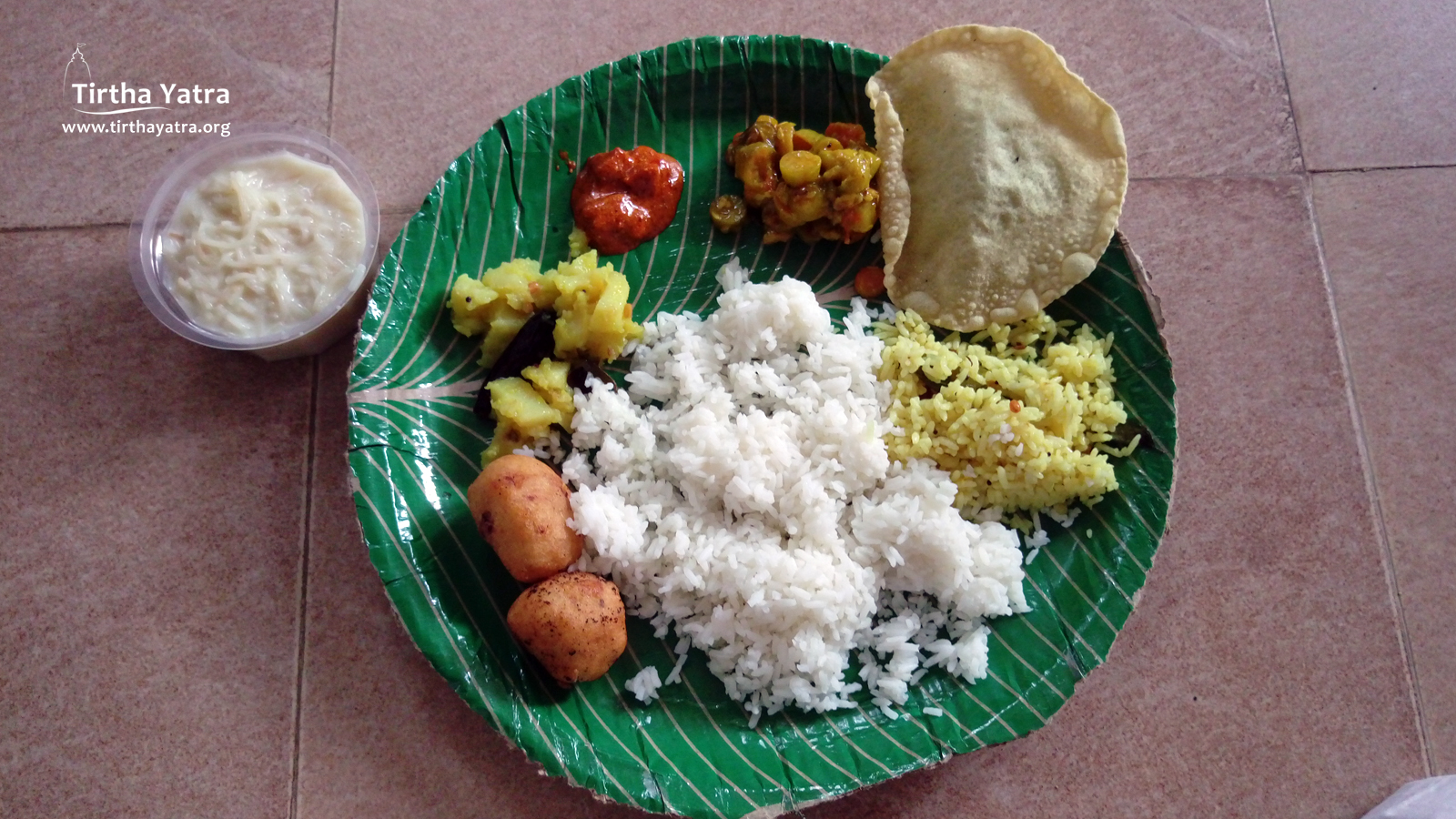 Yummy lunch prasadam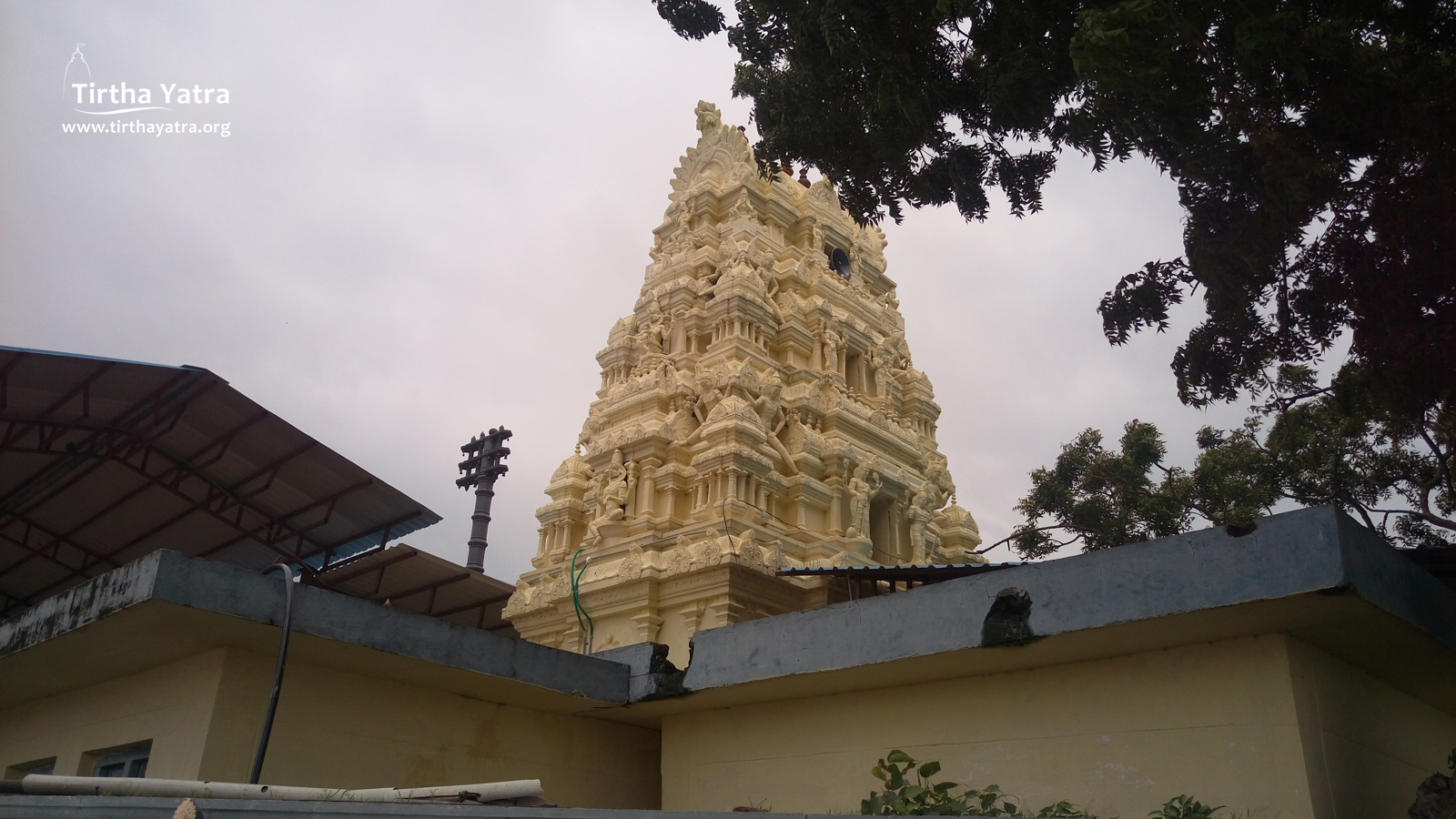 Sri Shoka Rama Temple in Parnasaala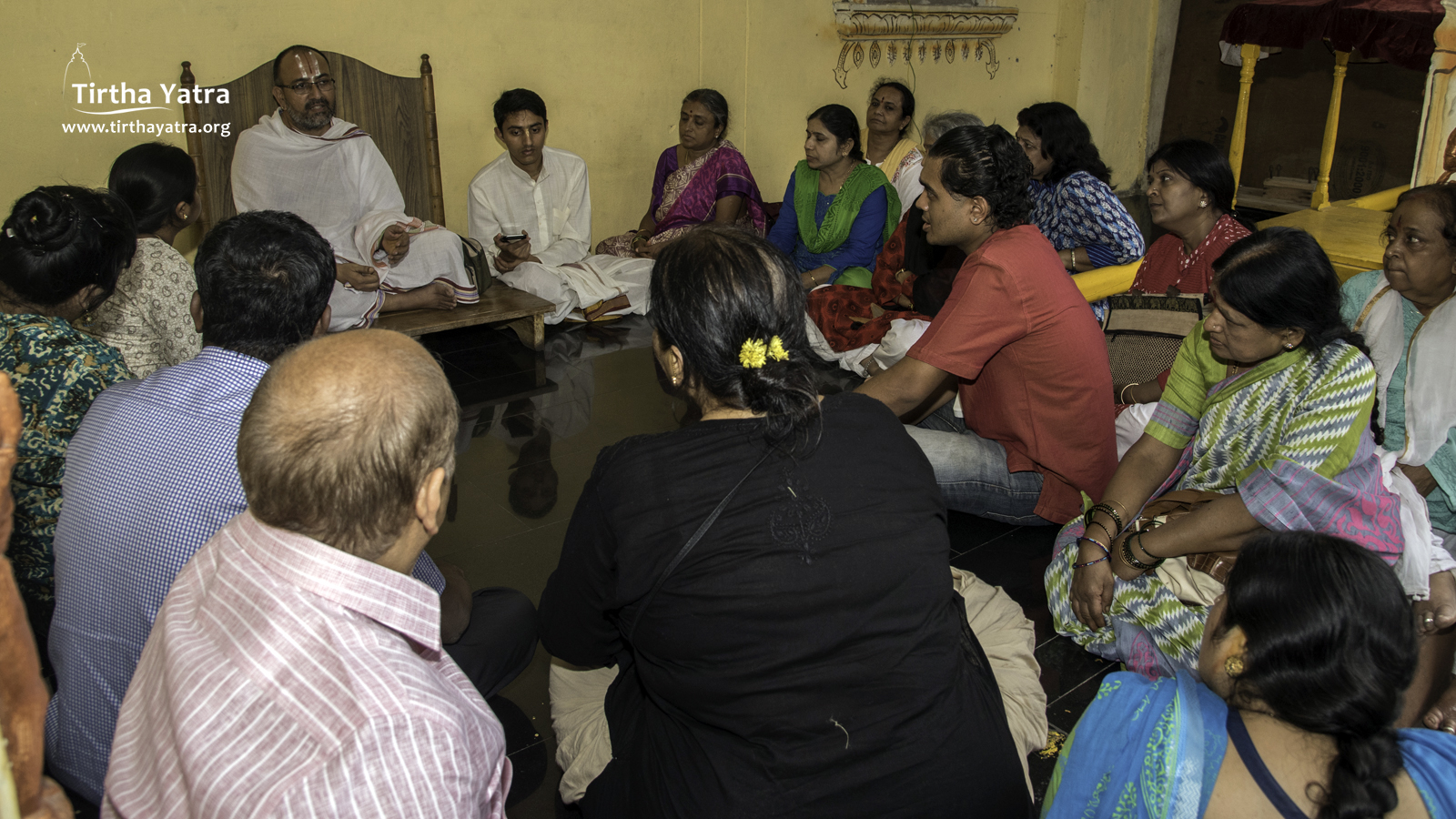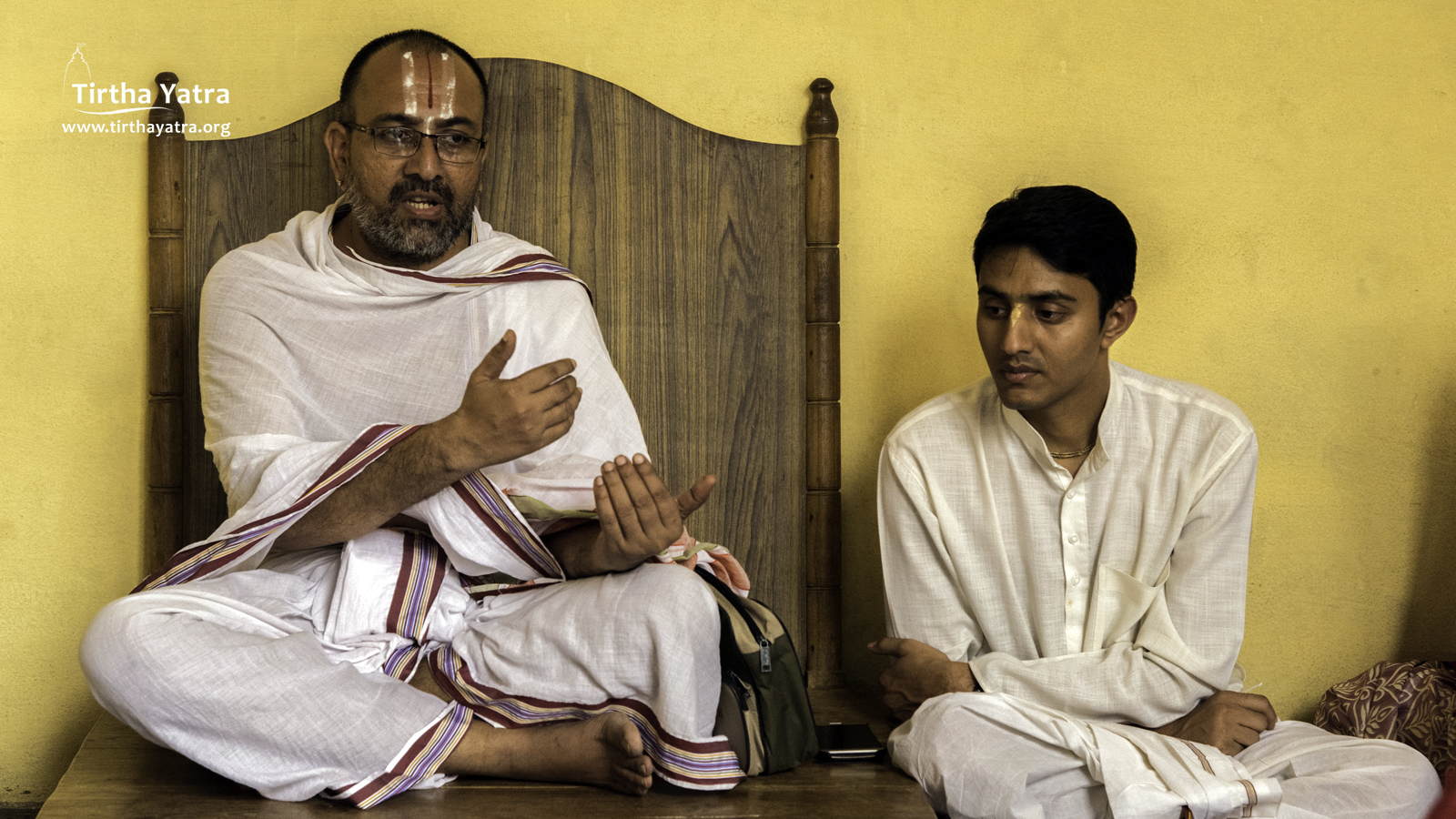 Sthalashayigaru, the head priest of Bhadrachalam temple enlightening yatris with the glories of Lord Sita Rama in Bhadrachalam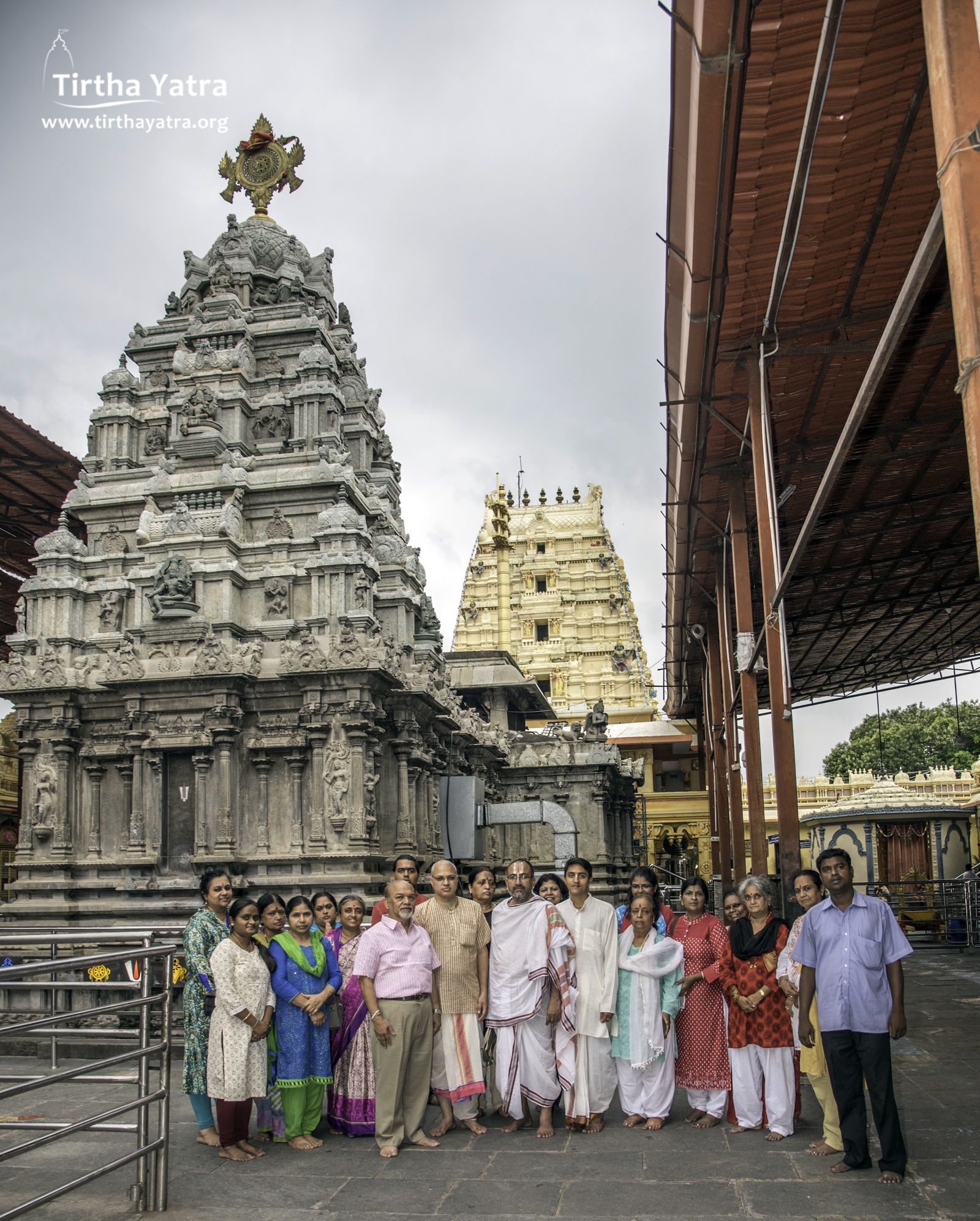 Yatris with Sthalashayigaru in Bhadrachalam temple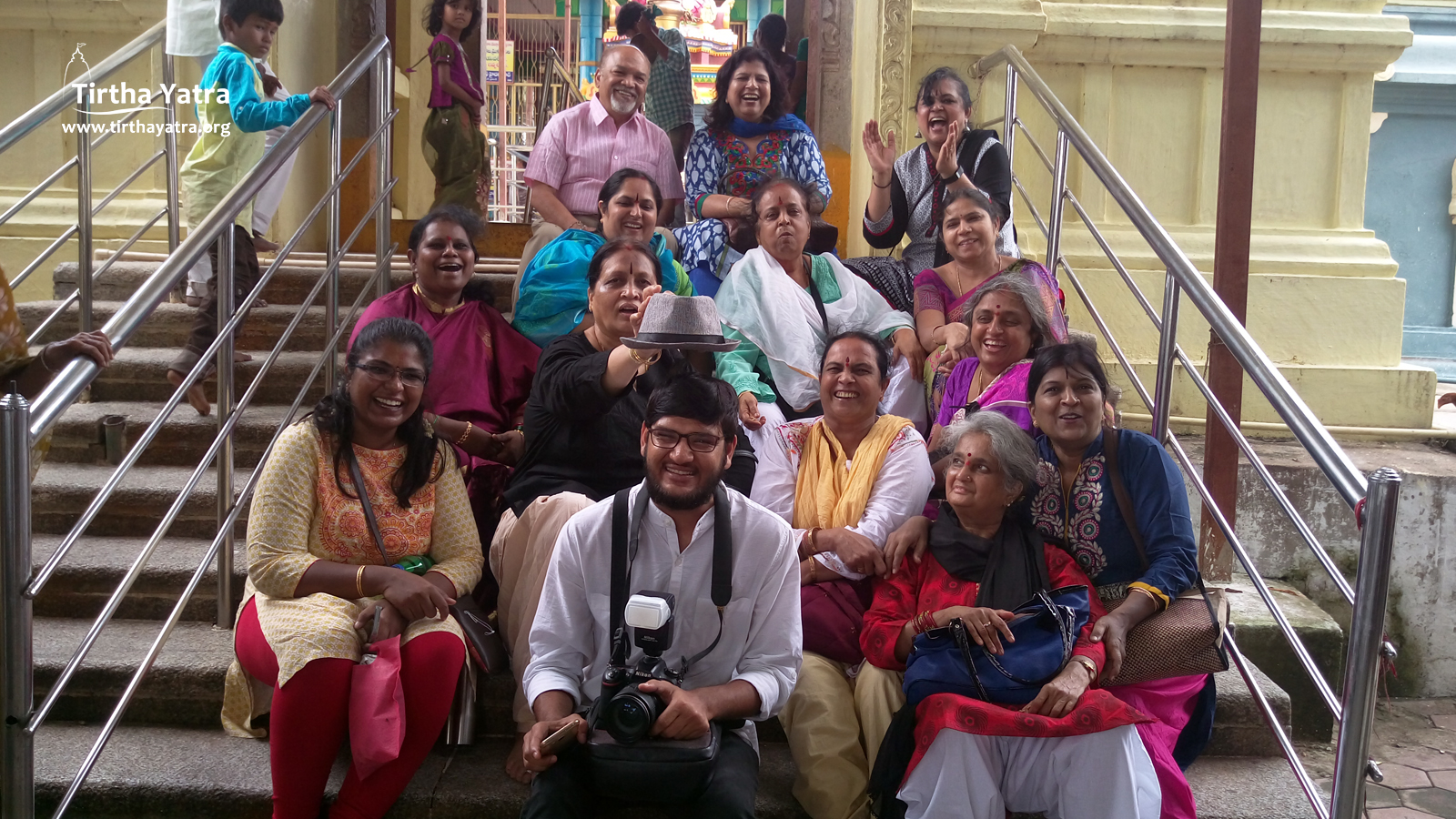 Our photographer Jayanth Agarwal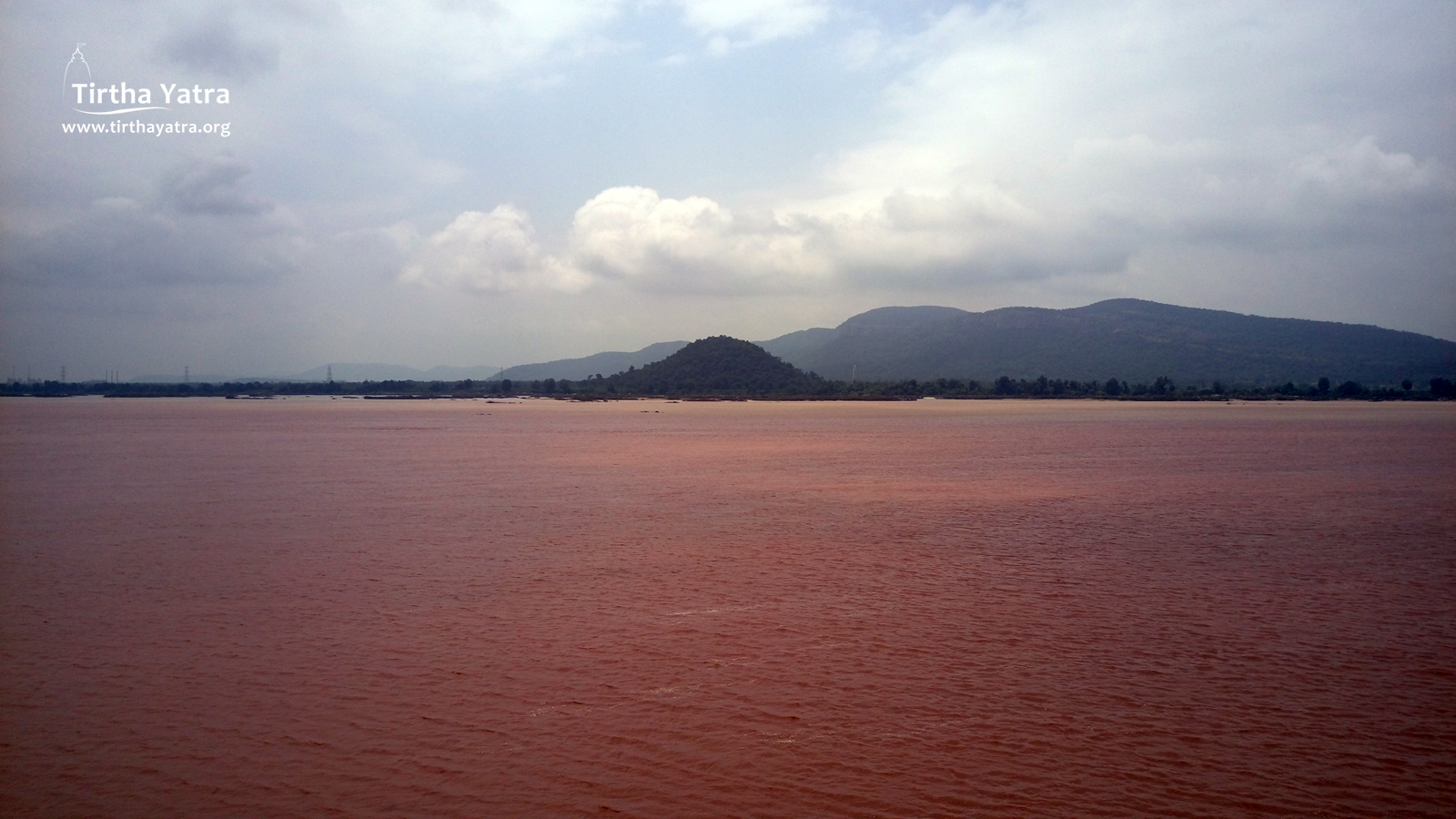 Mother Godavari in full glory at Parnasaala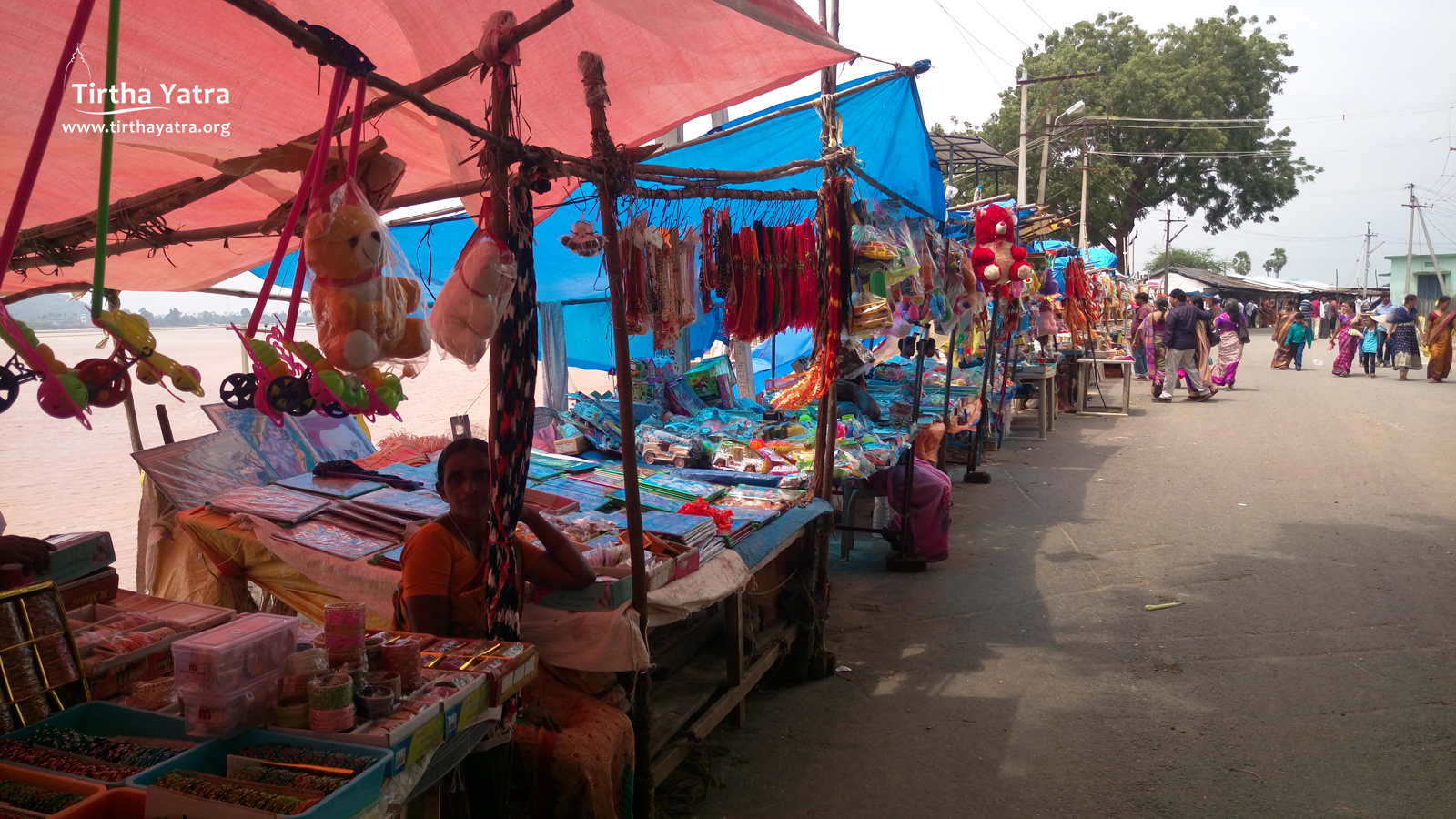 Colorful streets at Parnasaala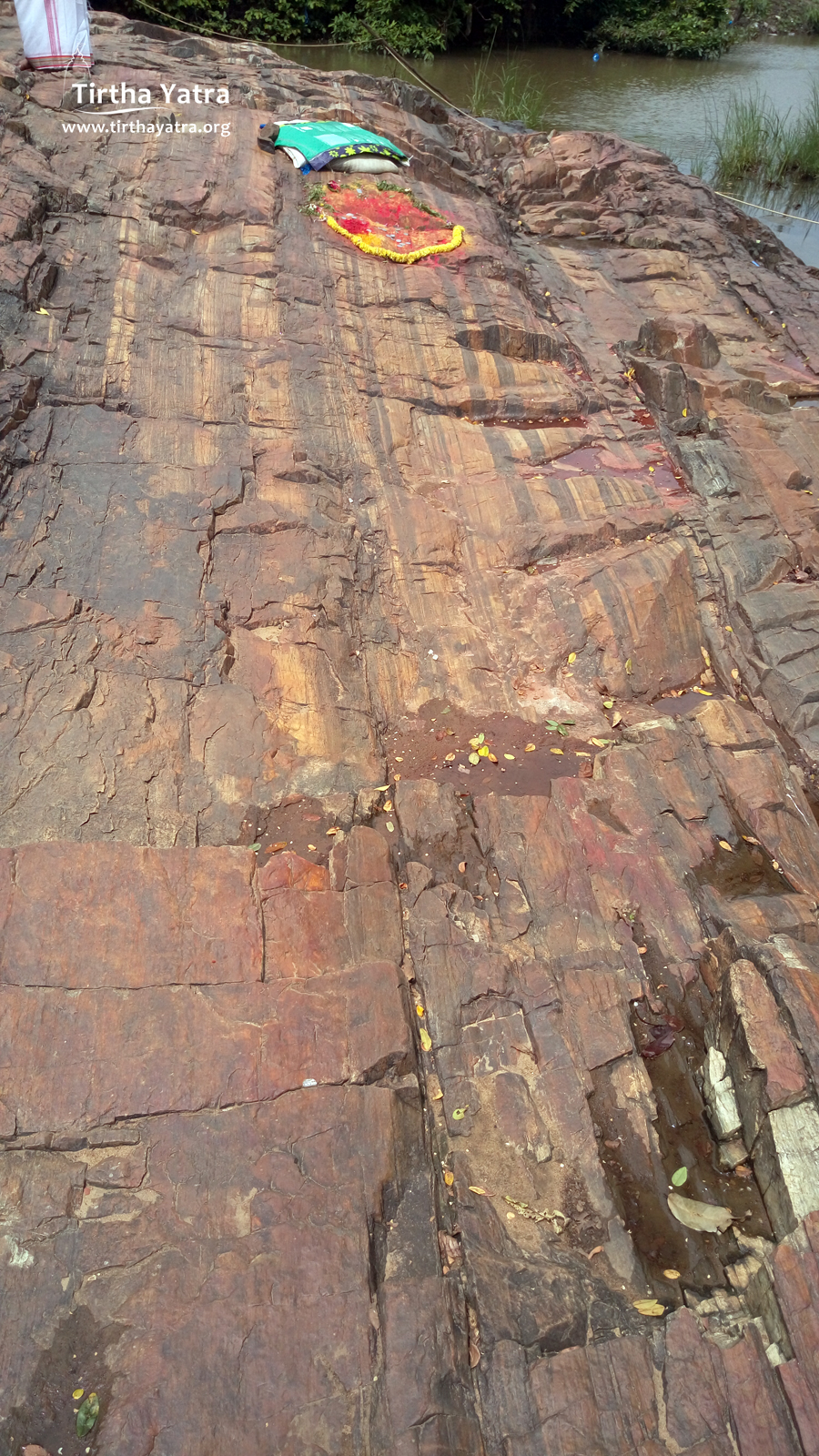 The impression of Mother Sita's saree in Parnasaala

This is Parnasaala. Is it not so enchanting? No wonder why Lord Rama spent His most memorable time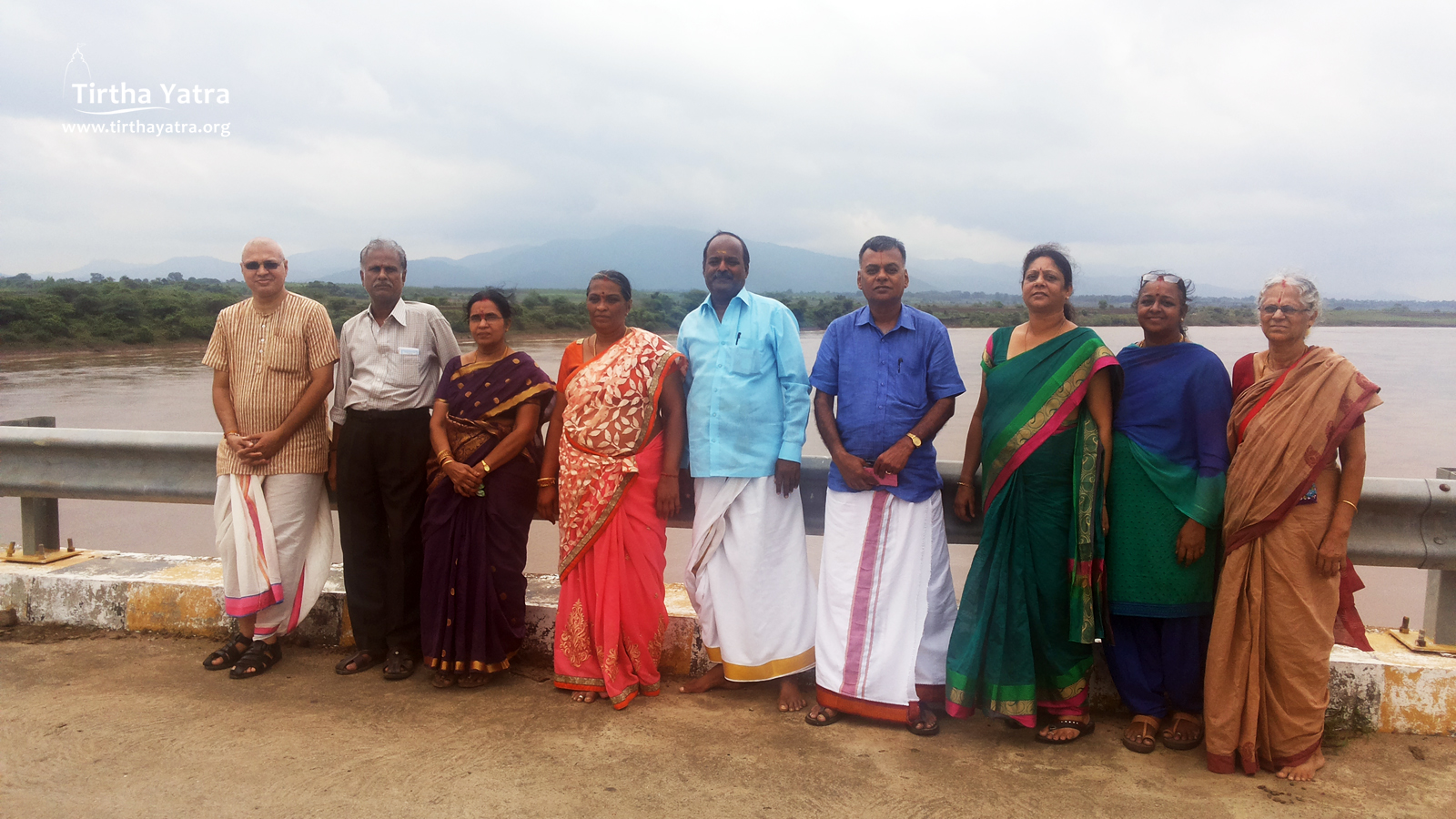 Yatris from Chennai enroute to Sri Sundara Rama temple in Ramagiri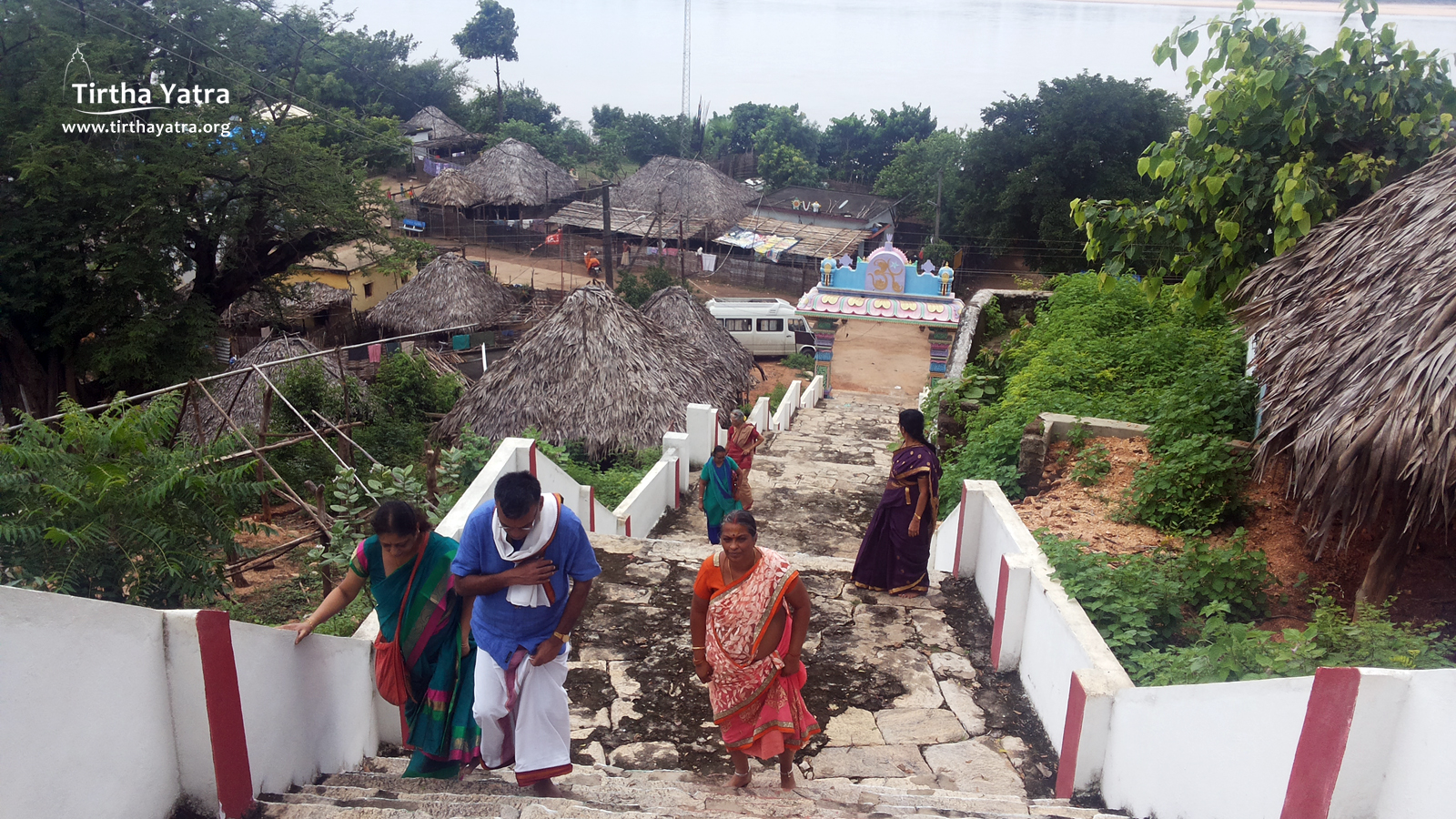 Climbing the steps to Sri Sundara Rama temple in Ramagiri. Lord Rama stayed at this place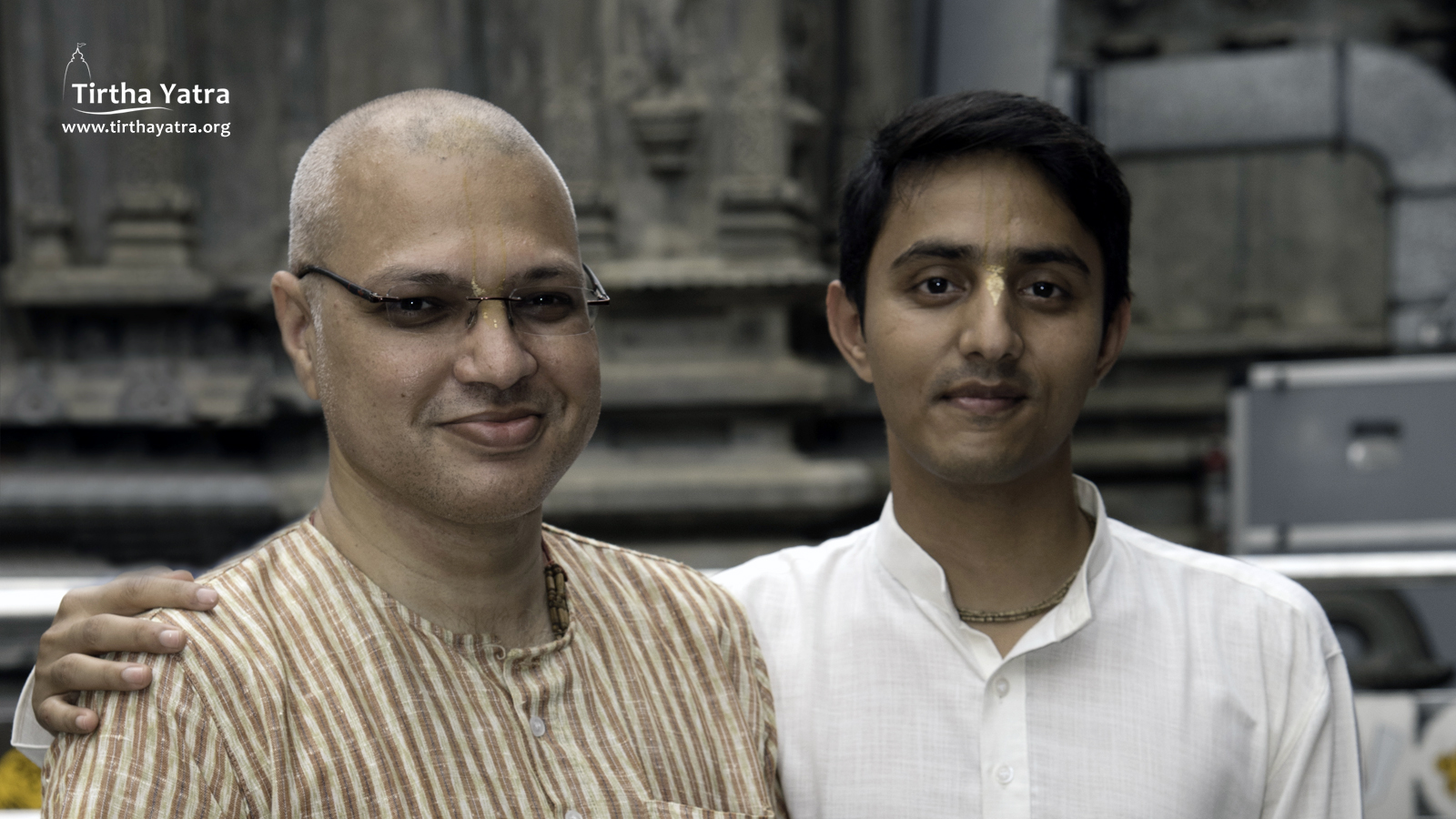 Our Yatra Directors – Venkatesh Dasa and Agrani Krishna Dasa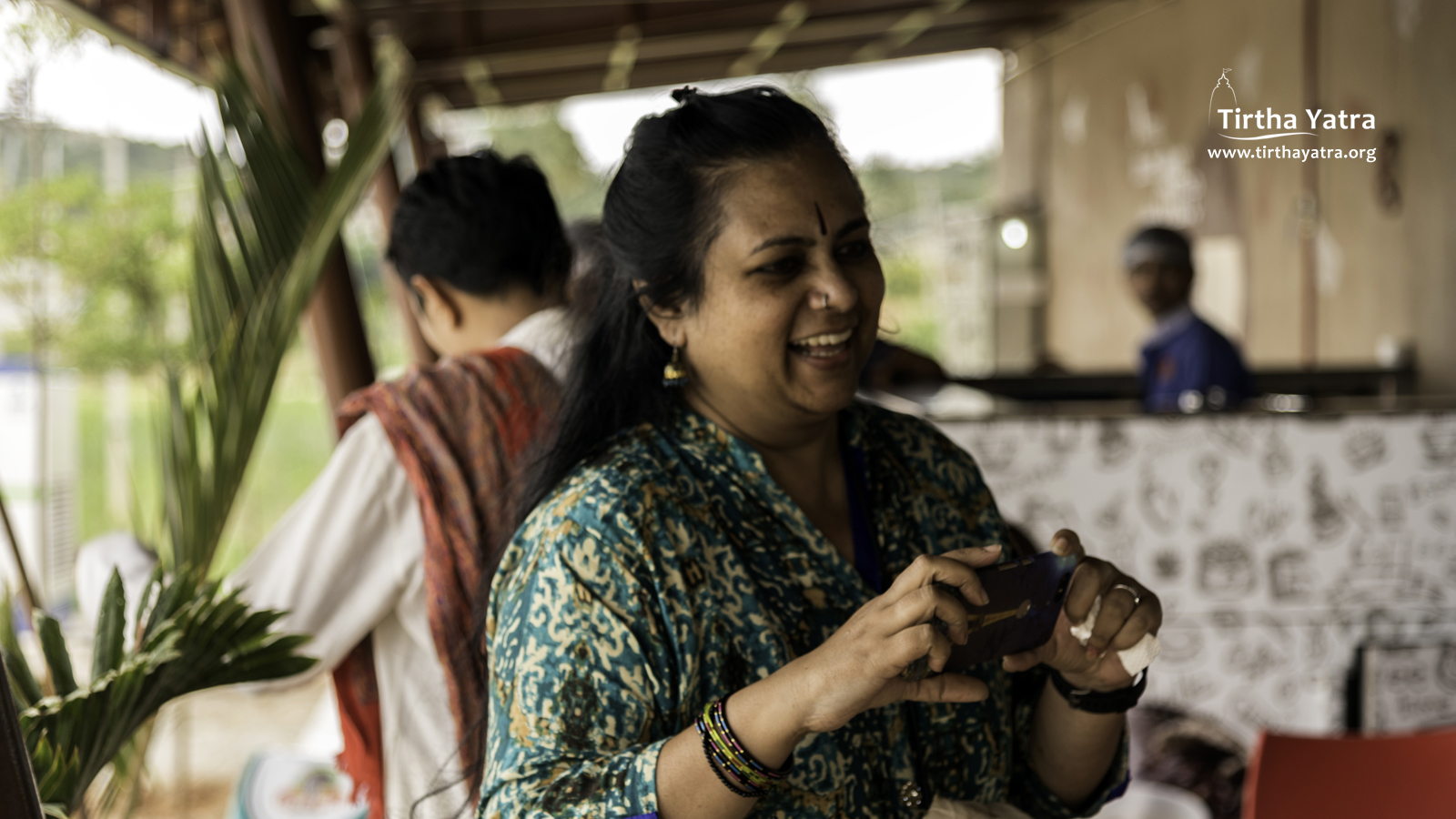 Relishing every moment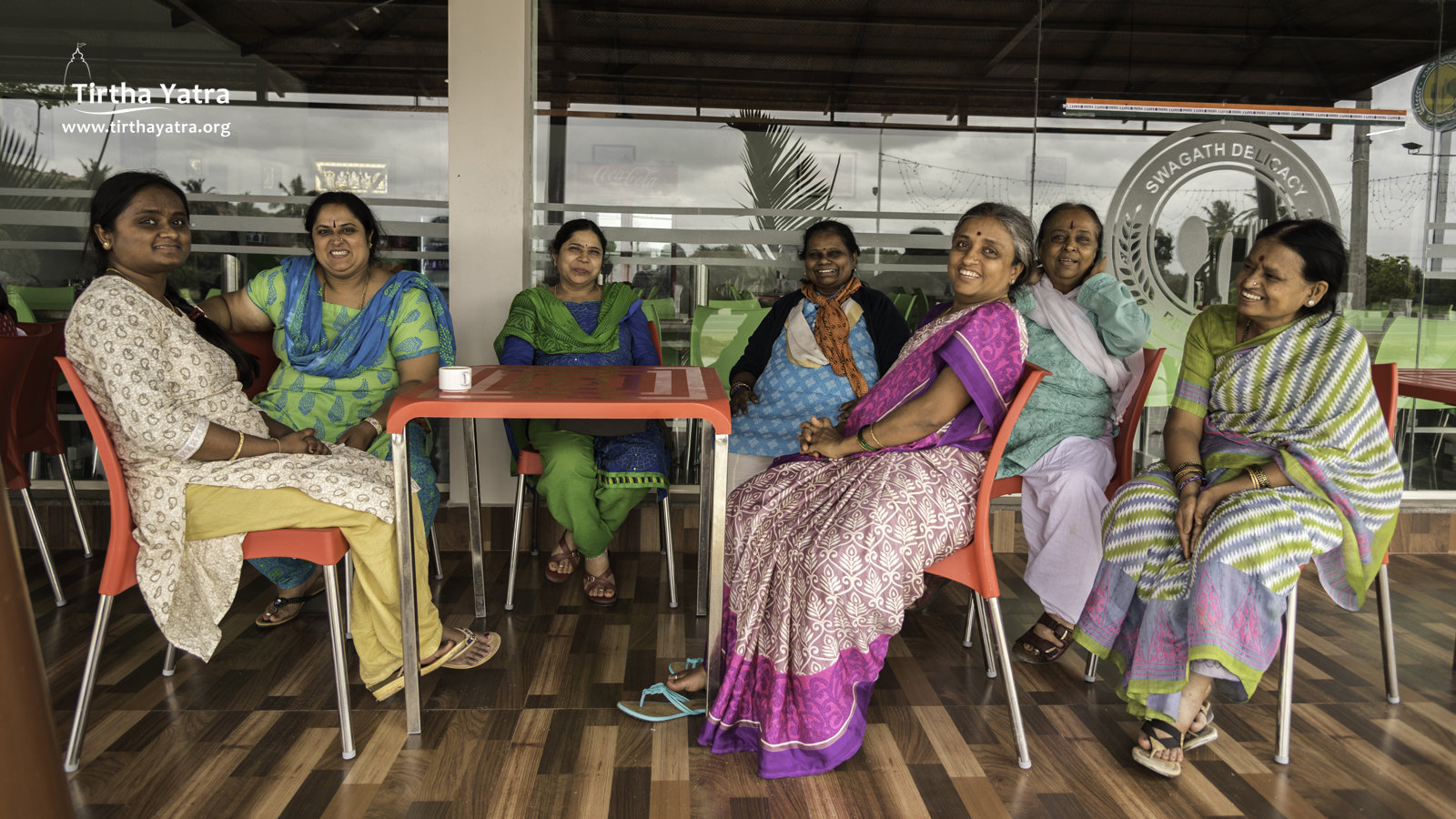 Relaxing while returning to Bengaluru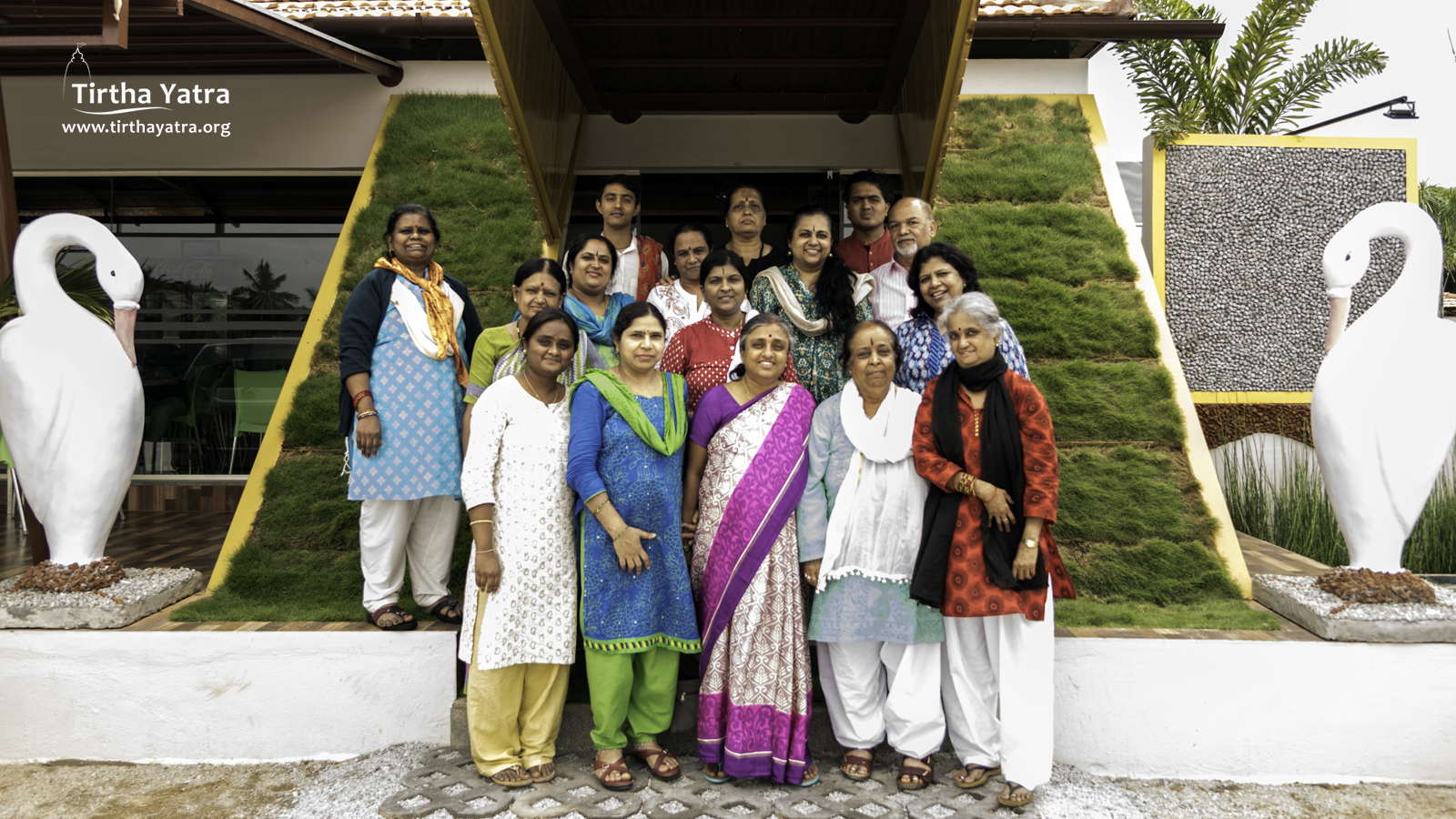 A final group photo while returning to Bengaluru
Following are the testimonials from the yatris who attended this Yatra.
The Bhadrachalam Yatra was a most memorable Yatra. Though faced with a few obstacles, the Yatra director kept his cool and looked into the safety of the passengers. The knowledge and enthusiasm of the Yatra director is highly commendable.
Padmini Ravishankar, Assistant Manager, Reserve Bank of India
The Yatra was very organized and trust worthy. Spirituality awakened in us through the temple visits.
Malliga Shankar, ITO, Income Tax Department
The arrangements for Bhadrachalam Yatra were very comfortable. We had memorable darshan of Sri Vaikuntha Rama in Bhadrachalam Temple.
Shantha Rama Rao, Housewife
These yatras are very good way of knowing and understanding our history, tradition and our temples. I love the way the narration is done about the temples.
Anitha Sukumar, Project Manager, BirlaSoft Limited
Tirtha Yatra team is a group of nice people. They are very co-operative with helping nature. You can always choose them for any pilgrimage of yours.
Geetha Prasad, Housewife
The Bhadrachalam Yatra was a well-organized Yatra with good explanations from the Yatra director. Transport was very well arranged and accommodation was decent. We really had a great time.
Sumana A R, Housewife
People who wish to travel far and wide should choose Tirtha Yatra because they are very co-operative and homely set of people.
Mahalakshmi M B, Housewife
The Bhadrachalam Yatra was very well organized. We were very comfortable during the Yatra. Yatris can visit their dream places of pilgrimage with Tirtha Yatra. They will make your Yatra a memorable trip of lifetime.
Chadravathy B N Y, Housewife
The Bhadrachalam Yatra was conducted in a very nice manner even though we had lot of difficulties.
Aditya S Rajan, Student
Photo Credits: Jayanth Agarwal and Agrani Krishna Dasa
0