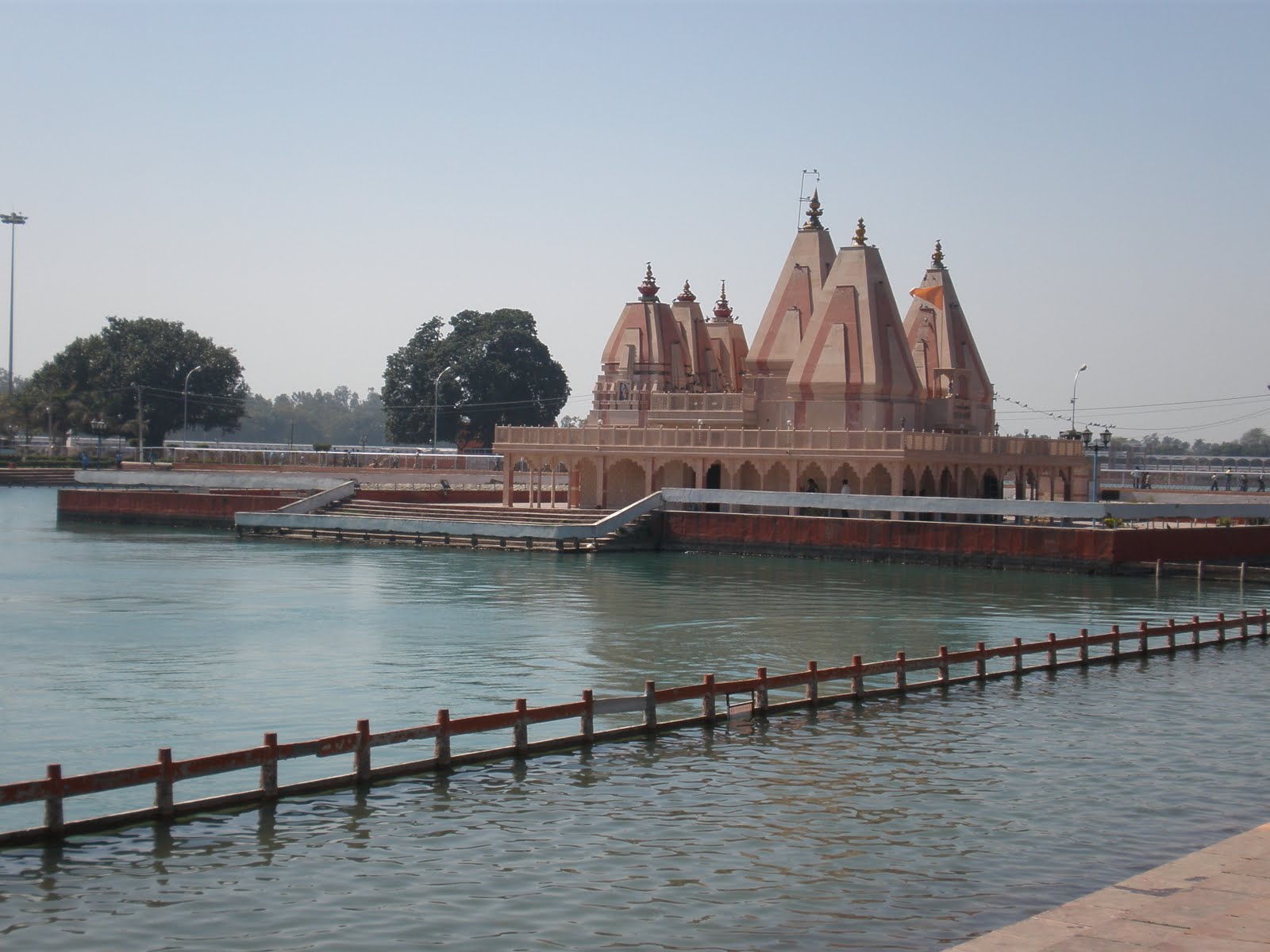 Krishna says in Bhagavad-gita, "dharma-kshetrekurukshetre"; Kurukshetra is a place of pilgrimage. How Kurukshetra became such a prominent place of pilgrimage, which was chosen by the Lord Himself to eradicate the non-religious population from this world? This secret is revealed in the VamanaPurana.
The marriage of King Samvarna and Tapati
Lord Vishnu narrates the following pastime to the demigods:
At the beginning of Satya-yuga, a powerful king named Rksha was born in the dynasty of the moon-god. In due course of time, Rksha enthroned his son, Samvarana, when he was a mere child. Vasishtha Muni, the son of Varuna, was the King's priest and spiritual master, and he imparted to Samvarana the teaching of the Vedas.
When his studies were complete, prince Samvarana went to the forest, leaving the affairs of state in the hands of VasishthaMuni and while hunting came to the forest named Vaibhraja. There, he became intoxicated by drinking wine, and while wandering, he came to a delightful forest filled with all kinds of flowering trees. There were many Apsaras(heavenly women) sporting in that heavenly forest, and among them, one of the girls especially attracted his attention.
When that girl gazed at Samvarana as he was intently watching her, both felt a longing for one another. Indeed, the prince fell from his horse due to being excessively infatuated with her beauty. Seeing how the prince had fainted, some Gandharvas picked him up, and by sprinkling water upon him, they revived his consciousness.
The girl had also fainted, and her friends similarly lifted her up and, after bringing her back to her father's house, sprinkled water upon her so that she regained her senses.
Samvaranareturned to his capital, Pratishthanapura, but all the while his mind remained engrossed in thought of the beautiful girl, who was named Tapati. Indeed, he could no longer eat his meals or sleep properly at night.
When Sage Vasishtha understood how much Samvarana was enamoured with Tapati, he visited the sun-planet, where he saw the sun-god seated upon his chariot.After offering arghya and other auspicious articles, the sun-god inquired about the purpose of Vasishtha's visit."
Vasishtha replied, "O most radiant Surya-deva, I have come to ask that the hand of your daughter be given to Samvarana in marriage."
Surya-deva agreed. Thus, Vasishtha returned to his hermitage, taking Tapati with him. The girl very well remembered theprince that she had become enamoured with while playing in the forest. With folded hands, she said to Vasishtha, "O, brahmana, I remember the prince I saw in the forest as I was playing with my friends. His feet bore the marks of a chakra, mace and axe. His thighs were like the trunks of elephants, and his waist was very thin and decorated with three lines. His neck resembled a conch shell, his arms were very muscular and long, and a lotus flower marked the palms of his hands. The fingers on his hands and the toes on his feet were long and very attractive. His teeth were even and white. Indeed, he possessed allauspicious bodily characteristics, as I have learned by studying the scriptures. After considering all this, I have made up my mind that he alone, and no one else, should be the lord of my life."
Vasishtha said, "My dear daughter, the prince you saw in the forest is the very person for whom you have been brought. His name is Samvarana, and his father is Rksha."
Thereafter, Samvarana arrived at the hermitage of Vasishtha and bowed before the great sage. Seeing Tapati before him, the prince was certain that she was the girl he had seen playing in the forest. Gazing into her large, lotus-like eyes, he asked, "O Sage, who is this girl?"
Vasishtha replied, "This is the daughter of the sun-god, named Tapati. Surya has offered her to you on my request. You should now make preparations for your wedding."
The marriage ceremonies were performed and both lived happily.
The birth of King Kuru
In due course of time, she gave birth to a son, named Kuru, having all the characteristics of a king, and he grew up very quickly. Vasishtha performed all the purification rituals for Kuru. By the age of twenty-four, he completed his education.
Soon King Kuru was married to Saudamani, the daughter of Sudama. Thus, Kuru and Saudamani began enjoying the pleasures of married life within the injunctions of religious principles. After some time, Samvarana had his sonKuru ascend the royal throne. Kuru was a very able ruler, for he governed his subjects just as a father would raise his sons.
Kuru sets out to gain fame
Kuru started considering fame to be the prime objective of life. Thus, to acquire fame he began travelling over the Earth. In the course of his travels, Kuru came to Dvaitavana. There, he saw the BhriguRiver. After bathing in the river, the king felt uncommonly refreshed, and he next went to the altar of Brahma at the holy place, Samanta-panchaka.
Kuru got down from his chariot, thinking that he could attain great fame at that holy place. He made a golden plough and then yoked the bull of Lord Shiva and the buffalo of Lord Yamaraja to his plough. At that time, Indra came to King Kuru and asked, "For what purpose are you preparing to plough this land?"
King Kuru replied, "I intend to grow crops of austerity, truthfulness, forgiveness, kindness, purity, generosity, yoga and celibacy here."
Indraasked, "O King, where did you get the seeds of these eight things?"Saying this, Indra smiled and then suddenly disappeared.
The birth of Kurukshetra
King Kuru began ploughing the Earth, and indeed, this became his regular daily practice. One day, Lord Vishnucame there and asked, "O King, what are you doing?"
King Kuru replied, "I am cultivating the great religion consisting of eight limbs."
Lord Vishnu further inquired, "Where are the seeds?"
King Kuru replied, "They are within my body."
Lord requested, "Give Me the seeds. I will assist you by planting the seeds as you plough."
The king stretched out his right arm and Lord immediately cut it into several thousand pieces. He then gave them to the demigods. When the king stretched out his left arm, He also cut it to pieces. The king then offered both his thighs, andthe Lord cut them to pieces as well. At last, he offered his head and, being pleased with him, Lord requested him to ask for a boon.
King Kuru asked, "May this land that has been ploughed by me become celebrated as a holy place of pilgrimage. May whoever bathes here, and may whoever dies here, attain a great reward in their next life. May fasts, charity, japa, fire sacrifices and all other pious acts performed here, and even evil deeds, bestow incomparable benefit, by Your grace. May this place be named after me – Kurukshetra, and may it become a place of residence for You, Lord Shiva and the other principal demigods."
The Lord nodded in agreement and said, "O King, you will attain a spiritual body and then return to My supreme abode in the spiritual sky. Your fame will be everlasting, and grand sacrifices will be performed at this holy place."
The Lord then appointed the demigod, Chandra; the serpent, Vasuki; the Vidyadhara, Sankukarna; the demon, King Sukeshi; and Mahadeva as the protectors of Kurukshetra. They do not allow sinful persons to come to Kurukshetra and bathe there. In the center of Kurukshetra is a place known as Prithudaka. From that place a holy river flows toward the east, and it was there that, in the beginning of creation, Lord Brahma had created the five gross elements, as well as the moving and non-moving living entities."
Thus Kurukshetra became a great place of pilgrimage.